Westbury Filtermation
Pharmaceutical Air Filtration Solutions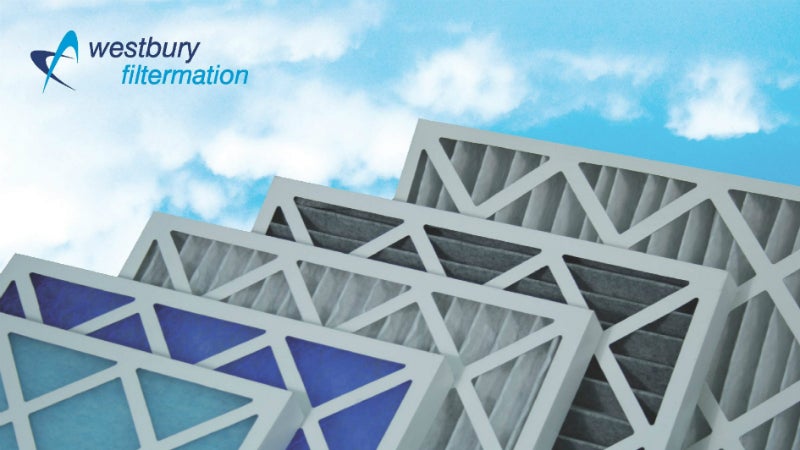 Westbury Filtermation Ltd is a UK based air filter manufacturer supplying air filter products across the globe for numerous industries including pharmaceuticals.
Products
Westbury Filtermation conducts research, product design and development to enable them to manufacture air filtration solutions that optimise on energy efficiency and performance, the most recent advances being their Push2-150 Glovebox isolator cartridge, which provides additional benefits when compared to older technologies, and their unique low energy series range of air filters.
Products supplied by the company include:
Disposable panel filters
Bag filters
Rigid bag filters
HEPA filters
Carbon filters
Filter media in pads or rolls
Catering filters
Cleanable filters
Filter casings and frameworks
Instrumentation
Fan belts
Site engineering
Westbury Filtermation employs a team of fully trained specialised ventilation engineers equipped to service and maintain air handling equipment of all types.
Additionally the company provides services to enable businesses meet with their statutory obligations with regard to duct cleanliness and fire damper testing.
Technical support
With a team of sales engineers located across the UK and agents in Europe and the Middle East Westbury Filtermation are able to deliver technical support and advice in all aspects of their product and service offerings. This is supported by a technical team located at their Head Office.
About Westbury Filtermation
Westbury Filtermation Ltd is based in a modern 20,000ft² premises in Burnley, Lancashire. The main factory is supported by satellite office and warehouse facilities in both Brands Hatch and is close to Gatwick Airport.
Extensive warehouse facilities and high stock levels enable rapid response deliveries to Westbury Filtermation customers. Westbury Filtermation is virtually energy independent, collecting its own solar energy. In 2015 the company avoided 90t of CO2.
Westbury Filtermation Images
Press Release
As part of Westbury's growth and development plan, the company has announced the launch of its new Division Westbury Cleanrooms.
Read more
New test standard for air filters ISO 16890 will be introduced towards the end of 2016 and during the following 18 months, the EN779 test standard will be phased out and replaced by the new standard.
Read more