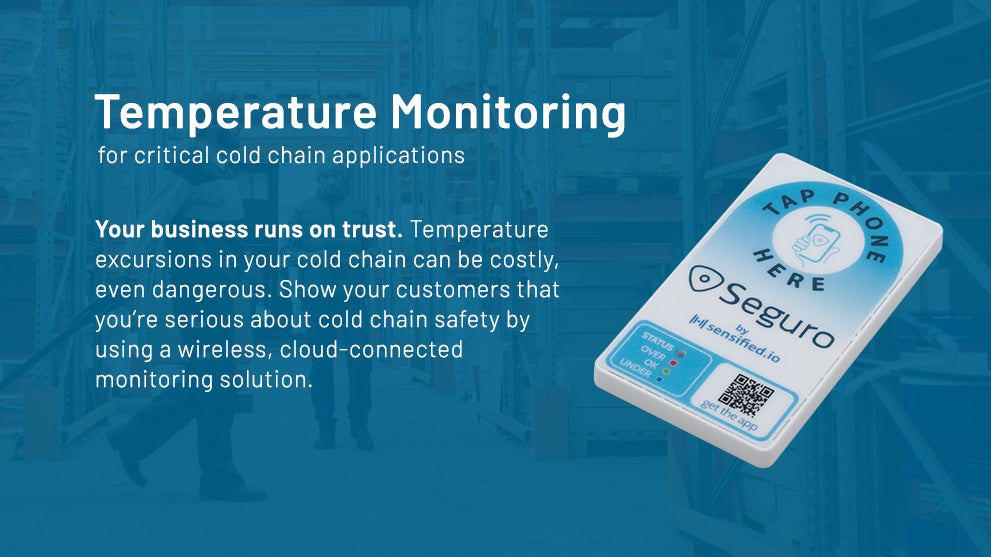 Sensified.io provides next generation cold chain monitoring solutions, using the latest wireless, mobile, and cloud technologies, to supply chain professionals who are serious about cold chain security.
Our Seguro line of temperature trackers provide end-to-end, cloud-connected shipment monitoring, including advanced features like location, push notifications, and integration with popular carriers.
Cold chain data loggers with wireless connectivity
Sensified.io's Seguro wireless data loggers can improve visibility and efficiency in your cold chain operations, reducing quarantine delays and improving communications. With built-in cloud connectivity and a simple wireless interface accessible from any mobile device, the devices can keep your cold chain operations running smoothly.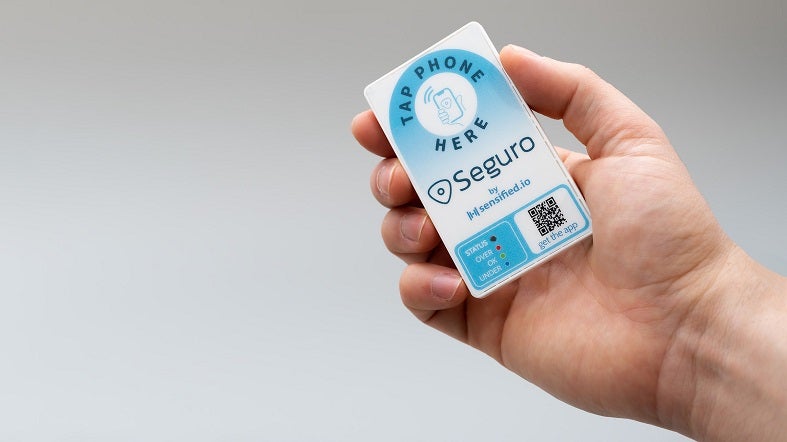 Sensified.io uses wireless, mobile, and Cloud technologies to provide secure cold chain monitoring solutions.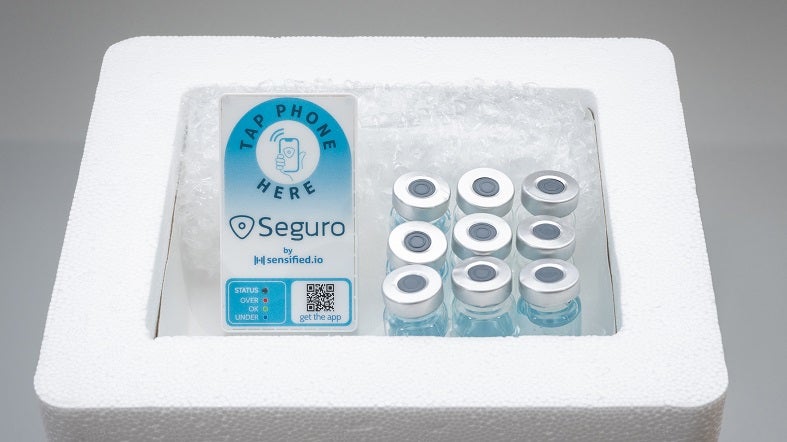 Our Seguro 120 wireless data loggers can improve cold chain visibility and efficiency, making them ideal for clinical trials.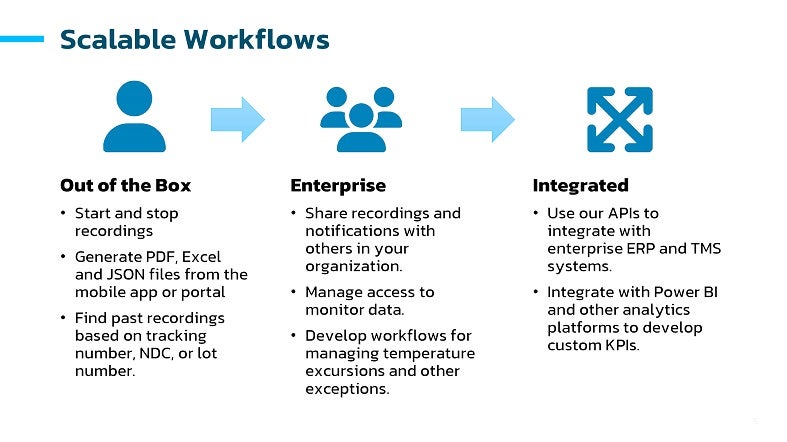 Sensified.io's Seguro systems operate according to scalable workflows to increase flexibility for our clients.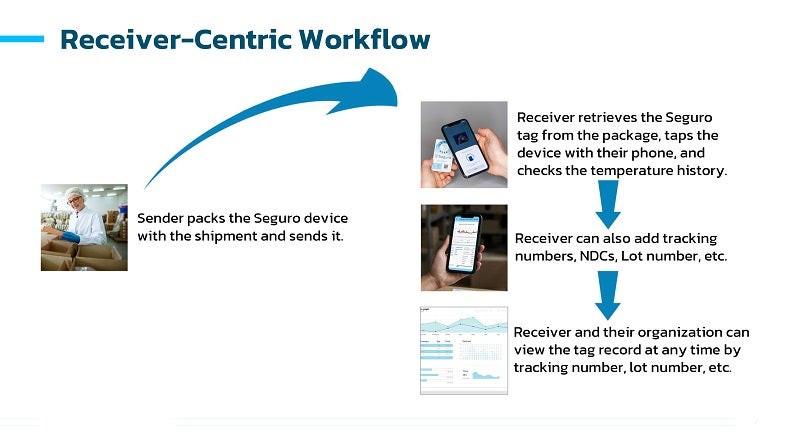 Recordings made using our devices are instantly available to both the sender and receiver, as well as their wider organisations.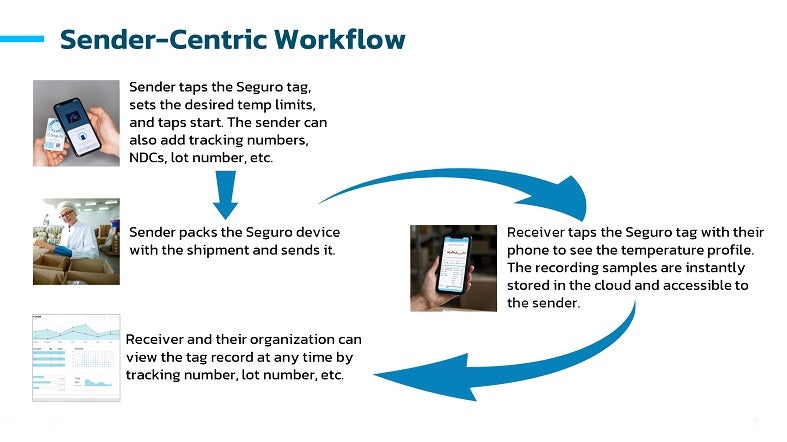 Seguro solutions can support both traditional receiver-centric workflows or innovative sender-centric workflows.
Traditional data loggers require USB connections, which are inconvenient at best and a security risk for many organizations at worst. Seguro data loggers use near-field communications (NFC) and Bluetooth to provide a secure wireless experience and can be used with any mobile device, even without an app.
Integrated cloud connectivity for improved data security
For sensified.io, the cloud is not an afterthought or extra service, but is designed into every Seguro device. Recordings are instantly available to both the sender and receiver, as well as their organizations. This removes the need to copy PDF files onto a PC, email them around the company, and maintain a cumbersome shared file organization system.
Recordings can be accessed by anyone with permission and filtered based on tracking number, pallet ID, and other parameters. If you need to send the details of a recording to stakeholders outside your organization, these can be exported in a variety of file formats, including PDF, Excel, and JavaScript Object Notation (JSON).
Next-generation wireless and cloud security
Sensified.io's wireless, cloud-connected Seguro architecture works as the foundation for a secure platform that keeps your data and your company's IT network safe from malicious actors. All communications are wireless through your mobile device, which improves security by removing the need for USB ports.
In addition to safeguarding your corporate network, Seguro devices also protect the security of your data by allowing it to be read easily via a mobile device and captured on the cloud. This contrasts sharply with traditional data loggers, which require a manual process to upload PDF data files, transcribe the data, store and organize the data, and distribute any information.
Guaranteeing the integrity of the data is also critical, so all data sent from Seguro devices is signed with a 256-bit private cryptographic key. The cloud server checks this cryptographic signature to ensure that the data is valid and was sent from the actual Seguro device. Finally, all Bluetooth communication is encrypted end-to-end between the device and the server using a secure Diffie-Hellman key exchange.
Flexible workflows to fit your cold chain logistics
Sensified.io's Seguro data loggers are designed to fit into your quality processes, not the other way around. Traditional data loggers have one specific workflow: press to start, press to stop, and plug in the device to get the PDF file. Seguro devices are unique in that they can be started with a button, a mobile phone, or even a cloud application programming interface (API) call.
Seguro devices can support either a traditional receiver-centric workflow or an innovative sender-centric workflow, in which the sender sets the thresholds, attaches all the information such as tracking numbers, and starts the recording. The receiver can simply tap the device with their phone (with or without an app) to stop the recording and notify the sender. Recording data is captured and shared with almost no effort required from the receiver.
This sender-centric workflow is perfect for retail distribution, in which the receiver cannot be expected to plug in a USB logger, retrieve a PDF file, and send it via email. The store manager, lab technician, or receptionist can simply tap to connect their phone to the Seguro device and the temperature log will not only be displayed on their phone but stored on the cloud and instantly made available to key stakeholders.
Scalable workflows for fast and easy implementation
Seguro temperature monitors and data loggers are easy to try but come with powerful integrations when you're ready for them. To ensure businesses of all sizes can access our services, sensified.io provides a range of packages.
You can start with a basic individual account and easily upgrade to an Enterprise account when you're ready to bring the rest of your organization on board. Eventually, you can integrate your enterprise resource planning (ERP) and transportation management system (TMS) systems with the sensified cloud, using our robust APIs to provide a completely integrated workflow.
Cost-effective, reusable data loggers
Cellular data loggers are expensive and often require complex tracking systems and reverse logistics for effective reuse. Seguro data loggers are comparable in cost to USB data loggers, with cloud connectivity and a robust Enterprise experience built in. And while Seguro data loggers are reusable, many supply chains will not require reuse to create an exceptional return on investment.
About sensified.io
For more information on any of our products, as well as trial samples for qualifying cold chain managers, please fill in and submit the enquiry form above.