STANLEY Healthcare's mission is to empower caregivers – all those who make the world more caring.
By connecting caregivers to essential information and to those in their care networks, we help organisations generate meaningful insights, enhance safety and security, and improve operational efficiency.
Our solutions are some of the most trusted in the industry, relied on by over 15,000 healthcare and senior living organisations worldwide.
AeroScout® Temperature and Environmental Monitoring Solutions
Used in multiple hospital departments including pharmacies, labs and blood banks, STANLEY Healthcare's AeroScout® Temperature and Environmental Monitoring Solutions are a better way to improve patient safety, streamline regulatory compliance, increase staff efficiency and reduce costs.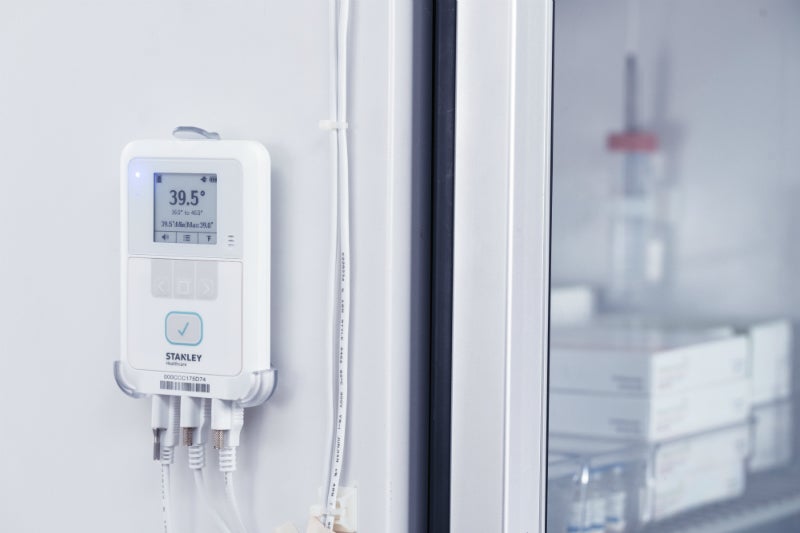 AeroScout T15e temperature monitoring tag.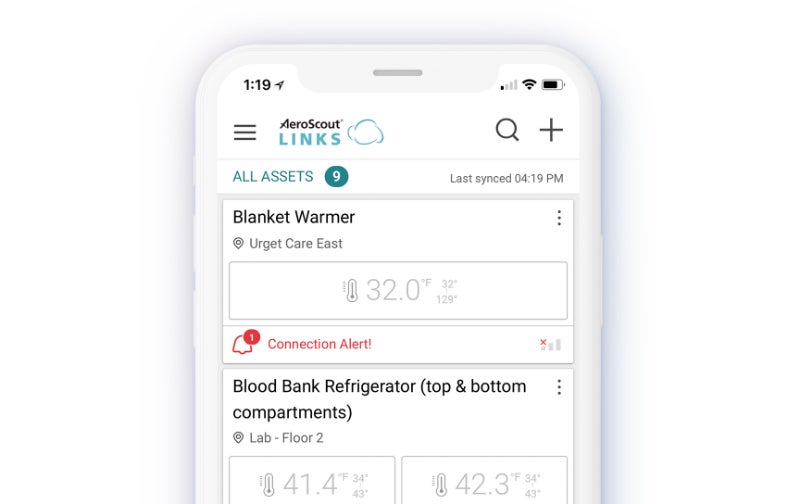 AeroScout Links app close-up.
T15e temperature monitoring tag close-up.
AeroScout Links on mobile device.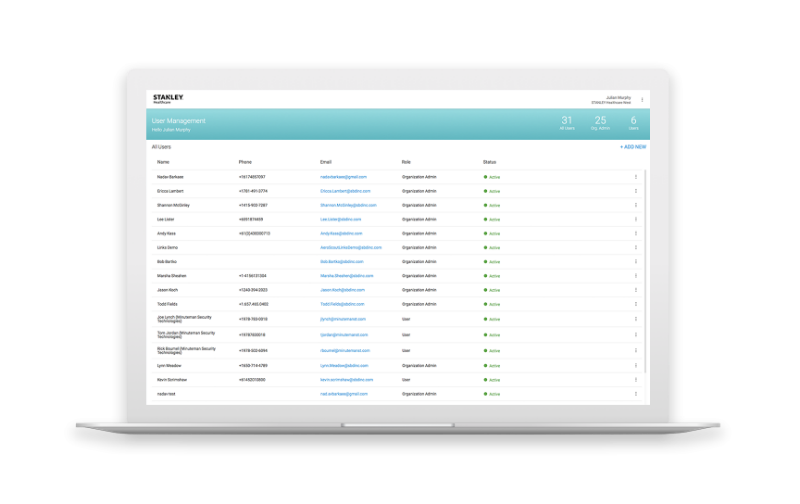 AeroScout Links user management report.
Higher Efficiency and Satisfaction: Low-value manual data recording tasks are eliminated, freeing caregivers to focus on patient care. The benefit is felt all around: higher satisfaction for staff and patients, and greatly improved efficiency for the hospital. In fact, ROI from productivity gains alone is measured in months.
Reduce Loss and Save Money: One unit out of range or unplugged when no one is around to notice can mean a loss of tens or hundreds of thousands of dollars. With alerts sent to a range of devices within minutes, you can intervene to protect the contents before they become damaged and unusable.
Support Patient Safety: With measurements taken every few minutes, AeroScout Solutions supports higher levels of patient safety not only for stored items but also for critical environmental factors.
AeroScout Links for round-the-clock cloud temperature monitoring
AeroScout® Links is a simple, affordable system for Pharmacy, Lab, Clinic and Hospital administrators to easily monitor and be alerted to patient safety-related environmental trends in real-time. The result is actionable information to meet regulatory compliance, prevent product loss, and improve staff efficiency and satisfaction.
Areas of use for AeroScout Links include hospital pharmacy and lab refrigerators to ensure that stringent requirements are met for the safe storage of critical drugs and vaccines or lab samples that are sensitive to temperature changes. Additionally, the Links system can also used in surgery areas, patient floors, and food services monitor ambient temperature and humidity conditions in all areas of the facility.
Outside of hospitals, Aeroscout Links can also be used in outpatient services to adhere to complex regulations for controlling temperature, humidity and other conditions in ambulatory surgery centres, urgent care, dialysis centres, skilled nursing centres, medical groups and clinics.
Advantages of AeroScout Links
AeroScout Links provide 24 / 7 monitoring, ensuring every refrigerator or regulated device is continually observed, alerting users via a mobile app when intervention is required.
Furthermore, the system is developed for compliance reporting under the Joint Commission Hospital Standards, Food and Drug Administration (FDA), Centers for Disease Control and Prevention (CDC) guidelines and state regulations.
AeroScout Links has no server or software installation requirements for easy deployment and ongoing management and deployment – requiring no specialised training or knowledge.
The cost-effective system has a low service charge based on the size of deployment. Users are not required to pay for any more than expected and can request expansion at any time.
Real-time healthcare solutions
In addition to leading Temperature and Environmental Monitoring solutions, STANLEY Healthcare offers a portfolio of products used across hospital departments, outpatient centres and senior living centres:
AeroScout Asset Management – Our healthcare asset tracking products reduce costs and transform the management of mobile assets used in all departments throughout hospitals.
Inventory Management – SpaceTRAX is a web-based clinical inventory management system for Cardiac Cath Labs (CCL), Interventional Radiology (IR), Operating Rooms (OR), Endoscopy / GI Labs and other critical procedural areas.
Infant Protection – Hugs® Infant Protection protects 2 million infants at over 1,600 hospitals worldwide and is one of the leading infant security systems in the world.
Patient Protection and Elopement Management – a broad range of patient protection solutions across the hospital, from pediatric to geriatric protection and psychiatric wards.
Staff Protection – MyCall® Staff Protection solutions deliver the peace of mind to caregivers in ED, Infant and behaviour health departments.
Patient Flow – AeroScout Patient Flow solutions reduce patient wait times, improve care team communications, increase room utilisation, to improve patient and family satisfaction.
Fall Management – Our M200 Fall Management Solution helps hospitals monitor, manage and proactively reduce patient falls.
Hand Hygiene Compliance Monitoring– Provides accurate, continuous and objective hand hygiene monitoring to improve patient safety.