THERMOCON, a brand of the Schaumaplast Group, produces thermal packaging solutions for the pharmaceutical industry.
Tested and qualified in the company's climate chambers, our reliable thermal packaging systems are required to maintain a high quality of pharmaceutical products, as goods must be transported or shipped within a fixed temperature range. If methods are unable to fulfil this requirement, spoilage and expensive costs can occur for the companies involved.
Comprehensive thermal packaging for pharmaceutical applications
Our clients receive a reliably tested complete system consisting of a thermo box made of particle foam, a cooling element set, suitable for required temperature range and transport duration, easily understandable test documentation and illustrated assembly instructions.
Customers also have the option to select individual components from our comprehensive product range, including approximately 100 thermo boxes in multiple sizes, from small one-litre volume boxes to insulated pallet shippers, as well as various cooling elements from gel packs and foam bricks to Phase-Change-Material (PCM) cooling packs.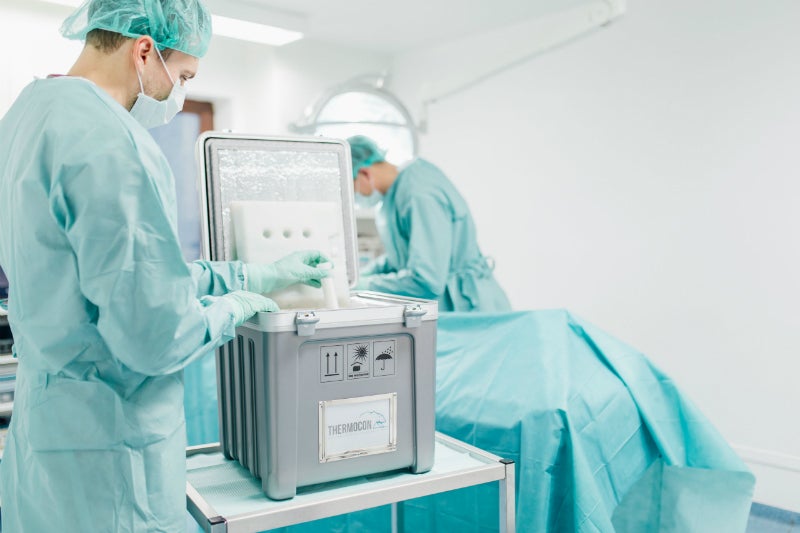 The THERMOCON Premium 12 was specially developed for the transport of sensitive samples, pharmaceuticals or bio-tissues.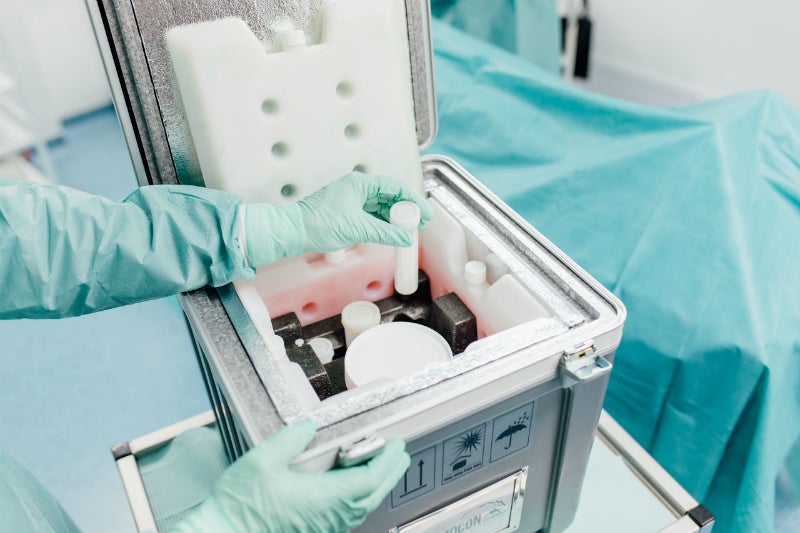 The inner tray can be individually adapted to the products to be transported. In this way, none of the sensitive content can slip, tip over or get damaged.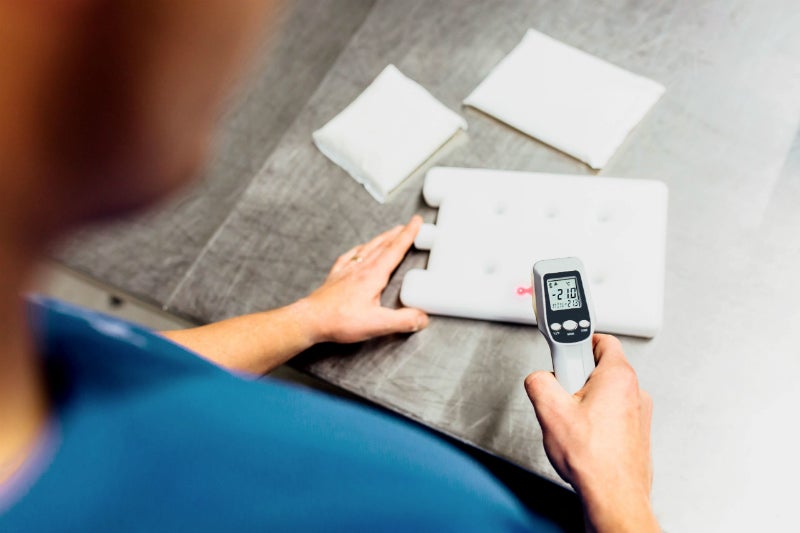 THERMOCON offers an interesting product range of frozen cooling components with a melting point at -21°C, which can be considered as a good alternative to dry ice.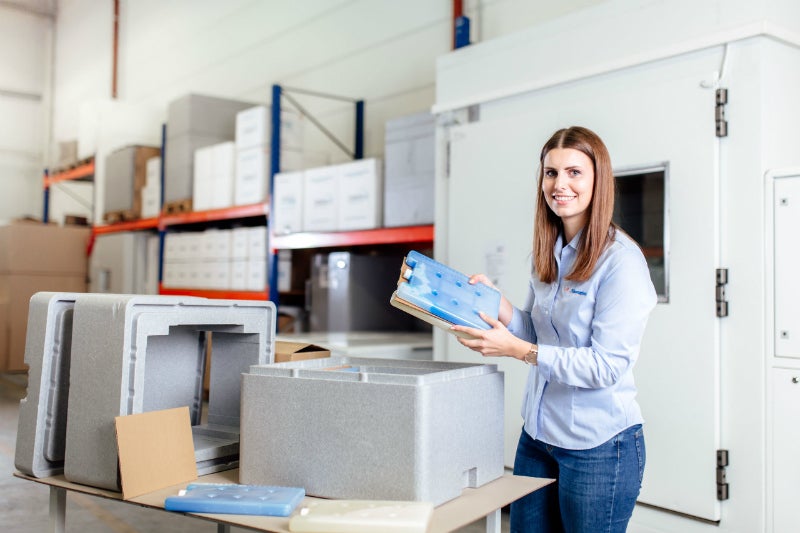 Whether standardised thermo boxes, individual thermal solutions or advice on the right choice of cooling element, THERMOCON is the trusted partner when it comes to reliable thermal packaging systems.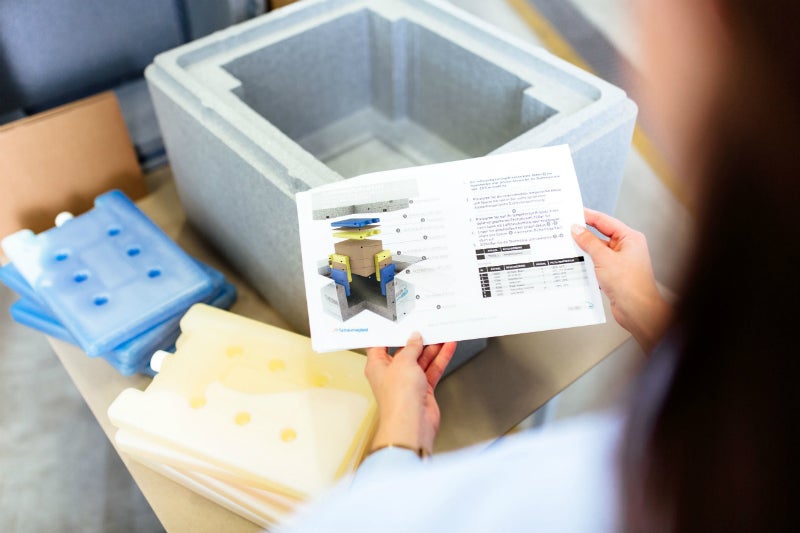 With all thermal systems, clients receive illustrated assembly instructions containing detailed step-by-step information.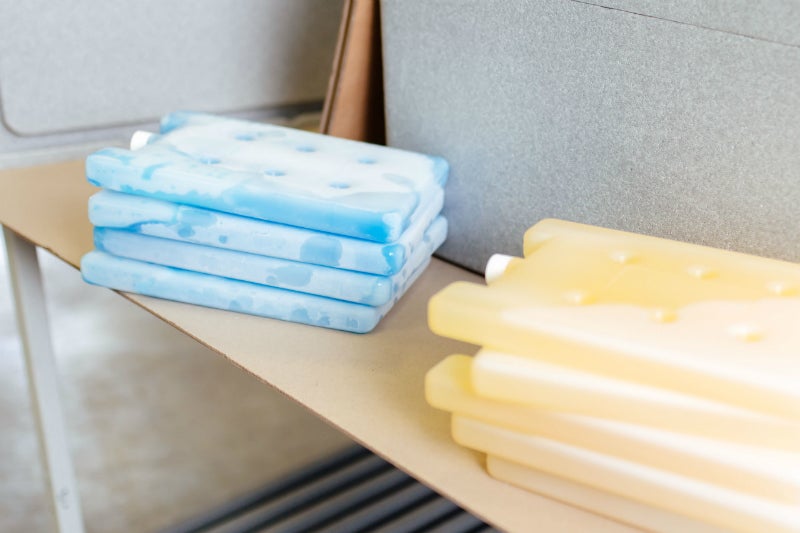 THERMOCON offers a wide product range of different cooling elements such as gel packs, foam bricks, hard-case cooling elements and PCM packs – suitable for different temperature ranges and transport durations.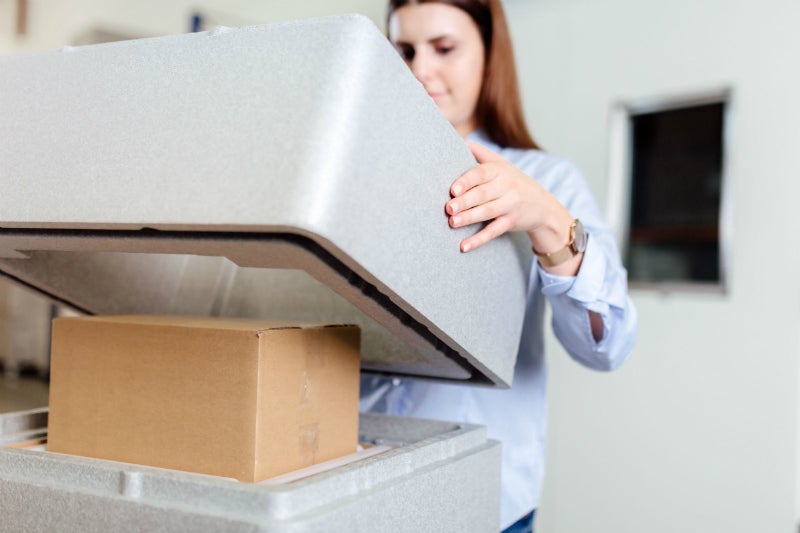 The product space of selected THERMOCON thermal packaging systems can easily be expanded by stacking frames.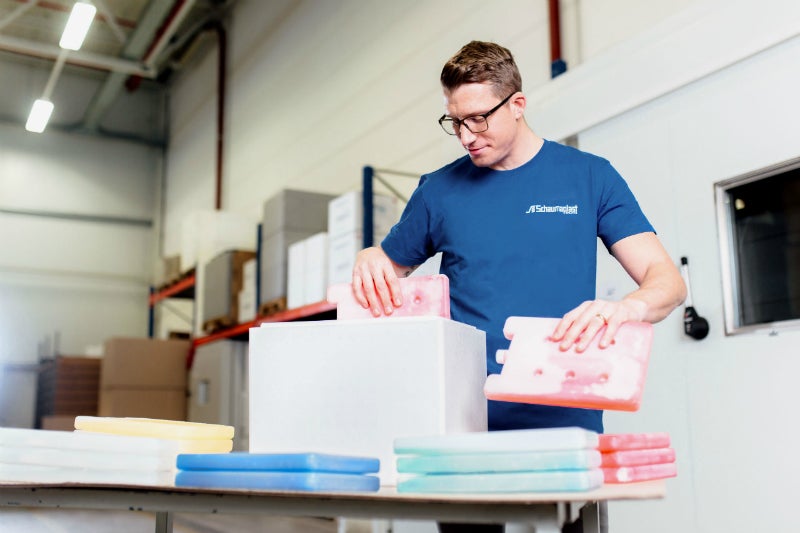 With the THERMOCON thermal systems the same box can be used for different temperature ranges just by changing the set of cooling elements.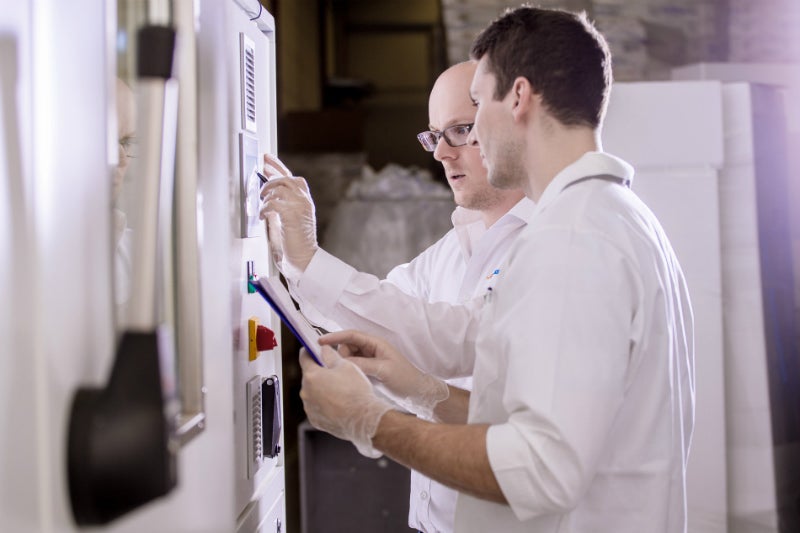 Climate chamber tests can be carried out with standardised temperature profiles, such as AFNOR or ISTA, as well as with individual temperature profiles.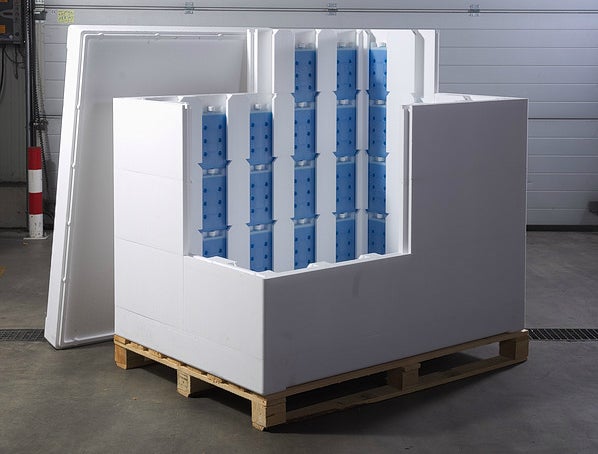 THERMOCON's thermal pallet shipper systems are accompanied by a simple and individually adaptable system: easily adjust product space by placing stacking frames.
Easy-to-handle thermal systems
Each thermal system comes with illustrated assembly instructions that contain detailed information on each work step, from pre-conditioning cooling elements to assembling the individual components into the complete system.
For the assembly of individual components, the employee receives a precise expanded view showing exact positions of cooling elements and spacers, as well as step-by-step instructions.
Clients and other interested parties can also make an appointment to be supported and accompanied by our employees during the first packing of their selected thermal systems.
Cost-efficient cooling packs
Selected THERMOCON systems use a standard cooling pack size. Small 2.2 litre boxes, as well as pallet shippers, can be equipped with the same cooling pack.
Furthermore, our customers do not need several separate systems to transport products with varying temperature ranges. The same box can be used for a different temperature range by changing cooling packs.
If the area inside the box is not sufficient, the client does not need a bigger thermal packaging system. Instead, the product space of selected THERMOCON systems can be easily expanded with one or more stacking frames for reduced storage space, purchasing and storage costs.
Various-sized EPS thermo boxes and pallet shippers
We offer a comprehensive product range of EPS thermo boxes in various sizes and product volumes. Clients have the option to choose from a small 0.57 litre EPS box to a Styrofoam box with a product volume space of 1,275 litres.
Furthermore, clients can select insulated pallet shippers with different capacities from the product range. Our thermal pallet shipper systems offer customers a simple and individually adaptable system. Depending on the volume of transported products, stacking frames can be placed on or removed from the system quickly and easily.
Custom thermal solutions
Our thermal engineering team develops thermal packaging systems to meet specific requirements. When developing a custom solution, the team takes dimensions of the thermo box, thermal properties of the particle foam used, required temperature range, transport duration and assumed outside temperatures into account.
Thermal calculations are carried out with computer-aided software and prototype tests in the company's climate chambers. Climate chamber tests can be achieved with standardised temperature profiles, such as Association Française de Normalisation (AFNOR) or International Safe Transit Association (ISTA) but also with individual temperature profiles.
If the engineered system passes the required tests successfully, it is considered qualified and the client receives the complete written documentation on its thermal packaging system.
Frozen cooling components as a dry ice alternative
Many logistics service providers increasingly classify dry ice as dangerous cargo, with some even rejecting its transportation, especially in air freight. Our cooling components provide good dry ice alternatives in cold chain management.
Clients can choose between gel packs, stable foam bricks and robust hard-case PCM packs. All frozen cooling elements have a melting point at -21⁰C and therefore cover a temperature range from -15⁰C to -25⁰C.
Reducing CO2 emissions with thermo boxes made of Biomass Balance Styrofoam
Renewable resources such as vegetable waste, vegetable oils or biogases are components of our Biomass Balance Styrofoam. The raw material manufacturer works according to the biomass balance approach. Fossil and renewable raw materials go into the production process.
The renewable resources are mathematically assigned to certain products. Independent certification by Certification Authority ensures that the quantities of fossil raw materials are replaced by renewable materials at the beginning of production.
At the same time, all outstanding properties of classic Styrofoam, such as lightweight, thermal insulation properties and shock resistance, remain the same. Biomass Balance Styrofoam is recyclable similar to classic Styrofoam. Furthermore, all our EPS and Neopor® boxes are available in Biomass Balance Styrofoam.