Tive Inc provides customers with accurate end-to-end visibility through a Cloud-based platform, which captures rich-sensor data from cellular-connected sensors, allowing shippers and logistics providers to proactively monitor and gain insights into their carriers, lanes or shipments.
The Tive platform is one of the industry's fastest-growing supply chain visibility technologies, helping companies achieve real-time transit visibility of shipments down to item-level worldwide. Our clients include some of the world's largest manufacturers, shippers and logistics providers.
Complete visibility on pharmaceutical shipments
The condition of pharmaceutical products can be monitored through the supply chain with simple and reliable real-time temperature and location trackers.
Our complete real-time tracker portfolio provides historical data on the state of products and also meets all US Food and Drug Administration (FDA) and other regulatory requirements.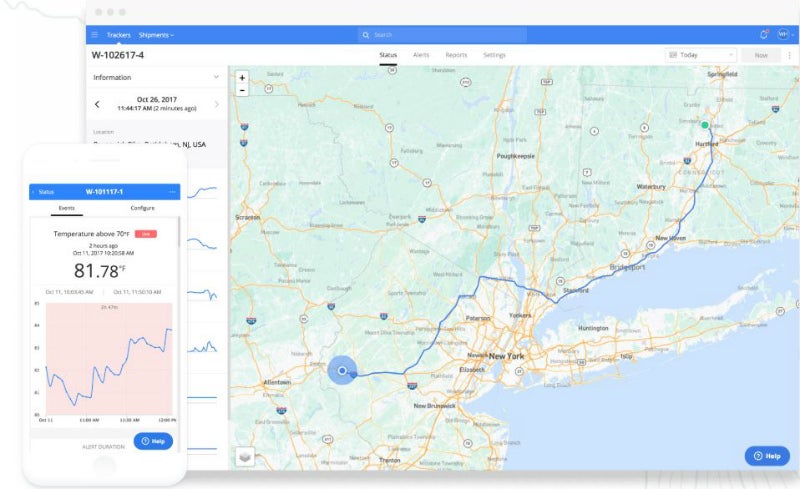 Real-Time Visibility Platform showing an over-the-road shipment on a computer screen and smartphone app.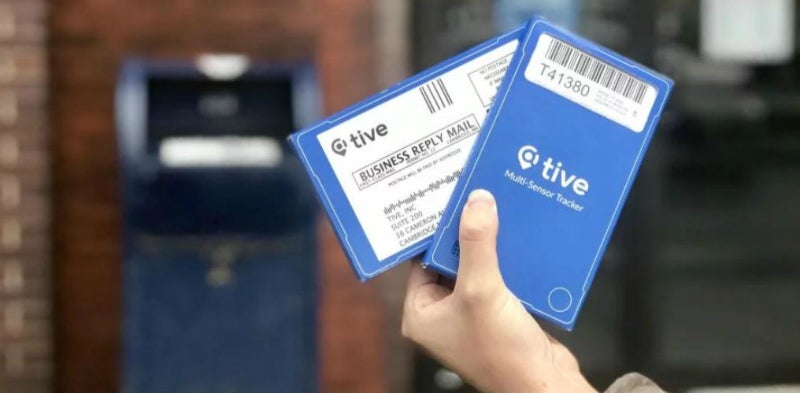 Customers can monitor temperature, humidity and location of shipments in real-time through Real-Time Visibility Platform.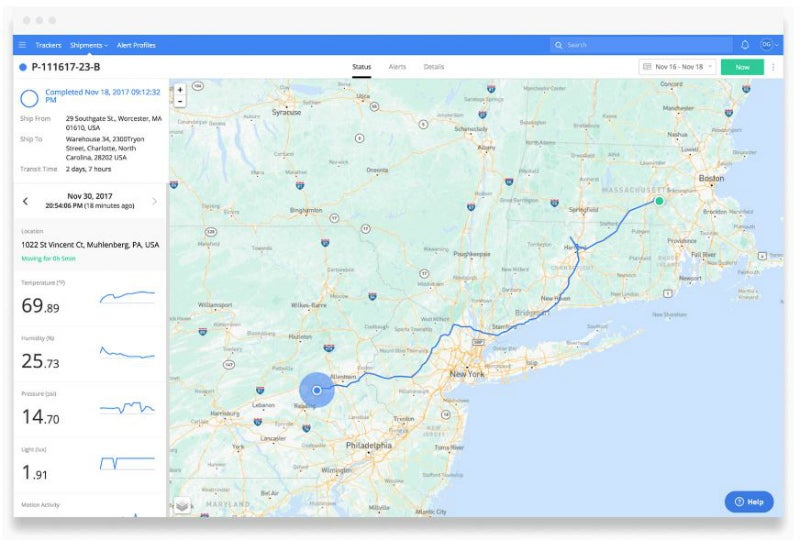 Visibility data platform
With our Cloud-based platform, clients can monitor shipments down to item-level, as well as receive real-time alerts and analyse how the individual supply chain works.
Geofences can be set to receive real-time alerts when shipments arrive and depart. Custom climate thresholds can be configured, alerting when cargo exceeds acceptable ranges on temperature, humidity and other sensors.
Some shipments require gentle handling. Therefore, shock or vibration alerts can be set to notify if rough treatment occurs.
Plan and analyse shipments for management in the Cloud
Tive's Cloud-based platform makes it easy to create and plan shipments through the selection of a past shipment profile or a new shipment with alert profiles and custom ID fields.
Tive goes beyond tactical reactions to enable clients to understand their supply chain. Data can be combined from multiple cargos to analyse patterns of delay or damage and insights can be used to determine root causes of problems, optimising the supply chain from beginning to end.
Best-in-class tracking portfolio
Tive's single and multi-use long-lasting multi-sensor trackers provide visibility of shipment location, shipment integrity and climate.
Our combination of cloud-based software and exclusive trackers provide companies with the visibility they require, enabling alerts, as well as reporting and analysis on inbound and outbound shipments.
Extensive portfolio of trackers
Tive Flagship Tracker (TT-4000) is a reusable tracking device with an industry-leading 15-month battery life on a single charge. The Flagship reports accurate location using a combination of cellular tower triangulation, GPS and Wi-Fi positioning. It provides sensor data for a complete view into the condition of shipments, with a focus on location, temperature, humidity, light, shock, orientation and tilt.
The logistics of the Flagship Tracker can be reversed through the use of a USPS Business Reply Mail sleeve. It is one of the only trackers in the market that can be returned by USPS mail, with the option to customise it to be returned to a fixed location.
Tive Solo 2G Single-Use Tracker (TT-5000) is one of the industry's most reliable and easy-to-use single-use trackers, which monitors location, temperature and lighting of shipments in real-time. It is a simple and inexpensive solution ideal for perishable pharmaceutical shipments.
For areas that suffer from loss of connectivity, Tive Solo 5G Single-Use Tracker (TT-7000) delivers ubiquitous and complete global coverage using LTE / 4G connectivity.
Item-level tracking is available through Tive Beacon (TT-6000), with temperature monitoring down to SKU level of pharmaceutical shipments. Furthermore, variations can be monitored inside full containers through the placement of multiple beacons on a single cargo.