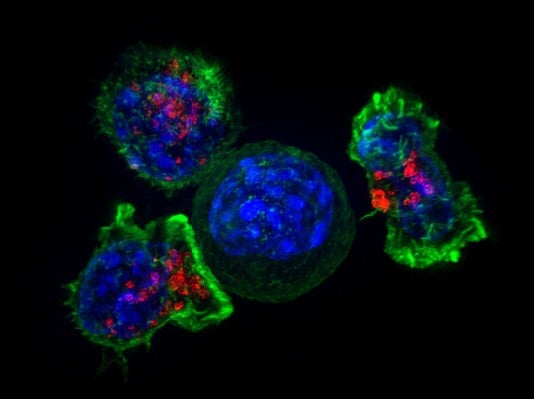 Although research shows that "cancer survival rates in the UK have never been better", there remains more to do to bring the UK and its National Health Service (NHS) up to the standard of other comparable countries.
This was stated by Professor Chris Harrison, executive medical director of the Christie NHS Foundation Trust, and former NHS England national clinical director of cancer during his opening remarks at the Westminster Health Forum policy conference on cancer care in England held on 17 September 2019.
Advancing and improving cancer care and treatment is one of the key areas discussed in the NHS Long Term Plan published earlier in 2019. Alongside commitments aimed at improving early diagnosis and screening for cancers to catch the disease earlier, the Long Term Plan also wants to encourage investment into cutting edge therapies and ensuring more patients can benefit from personalised treatments as they are developed.
However, achieving the goals set out in the plan is easier said than done. Discussing these problems and suggesting solutions was the core focus of the conference, and the Westminster Health Forum plans to share insights with policymakers across the UK to inform future cancer care-focused policy.
Challenging cancer treatment goals
Although the NHS has granted approval to many innovative treatments for cancers – including CAR-T therapies, despite doubts about their affordability for the NHS, according to NHS England's Cancer Drug Fund clinical lead Professor Peter Clark – there are a number of reasons why the NHS continues to struggle to diagnose and treat cancer.
According to a recent report by the International Cancer Benchmarking Partnership, the UK saw the lowest one and five year survival rates across most cancer types compared to Australia, Canada, Denmark, Ireland, New Zealand and Norway between 1995 and 2014.
One of the major ones is health inequalities across the UK; some of the most significant are based on ethnicity, gender as well as geographical locations. East of England Cancer Alliance chair Dr Rory Harvey explained that "just depending on where you live, there is a 3.5 fold variation across the country in terms of access to curative treatment" to lung cancer.
Harvey also pointed to Thurrock in Essex, where lung cancer is the "fourth most common cause of death" and "you are more likely to die of breast cancer [there]…than anywhere else in England."
UK National Screening Committee director of screening Professor Anne Mackie commented it has actually been shown "those most likely to have disease are the least likely to come" to screening appointments.
Another significant challenge is workforce shortages. This is a particular issue with the complexity of innovative treatments, such as personalised cell and gene therapies championed in the Long Term Plan, which require skilled staff with appropriate training to administer them.
Baroness Morgan of Drefelin referred to this as the "specialist cancer workforce" during her keynote. However, she noted its development is hindered by the lack of a detailed, funded plan for delivering this and giving patients at every stage of cancer "access to the most effective drugs"; allowing terminal patients a few extra months with their families and a lower risk of tumours returning for early stage patients.
Beginning to resolve cancer treatment issues
Patients Association chair Rachel Power commented that insights and success stories from pockets of good practice should be shared and used as models for deprived areas to get the best health outcome for everyone.
In terms of workforce issues, University of Oxford associate professor of pathology discussed how the use of artificial intelligence in her pathology laboratory to allow staff to work more flexibly and use their skills more effectively.
Genomics England director of public health Dr Tom Fowler explained preventing health inequalities developing and ensuring there is an upskilled workforce for the emerging frontier of genomics is a priority as the 100,000 genomes project is transitioned into a country-wide, whole genome sequencing by the NHS.