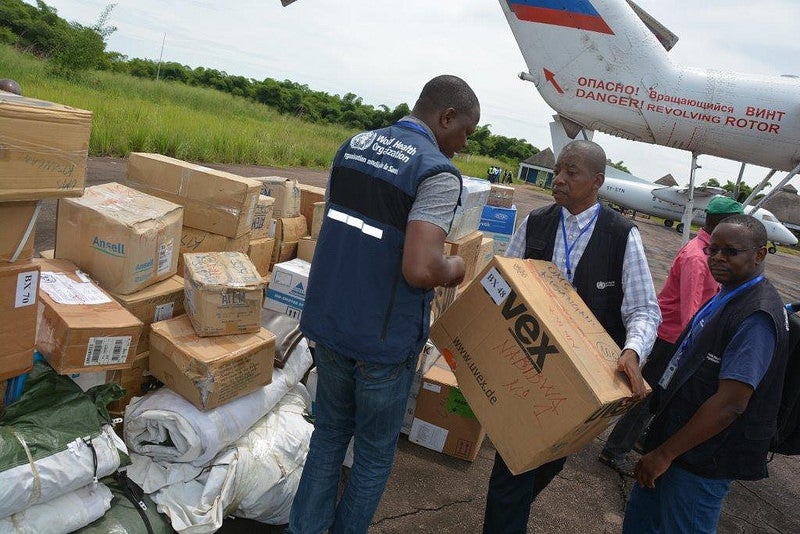 More than two years after the West African Ebola epidemic was declared over, after claiming more than 11,000 lives in Guinea, Sierra Leone, Liberia and elsewhere between late 2013 and early 2016, sudden outbreaks in the Democratic Republic of Congo (DRC) continue to cause international concern. The country suffered an outbreak in the north-western Équateur province in 2014 during the West African epidemic, despite being far removed from the borders of the affected nations.
This year, two outbreaks – one still ongoing – have shown that Ebola has the worrying potential to make an epidemic resurgence in the DRC. Starting in May, an outbreak – again in Équateur province – was contained and declared over by July, but still resulted in 54 human cases and more than 30 deaths. More serious still is the second Ebola outbreak to have hit the DRC this year, which started in August and is still raging at the time of writing.
The DRC's second major outbreak of 2018 has already dwarfed the first, with a death toll currently at more than 200, and still rising. The crisis, centred around the north-eastern provinces of Kivu and Ituri, has quickly spiralled into the worst Ebola outbreak in the country's history, and has forced neighbouring countries to take action against the potential spread of the virus. In Uganda, frontline health workers in areas that border the affected Congolese provinces are being pre-emptively vaccinated with Merck's experimental rVSV-ZEBOV vaccine (also known as V920) to guard against cross-border infections.
"In vaccinating frontline health workers against EVD [Ebola virus disease] even before Uganda detects a single case, health authorities are being cautious having learnt bitter lessons from previous outbreaks," the World Health Organization (WHO) noted in a statement in November.
Congo Ebola outbreak: conflict hampers containment efforts
Although Merck's V920 live attenuated vaccine against Zaire ebolavirus is experimental and currently unlicensed (although recommended by the WHO for use in Ebola outbreaks in the absence of a licensed vaccine), it demonstrated 100% efficacy during a Phase III ring vaccination trial in Guinea during the 2014-16 epidemic, and clearly played a prominent role in the containment of the crisis. In the DRC this year, V920 also played a role in containing the May outbreak within a couple of months.
So with an effective vaccine in hand – Merck has committed to maintaining a stockpile of 300,000 rVSV-EBOV vaccines after a $5m purchase agreement – and a successful case study of containing the virus in the DRC just months previously, why has the outbreak that started in August spiralled into such a worrying situation? The answer lies not in the pharmaceutical world, but in the complex political situation and physical realities found in the country's conflict-torn north-east.
While the May outbreak was contained within the relatively peaceful province of Équateur, the epicentre of the current rash of cases – 358 confirmed and probable, at the last count – is North Kivu province and the city of Beni, which have for years been suffering under a violent insurgency by a rebel group called the Allied Democratic Forces (ADF). Violence has always been a traumatic limiting factor for vaccination campaigns; while vaccines have eradicated polio from most countries worldwide, Afghanistan and Pakistan are still reporting new cases, partly because Taliban-issued fatwas denouncing polio vaccination sparked a surge of attacks against health workers.
In the north-eastern DRC, there have reportedly been over ten major security incidents since the outbreak was declared in August, while the Congolese military and UN peacekeepers struggle to maintain order. In October, rebel forces attacked several neighbourhoods in Beni, killing 15 civilians and kidnapping a dozen children.
"[The October attack is] a double tragedy for the civilians there as it will be very hard to stop the outbreak if this violence continues," said WHO deputy director-general for emergency preparedness and response Dr Peter Salama in the aftermath of the crime. The threat of violence is also impeding the efforts of international experts deployed to Kivu province, with US disaster assistance teams withdrawn from Beni to the capital, Kinshasa, due to concerns for their safety.
Vaccination logistics: a perfect storm in the DRC
Conflict has always been an extreme driver of deteriorating public health, and its effect is particularly pronounced during vaccination campaigns. The successful containment of the West African Ebola epidemic in 2016 and the DRC's May outbreak have hinged on the 'ring' vaccination method, which involves targeting vaccinations at those who are known to have been exposed to infected individuals, and their immediate contacts.
The method has proven effective at containing local outbreaks inside 'rings of immunity', but relies on contact tracing – being able to identify and monitor exposed people for the 21-day period during which infection may develop. This requires a level of local familiarity that virtually impossible to achieve in a chaotic conflict zone where fear runs high and trust is in short supply.
"This approach…requires a comprehensive and precise understanding of who is infected and who their contacts are — something that necessitates having unimpeded daily access to their communities for months," wrote Patient Knowhow founder Devabhaktuni Srikrishna and Harvard Medical School's Dr Ranu S. Dhillon, both of whom were involved in containing the West African Ebola epidemic, in a November editorial for the Harvard Business Review.
"Though the outbreak could still be limited, cases appear to be increasing — especially in Beni, where cases have doubled in recent weeks — with 80% of new infections arising among people with no link to 'known transmission chains' (where everyone who is infected is known and you can track who has been exposed with some accuracy). This means that we might only be seeing the tip of an iceberg of hidden transmissions and the outbreak could spiral out of control."
This central dilemma joins a host of other logistical challenges that makes the eastern DRC something of a perfect storm for a vaccination campaign. Until work is done to develop a more thermo-stable version of the V920 vaccine (or any of the other competing Ebola vaccines being developed by the likes of GlaxoSmithKline and Johnson & Johnson), establishing a reliable cold chain for V920, which requires temperatures of between -60°C and -80°C to survive longer than a couple of weeks, will be an ongoing challenge, although high-tech cooling units such as Intellectual Ventures' Arktek have proven effective in remote environments.
Existing local infrastructure also seems to be driving Ebola infection rates. In November, while noting that the current outbreak is unlikely to be contained for "at least another six months", Salama told reporters that local health centres in and around Beni have been a locus of Ebola infection.
"Probably more than 50% of cases in Beni have been driven from these tradi-modern healthcare facilities, and the fact that hygiene and injection practices in these areas are relatively unsafe," Salama said.
V920: supply and licensing
The existing supply agreement with Merck – maintaining a stockpile of 300,000 doses – is easily enough to cover the needs of the relatively supply-efficient ring vaccination strategy being pursued now, but if the outbreak continues to deteriorate and threaten to spread across borders, a campaign of mass vaccination might become necessary. In this case, the standing supply of 300,000 doses of V920 may be put under strain – the city of Beni, where contact tracing has proven particularly difficult, has a population of around 230,000.
Nevertheless, in their article, Srikrishna and Dhillon point out that full vaccination isn't necessary to hit the critical mass necessary to achieve 'herd immunity' – a sufficient level of immunity in the population to stop disease spread in its tracks. The experts pointed to a 2016 University of Rhode Island study that suggests only 42%-63% of the affected population would need to be vaccinated to establish herd immunity against Ebola. Still, Srikrishna and Dhillon recommended pre-emptive action to ensure that supply matches any future ramping-up of vaccination programmes.
Licensing for V920 seems like a distant concern compared to the pressing need of the people living through the worst Ebola outbreak in the DRC's history. But, while V920 has proven clinically effective and remains a vital part of the international response to Ebola, it is important to remember that it is an experimental vaccine, and the health risks involved with its use have still not been fully described. Achieving proper approval for the vaccine could help ease local suspicions, and provide a reliable yardstick against which alternative vaccines can measure their own performance.
In November, Merck announced that it has started the submission of a rolling Biologics Licence Application to the US Food and Drug Administration, having already been awarded the regulator's breakthrough therapy designation in 2016. The company expects the submission process to be complete in 2019.
Above all, the ongoing Ebola crisis in Kivu province serves as a potent reminder that human conflict is the most dangerous enemy of public health; beyond the direct consequences of violence, conflict creates conditions ripe for the emergence of health crises, and prevents countermeasures that would otherwise be effective. There are dozens of factors to consider in the response to the Ebola outbreak in the DRC, but the most important one, the foundation that supports everything else, is the hardest to remedy – a lasting peace and security in the country's terrorised eastern provinces.