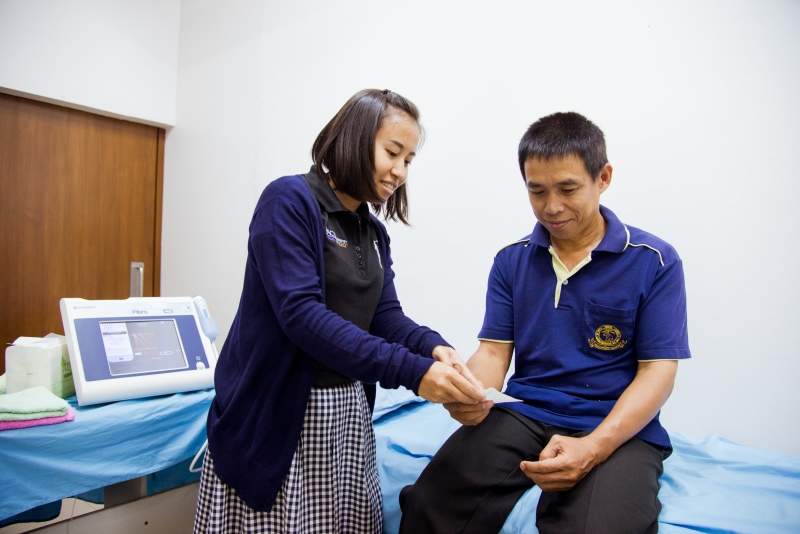 An estimated 71 million people worldwide have chronic hepatitis C infection (HCV) and almost 400,000 die each year from the disease. According to the World Health Organization, antiviral medicines can cure 95% of those affected, yet less than three million people are currently on a treatment, as access to diagnosis and drug therapy is limited, particularly in low and middle-income countries where rising healthcare costs are a barrier.
The Drugs for Neglected Diseases initiative (DNDi) has run a phase II/III STORM-C-1 trial of a new sofosbuvir/ravidasvir combination therapy for HCV and shown the treatment to be safe and 97% effective, even in hard-to-treat cases. Crucially, the combination therapy can be produced at a fraction of the cost of current treatments. HCV drug courses from big pharma can cost tens of thousands of dollars, but an agreement signed in Malaysia will see this new combination therapy offered at a target price of $300 per course.
A collaborative venture
Founded in 2003 in Geneva, Switzerland, DNDi is a collaborative, needs-driven, non-profit drug research and development organisation that is developing new treatments for neglected diseases, with patient care its primary focus. Seven key stakeholders have propelled the organisation forward, including Médecins Sans Frontières (MSF) and Ministry of Health Malaysia, both of which have collaborated on this recent initiative.
"Our HCV combination therapy is priced affordably and could help address neglected populations in countries excluded from pharmaceutical company access programmes, where only the very rich have access," says Dr Bernard Pécoul, DNDi's executive director.
Pierre Mendiharat, deputy operations director for MSF, agrees that access and affordability are paramount. "From a treatment provider perspective, we have been waiting for a simple, affordable, robust treatment tolerated by all patient groups," he explains. "MSF is able to secure a low price for HCV because we are a humanitarian actor that has strong negotiating capacity, but middle-income countries in particular don't have access to these low prices, so the pricing of this ravidasvir/sofosbuvir combination is interesting in that regard."
In developing the project, one of DNDi's first steps was to conduct a pipeline analysis to assess promising compounds in late-stage clinical development that had potential to be pan-genotypic. The drug had to be affordable, so price and availability considerations were built into the target product profile from the start.
"That's how we came to work on ravidasvir," continues Pécoul, "a drug candidate developed by California biotech Presidio Pharmaceuticals, which had promising data from an earlier trial, and because the licence-holder, Pharco Pharmaceuticals, had a very clear vision of providing broad and affordable access. In many ways Pharco is a good illustration of how industry can be a part of the solution, rather than the problem, in access to medicines."
Why Malaysia?
Malaysia was a logical choice for DNDi's collaborative venture given the high prevalence of HCV, an established HCV control programme, as well as a strong public health initiative that makes treatments available and affordable for the population.
"The Ministry of Health has shown the political vision and the will to find ways to put people on treatment in public hospitals throughout the country," says Pécoul.
The trial using medicines produced by Egyptian drug manufacturer Pharco was run by DNDi and co-sponsored by the Malaysian Ministry of Health, in ten sites across Malaysia and Thailand. Agreements signed in 2016 and 2017 enabling the trials and patient scale-up in Malaysia set out a target price of $300 for a 12-week treatment, a reduction of almost 100% on existing treatments available in the region.
The low-down on cost-effective pharma
Ravidasvir is a relatively new drug but is priced as a generic in middle and low-income countries.
"This is possible thanks to DNDi's agreements with our various industrial partners," explains Pécoul. "They abide by various 'gold standard' licensing terms that DNDi has defined to ensure equitable and affordable access to treatments."
One of these terms is the commitment to make the final product available at cost, plus a minimal margin, in endemic countries.
"As a result of this shared vision, we have a price structure that will be very competitive for patients in middle-income countries who have to pay out of pocket, or for governments who want to expand treatment and haven't been able to do so because of affordability issues," he continues.
In Malaysia, sofosbuvir and ravidasvir will be available in public hospitals for less than $300, as the government has issued a 'government use' licence for the companion drug sofosbuvir. This enables access to more affordable versions of this expensive and patented medicine.
"In that respect it was a landmark decision," says Pécoul, "that will not only help more than 400,000 people living with hepatitis C in Malaysia, but also sends a strong signal to other countries where high treatment prices act as a barrier to implementing a public health approach for hepatitis C."
The future of disease control
The World Health Organization aims for 80% of people diagnosed with HCV to be put on treatment by 2030 and both DNDi and MSF have bold ambitions in this regard.
"MSF's ambition is to replicate to hepatitis C the lessons we have learnt from HIV," says Mendiharat. "We want to simplify the model of care for hepatitis C, including strategies like task shifting and decentralisation, and show that it is possible to diagnose and treat large numbers of patients, including in resource-poor settings."
Beyond disease control per se, DNDi's initiative is an interesting example of an alternative drug development model.
"It's often claimed that high medicine prices are necessary to pay for high research and development costs," ventures Pécoul, "but it isn't true that we have to choose between innovation or access. At DNDi we don't rely on high prices to fund our investment into research and development. Instead, we rely on contributions from donors to pay for it upfront, which allows DNDi to organise its drug development efforts based on priority public health needs and not what will do well in the market."
This approach also allows the organisation to price products affordably because it does not rely on revenue generated by sales. "In that sense," concludes Pécoul, "this project is almost a proof of concept that a new drug can be brought to market at far lower costs than the traditional model."