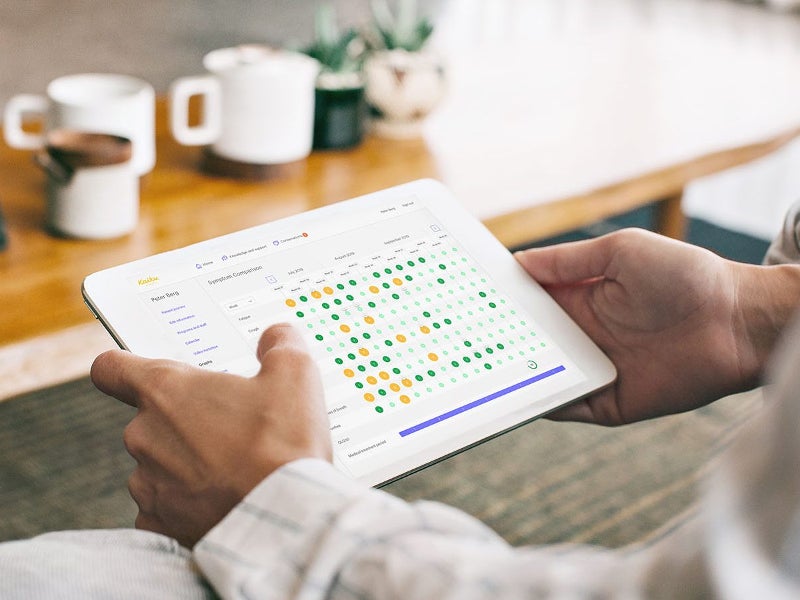 Digital health interventions (DHIs) are fast emerging as vital tools to promote personal health and provide essential services. DHIs can be accessed through mobile phones, tablets and computers, as well as serve as effective support systems to improve personal health.
Pharmaceutical Technology lists seven promising digital health intervention companies that are participating in the European Society of Medical Oncology (ESMO) Congress 2019.
WeHealth Digital Medicine
Established in November 2016, WeHealth Digital Medicine is a part of the Servier Group. The France-based company offers innovative digital and connected solutions that help in monitoring a patient's progress and predicting the evolution of a disease.
WeHealth adopts an open innovative approach and collaborates with start-ups in the e-health field to co-develop solutions that provide autonomy to patients and minimise medical examinations and hospitalisations. Two of the company's key products include the CARDIOSKIN™ and ON'COHUB™.
CARDIOSKIN™is an ECG solution that helps in long-term monitoring and data analysis for patients with various indications, including syncope, palpitations, atrial fibrillation, coronary ischemia, dilated cardiomyopathy, hypertrophic cardiomyopathy, and inherited arrhythmic diseases. It includes a combination of a smart textile with a smartphone app and electronic components.
ON'COHUB™ is an e-solution designed to provide follow-up data collection and management in patients with solid tumours. The solution helps in generating automated reports and provides real-time data to a medical team while adapting to a patient's clinical trials and routine.
WeHealth Digital Medicine will be at booth 219 at the ESMO Congress 2019.
Kaiku Health
Kaiku Health offers a digital health intervention platform aimed at improving the quality of life of cancer patients. Founded in 2012 at Aalto University, Finland, the company offers personalised support to cancer patients through various phases of therapy by providing self-management strategies and digital symptom management, as well as reduce emergency room visits through its platform.
The platform uses unique algorithms that identify patient symptoms and alert care teams to offer support to the patients. It is based on scientific data that has indicated the overall survival to be higher in patient-reported symptom monitoring compared to standard care.
The platform can be used to monitor and process data of various types of cancers, including those of breast, prostate and other urological, lung, colorectal, hematologic, melanoma and other skin cancers, gynaecological, and head and neck.
Despite the lack of knowledge on adverse events in cancer immunotherapies, Kaiku Health is working towards understanding and managing toxicities of immune checkpoint inhibitor and CAR T Cell therapies.
Kaiku Health will be at booth 406 at the ESMO conference.
Univadis Oncology
Univadis Oncology is a free service offered by Merck & Co. that provides clinical resources to healthcare professionals. The information is organised around the speciality selected by the healthcare professionals in a simple and quick way to access.
The information supplied by the service can be accessed from a smartphone, tablet or web device. The service provides access to a wide drug database that assists healthcare professionals to access dosing, indication and pricing info. It also helps to check for potential drug interventions and look for alternative treatment options.
The service also offers in-depth information on more than 2,000 diseases. It keeps healthcare professionals up-to-date by delivering the latest news affecting a particular speciality area, drug news, and safety information.
Healthcare professionals can customise their account by adding a range of services such as medical news, printable anatomical illustrations, clinical guidelines of various healthcare institutions, and clinical trials information.
Univadis Oncology will be at booth 453 at the 2019 ESMO Congress.
French Healthcare
French Healthcare was launched by France's Ministry of Europe and Foreign Affairs in 2018 to promote French health technologies. The organisation aims to bring collaboration among companies, health institutions, research institutes, and academicians.
Members of the organisation can benefit from various communication tools developed by the organisation, participate in working groups to develop various projects, access international health events, participate in trade shows, and host foreign delegations.
Some of the areas supported by French Healthcare include the development of medical technologies, infrastructure such as hospitals, participation in promising clinical programmes, and training and research.
The organisation also aims to promote medical tourism and fostering the development of the pharmaceutical industry.
French Healthcare will be at booth 455 at ESMO 2019.
Sysmex Inostics
Sysmex Inostics, a subsidiary of Sysmex Corporation, is a molecular diagnostics company that specialises in blood-based cell-free tumour DNA oncology testing. It uses highly sensitive assays such as OncoBEAM™ and SafeSEQ to detect cancer-related mutations.
The OncoBEAM™ is a digital polymerase chain reaction (PCR) technology that combines emulsion PCR and flow cytometry for the detection of mutant tumour DNA molecules. The technology is superior compared to liquid biopsy methods as it provides reliable molecular information.
SafeSEQ is a sequencing technology that enables the detection of rare mutant molecules. The technology focuses on clinically relevant areas of different cancer types and delivers results at a reduced cost. Combining with proprietary bioinformatic analysis further maximises the analytic performance of the technology.
The services offered by Sysmex Inostics include biomarker assay development, analytical and clinical validation, regulatory registration, cGMP manufacturing, GCP/CLIA certified laboratory, project management, and companion diagnostic (CDx) kit development. 
Sysmex Inosics will be at booth 250 at the 2019 ESMO conference.
Oncompass Medicine
Oncompass™ Medicine is a molecular diagnostic and information service company that enables oncologists to design the appropriate cancer treatment for their patients. The company's artificial intelligence (AI)-based technology and decision support programmes help physicians to identify the correct therapy for their patients.
The company's programme starts with the identification of mutant genes through molecular diagnostics followed by clinical interpretation of the results. Based on the test data, the best treatment available for the particular type of mutant gene is identified. The programme works with oncologists across the world to evaluate treatment options and provides patients with access to novel therapies and clinical trials.
Oncologists can gain access to various Oncompass™ programmes, each of which offers a wide range of databases. The Oncompass™ full programme, for example, provides molecular diagnostic and information service interpretation for 58 genes while the all-dynamic programme offers the same for 600 genes.
At the ESMO Congress 2019, Oncompass Medicine will be at booth 408.
IBM Watson Health
IBM Watson Health is a provider of solutions and services to address various challenges of the healthcare industry through artificial intelligence (AI). The company's focus areas centre around six key areas, including oncology and genomics, imaging, life sciences, value-based care, government, and consumer.
The company provides specialised healthcare consulting services that are supported by strong analytics. It helps in developing efficient care programmes that reduce waste, redundancies and costs. It also helps healthcare providers to make efficient decisions, identify fraud and inconsistencies in care, as well as avoid biased decision-making.
IBM Watson Health also provides other consulting services such as payer consulting aimed at improving member experience, regulatory compliance, and operational excellence.
Employer consulting offered by the company enables evaluation of healthcare programmes and strategy development. The company also offers guidance to government health agencies to manage costs of care.
IBM Watson Health will be at booth 251 at the ESMO Congress.
The ESMO 2019 Conference will enable pharmaceutical companies from across the world to showcase the latest technologies and products in the oncology area. It is expected to attract attendance from researchers, clinicians and journalists from the pharmaceutical industry.