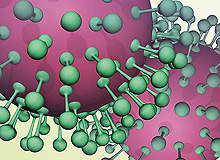 Fighting viruses with their own weapons is not an entirely new approach. A simple and successful tool, however, has only been discovered recently: virus-like particles (VLPs) resemble and mimic the structure of authentic viruses without being infectious. As they do not contain any viral genetic material, they have significant potential to elicit a strong immune response, without doing any actual harm.
Most vaccines are still produced in fertilised chicken eggs – a complex process that has been in use for around 80 years and takes at least six months. While this older technology, developed by the US Centers for Disease Control, still works for some areas, it is not nearly fast enough to address emerging seasonal or pandemic viral strains.
Despite this, some areas of the industry are still tentative towards VLPs and would rather invest in more traditional ways of drug development methods. Only the highly pressured vaccine market has welcomed the approach with open arms, allowing pharmaceutical companies to produce large amounts of a cost-effective vaccine within tight timeframes, bringing the timeline of development down to only a few months.
Next-gen vaccines
One company that jumped on the bandwagon, specialising in VLP-based vaccines since 2007, is Canadian biotechnology firm Medicago. According to its vice-president of business development, Frederic Ors, the next generation of vaccines will be developed with this technique. "VLP represent one of the most exciting emerging vaccine technologies for generating effective and long-lasting protection," he says.
"VLPs are traditionally produced from virus families or from mammalian cell lines."
The particles consist of protein shells studded with short strands of the proteins specific to whatever disease the vaccine is intended to control. They look like the virus and the body's immune system can recognise them readily. The main difference is that their core genetic material is non-infectious, making them unable to replicate.
"Unlike current influenza vaccines that are manufactured with an inactivated virus, VLP-based vaccines do not require an actual sample of the virus," Ors explains. "They simply require the genetic sequence of the virus or bacteria."
According to Ors, one important advantage of the particles is that they more effectively activate key aspects of the immune response to achieve potent immune stimulation and provide immunological memory. In addition, VLP-based vaccines have been shown to provide protection against different strains of a virus other than those for which the vaccine was formulated.
Robert J Geraghty, associate professor and director of the Center for Drug Design at the University of Minnesota in the US, sees the biggest benefits for VLPs in their safety: "When compared to attenuated vaccines and in the presence of more complex epitopes [the parts of an antigen molecule to which an antibody attaches itself] they provide a wider immune response when compared to a single subunit vaccine," he says.
Healthy tobacco
VLPs are traditionally produced from virus families or from mammalian cell lines. Medicago has however concentrated on the production of the particles from plants cell lines, using the Australian tobacco strain Nicotiana benthamiana.
"Medicago's technology has the potential to offer speed and cost advantages over competitive technologies," says Ors. "It can deliver a vaccine for testing in less than a month after the identification and reception of genetic sequences from a pandemic strain."
The process only takes a few days and produces larger amounts of vaccine than the traditional method of cultivating the virus in fertilised chicken eggs. To produce the particles from the tobacco plant, the company synthesises the DNA sequence of the latest flu strain. The mature tobacco leaves are dipped into a solution made with agro-bacterium, an organism that easily transfers DNA between itself and the plants. It then moves into the plant cells without transferring its own genetic material and compromising the VLP's purity.
The leaves remain in the solution for two minutes under vacuum, soaking up the bacteria particles to the plant cells and pulling the virus protein into the cells for replication. After this process the plants incubate in a greenhouse for about six days, producing large amounts of VLP in the leaves only.
"Plant-based VLPs are a good option because plants can be used to produce large amounts of VLPs and are probably cheaper and faster than other methods," agrees Geraghty. "There also may be fewer safety concerns when producing VLPs in plants as compared to production of VLPs in mammalian cultured cells."
Other benefits are the reduced lead time, with the recombinant proteins produced one week post-infiltration, as well as the simple, versatile and easily scalable process. However, industry experts warn that the risks of the use of tobacco have not yet been disclosed.
The HPV vaccine
Most of today's research into VLPs concentrates on developing vaccines for seasonal influenza viruses and various strains of flu such as H5N1 and H1N1, commonly known as bird and swine flu.
The first successful strike of VLPs was against the human papillomavirus (HPV), which triggers the development of cervical cancer, genital warts and some other rarer forms of cancer. Currently there are two VLP-based HPV vaccines on the market: Gardasil, approved in 2006, and Cervarix, which received EU approval in 2007 and US Food and Drug Administration approval in 2009.
"US-headquartered company
Novavax
has created a VLP-based vaccine against HIV."
"The case of papilloma-induced cervical cancer has been at least one example where VLPs appear to work quite well," explains Louis M Mansky, director of the University of Minnesota's Institute for Molecular Virology.
"I think that's a great example of a newer application of this approach of developing a vaccine candidate that has already been translated into products that are being used in humans now," he says. "I think that opens up the door of opportunity for other types of VLP vaccines to be developed for other viral diseases."
At the same time Mansky warns that all drugs, even presumably very good drugs, have off-target or side effects. "There's no reason to think that that wouldn't be true for a VLP-candidate that's being used for therapeutic application."
Up to now, the only controversy surrounding the HPV vaccine seems to be in the US, regarding its high costs of $120 a dose ? $360 in total for the three jabs.
A bright future?
Industry experts agree that the downsides of VLP technology are small compared to its opportunities. "The biggest issue is to get them to look like the authentic virus so that they're recognised by the immune system in the same way as the authentic virus would be," says Mansky.
While Medicago concentrates on the development for seasonal and pandemic vaccines, others have gone a step further and research an agent effective against ebola or HIV.
US-headquartered company Novavax has created a VLP-based vaccine against HIV. Together with the Harvard Medical School and the Emory University and with funding support from the National Institutes of Health, scientists have already conducted pre-clinical testing using the vaccine. Further evaluation is ongoing.
"It is possible to develop a VLP-based vaccine for HIV," says Mansky. "But the main concern for developing good candidates for HIV vaccination, have been issues related to the high level of diversity of HIV isolates in nature. That's been a major stumbling block. A VLP wouldn't have a distinctive advantage over any other vaccine in use."
Nevertheless, experts rate the potential of VLP for the pharmaceutical industry as very high, especially to get drugs to poorer countries, which do not have the funds to produce large amounts of vaccines. "I suspect that the VLP therapeutics could be developed and produced in a manner that it would be cost-effective enough that they could be seen in many countries globally," says Mansky.
"The possibility of being able to mass-produce them in a really cost-effective manner increases the likelihood of them being applied to underdeveloped nations."
Ors adds: "Only a few areas of the world currently have access to influenza vaccine-production facilities. In the event of a pandemic, borders may close to stop the virus from entering new countries and vaccine supplies will be used by each country to ensure protection of its own citizens. The ability to rapidly and cost-efficiently deliver large volumes of pandemic vaccines is a key advantage of VLP technology."
The technology's full potential, however, will only become apparent when more VLP-based vaccines have been introduced and the long-term consequences are traceable.