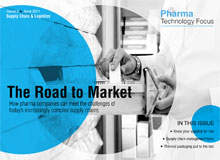 The pharmaceutical industry faces unique challenges in logistics and supply chain management. Delays or disruptions do not only affect profits – they can be a matter of life and death.
In this month's issue we look behind the scenes of the massive operation of getting a drug to the patient. We talk to industry experts about their risk management strategies and find out how companies can develop robust delivery strategies. We also examine the growing role of IT in supply chain management and investigate how scientist and packaging experts work on new ways to overcome the limitations of pharmaceutical cold chains.
To read your free copy, click here
A Clear Road to Market
The line between a company's internal operations and its external environment are becoming increasingly blurred. No area exemplifies this better than the pharmaceutical supply chain, where manufacturers have to coordinate their own activities with those of partner organisations, healthcare providers and patients. Without a clear understanding of the context surrounding the process of delivering a drug to market, the chain can become a tangled web. Laurent Boer of UCB tells us how companies can develop robust delivery strategies.

Read the full article
Face the Risk
Risk management is a crucial part of running an efficient supply chain but is never easy to do well. Viliam Kovac of Roche Diagnostics tells us that knowing your appetite for risk and creating a suitable mindset are the right places to start.

Read the full article
Integration & Intelligence
An effective supply chain is essential for moving a new drug or medical device through the clinical process and on to the market. We examine the growing role of IT in supply chain management and look at some applications of software and digital tools in the field.

Read the full article
Flight of Fancy
As of August 2010, all cargo carried on passenger aircraft originating in the US must be screened pre-flight for explosives. Consultation is underway about the possibility of extending this legislation to all flights entering the country by the end of 2011, a cause of concern for many within the pharma industry. We speak to Doug Brittin of the Transportation Security Administration about the practicalities of such a shift.

Read the full article
Hot Topic for the Cold Chain
Testing pharmaceutical cold chain packaging by simulating transport conditions in the lab can reduce risk and costs by identifying damaging mechanical factors, as Kirsten Heddema-Kaptein of the Topa Institute for Packaging and Distribution explains.

Read the full article
Keep Your Cool
A team of scientists at Oxford University and NovaBio-Pharma Technologies believe they have discovered a way of keeping vaccines stable without refrigeration. The HydDRIS system, they hope, could raise the possibility of immunisation programmes in areas where fridges, clinics and electricity supply cannot be taken for granted. Dr Matt Cottingham, senior virologist at the Jenner Institute, explains the work.

Read the full article
Next Issue
Pharmaceutical companies and academic institutions worldwide are investing significant resources in new drug delivery technologies. Driven by innovation and improved product features, the drug delivery market is forecast to attain significant growth in the coming years.
Next month we trace recent developments in this industry sector. New research suggests that biodegradable drug delivery systems could relieve patients of the misery of daily injections. We find out when this, and other technology intended to revolutionise the use of medical implants, will be ready to hit the market. We also investigate the recent trend of drug-device convergence and the challenges of bringing combination drugs to the market.
Digital Magazine FAQ
The digital magazine is viewable on any computer with Flash Player installed. It is also viewable on mobile devices, iPhones and iPads, although some features and videos may be disabled.
To view the online magazine, click here.