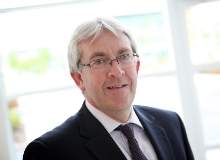 Aesica has become one of the world's leading contract developers and manufacturers of pharmaceuticals and is the partner of choice for many global pharmaceutical leaders.
Frances Cook talks to Aesica's CEO Dr Robert Hardy about how the economic downturn affected Aesica, the industry's development, emerging markets and major industry trends.
Frances Cook: What major trends are you seeing in contract manufacturing at the moment and what could occur in the next five to ten years?
Robert Hardy: There has been a trend over the last few years for large pharmaceutical companies to outsource various stages of the manufacturing process to minimise overheads and reduce capital investment.
As they concentrate on research and development and focus on uncovering new compounds, while investing in marketing and brand building, they are choosing to outsource all aspects of the manufacturing process to full-service specialist providers such as Aesica.
"Aesica has become one of the world's leading contract developers and manufacturers."
In particular, over the course of the last five years there has been increased demand in the outsourcing of formulated products and packaging services.
However, working with a partner that can provide a full-service offering, from API and formulation development through to commercial supply, packaging, as well as pharmaceutical support services, is a unique proposition in the industry.
In terms of Aesica's plans for the next five years there is a long term strategic plan regarding expansion and following its successful acquisition of manufacturing sites in Germany and Italy earlier in 2011, which has almost doubled the company's workforce and capabilities, it plans to maintain this momentum by establishing a presence in India and acquiring manufacturing sites in the USA.
While Aesica has a rich heritage of manufacturing active pharmaceutical ingredients (APIs) the business has evolved since its inception in 2004 to provide a full-service offering that includes formulation development and formulated product manufacture. In addition, the company also has extensive packaging capabilities and by 2013 its formulated products business unit, which includes packaging, will represent two thirds of Aesica's business.
FC: How has the economic downturn affected your company and the contract manufacturing model as a whole in the pharmaceutical industry?
RH: Despite the disappointing growth of the pharmaceutical market over the last two years and the fact growth is unlikely to ever return to the high single-digit level that pharmaceutical companies have enjoyed over the past decade, pharmaceuticals remains one of the most lucrative global industries and an important contributor to the European economy.
Aesica's strategy during the recession was simple. It continued to follow its strategic plan and adapted to market trends and demands as they appeared. It was vital that Aesica had a very visible presence during the economic downturn and maintained a strong brand presence internationally, which has been fundamental to its expansion and continued profitability.
"Pharmaceuticals remains one of the most lucrative global industries and an important contributor."
The development of long-term strategic partnerships were also a vital focus for the company and as acquisitions were made, we ensured existing revenue streams and client partnerships were preserved and enhanced providing a solid platform from which to introduce new lines of business. Such long-term partnerships with companies such as UCB have enabled Aesica to continue its rapid expansion in the knowledge that long-term supply contracts are secure and have also enabled the partners to enjoy added value that can only be gained when working strategically and over a long period of time.
FC: Have you found that demand for contract manufacturing services has increased due to the rising cost pressures on pharmaceutical companies?
RH: Recent announcements about site closures such as Pfizer's Kent facility and Astra Zeneca's R&D site in Loughborough will inevitably have an effect on R&D in the pharmaceutical industry; however, the extent of these closures is yet to be seen. The reasons for such closures vary from company to company, but the overarching reason will undoubtedly be financial as it is becoming increasingly expensive to develop new drugs.
The trend to outsource has been significantly shaped by the rising cost pressure on the pharmaceutical companies. Demand for pharmaceuticals has increased worldwide and this, coupled with improving standards of manufacturing facilities and rising cost pressure on companies, are prominent factors contributing to the huge growth in the contract manufacturing sector.
The pharmaceutical industry is facing several challenges, which lead to increased demand for contract manufacturing services. These include the rising costs of new product development, increasing competition in generic markets, declining R&D productivity, a decrease in average patent life and government pressure to reduce drugs prices.
In these circumstances contract manufacturing as a strategic option offers several advantages. Using an outsourced company provides flexibility, a quicker time to market and lower scale up costs. This means companies can meet the growing demand for new drugs and focus on their core competencies. Furthermore, outsourcing enables companies to reduce excess capacity in their manufacturing networks and restructure supply chains.
FC: What countries are considered to be the developed and emerging markets for contract manufacturers?
"Outsourcing requirements will continue to increase and CMOs must be prepared to differentiate."
RH: In 2009 the global pharmaceutical market as a whole was worth an estimated €579,510 million with the North American market (USA and Canada) retaining the world's largest market hold with a 39.8% share, followed by Europe and Japan.
The most significant contribution to growth in the pharmaceutical market will be from emerging economies such as Brazil, Russia, China and India. In fact, the 2010 IMS health forecast predicts pharmaceutical markets in emerging economies will grow at 14% to 17% year on year between now and 2014.
These regions are expected to grow three times faster than mature markets due to a combination of evolving demographics, including a rise in incomes, upgraded health systems and an increased investment in the treatment of chronic diseases. However, with little or no pharmaceutical heritage, the growth will appear far greater than in countries with mature pharmaceutical markets such as Europe and the USA.
Factors such as low-production costs and minimum taxes on production will ensure China is an attractive region for drug manufacturing and the export of pharmaceutical products from China has increased considerably during the last few years alone.
FC: Are you seeing rise in the number of CMOs specialising and is this the way the market is going to progress?
RH: As the industry continues to evolve to meet new demands and reflect emerging trends we expect the CMO marketplace to become increasingly competitive and companies, such as ours, will have to adapt their service provision to retain their market share and edge.
As pharmaceutical companies look to become leaner and more productive, outsourcing requirements will continue to increase and CMOs must be prepared to differentiate their proposition from what will invariably become a crowded marketplace.