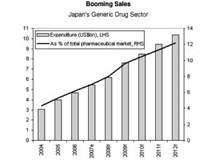 Outward M&A growth is unusual territory for Japan. But the recent acquisition by Japanese pharmaceutical provider Shionogi of US-based rival Sciele Pharma, worth $1,276m, is just the latest in a spree of big and bold outbound deals.
It seems the most valuable deals have been with Western companies, according to the latest statistics from Dealogic. In addition, one very notable deal with India hints that Asia's emerging market is also having a growing influence on what is happening in Japan.
Well known to avoid consolidations in the past and for watching while the rest of the world joins forces around them, Japan is experiencing a boom like never before. "Japanese companies did very few M&As, they were too independent to do more," says Kaoru K Sato, managing director at PricewaterhouseCoopers (PwC). "In 2001, Japan's Taisho Pharmaceutical tried to merge with Tanabe, but it failed due to differences in corporate culture.'
Generic drug renaissance
Shionogi's acquisition of Sciele was partly due to the US business experience of Shionogi's chief executive, Isao Teshirogi.
"The new CEO of Shionogi has a lot of experience in global business, he studied business in the US and this acquisition is a typical example of how Japanese companies are globalising," says Sato.
As the world markets continue to entwine and the chances of a culture clash lessen, market conditions too are falling into place to promote major merger deals. According to market intelligence provider Pharmaceutical Insights, Japan's $6m generic drug sector is currently experiencing a renaissance, primarily because the government wants to control healthcare costs.
"The Japanese government is encouraging physicians to use more generic drugs," Sato explains, adding that this is in part due to the ageing population and increased price of effective healthcare.
"The business integration from 2005 to 2007 of the two separate companies to form the joint Daiichi
Sankyo
created one of Japan's biggest pharmaceutical companies."
"The use of generic drugs is low in Japan, but health costs are increasing and the government has to do something to reduce costs. In the past, new drug companies like Takeda and Sankyo did not have to care about generic drugs, but now, for example, Daiichi Sankyo has acquired Ranbaxy to get into the generic drug market." The move, which came in June, also gives Japanese drugs maker Daiichi Sankyo a foothold in the Indian market through Ranbaxy's location.
It is this opening up of the generic drugs market, and the contributing factors that have caused it, that provides both challenges and opportunities to the Japanese pharmaceutical market. An unprecedented shopping spree where drug companies are trying to overcome potential dangers is teaching Japanese investors new lessons in the global market.
According to health market researcher IMS, the key challenges to Japan's pharmaceutical market include: "patent expiration of branded products, and an associated increase in the use of lower-cost generics; increased pressure from payers to control costs and limit access to certain treatments; and heightened safety scrutiny and healthcare legislation that is slowing, and in some cases halting, the introduction of new medicines."
Emerging opportunities
The business integration from 2005 to 2007 of the two separate companies to form the joint Daiichi Sankyo created one of Japan's biggest pharmaceutical companies. Daiichi Sankyo's move to acquire Ranbaxy is, according to Dealogic's research, the second-biggest outbound M&A so far in 2008, with a deal worth $5,326m. The effect of the government's more relaxed grip on generic drug use in Japan is now influencing and giving companies opportunities to move into emerging markets such as Asia – India and China in particular.
"Local generic companies such as Ranbaxy and DRL have expanded through acquisition in Western markets aggressively in 2006."
PwC's recent report, 'Gearing Up for a Global Gravity Shift', says that Asia is set to be the centre of gravity in the global pharmaceutical industry and that China, India and Singapore are poised to become leading countries in the Asia pharmaceutical space. Like in many other sectors, China and India are the ones labelled as those which will lead the expansion.
"Local generic companies such as Ranbaxy and DRL have expanded through acquisition in Western markets aggressively in 2006," states the report. "Ranbaxy led the way with eight acquisitions and is aspiring to be a $2bn company by 2007." Ranbaxy is now one of the largest foreign suppliers of generic drugs to the US.
According to Pharmaceutical Insights, the generic drugs market in particular is set to increase: "Traditionally there has been a low penetration of generics in the Japanese market, partly due to the population's preference for brand name drugs but also owing to the widely held perception that generics are inferior in quality to branded counterparts. According to Business Monitor International (BMI), generic drugs account for only 6% of the market in Japan.
This compares to a figure of 65% in China and 37.1% in India. However, BMI forecasts that the market share for these low-cost products in Japan will double by 2010, adding almost $5bn in value to the sector."
Even though the government is supporting use of generic drugs in Japan, there is still distrust from physicians as in the past generic drug companies have been small and often sub-standard. "Physicians still feel concerned about generic drug use, but now they have more power," says Sato. By implementing plans to create greater awareness of generic drugs to the public, along with educating practitioners about new and generic drugs, the Japanese health ministry is working hard to make this prediction a reality.
Patent problems
The biggest outbound deal in 2008 was Osaka-based Takeda's acquisition of Massachusetts' Millennium Pharmaceuticals in a buy-out worth $8.8bn. Takeda is the largest pharmaceutical company in Japan and according to analysis by Global Insights has patents soon to expire on its best-selling products Prevacid (in 2009) and Actos (in 2111).
"BMI forecasts that the market share for generics in Japan will double by 2010, adding almost $5bn in value to the sector."
Takeda's 2007 annual report shows how net sales of Actos, a diabetic drug, showed rapid growth by reaching ¥33.7bn, a 39.1% increase over the previous year. In the US, it saw an increase of $584m (a 32.8% increase).
Millenium's best-selling product Velcade is, according to Pharmaceutical Insight, forecast to produce $345m in sales during 2008 – a 25% increase on the previous year. This and ten other drugs that are currently in clinical development provide good opportunities for growth.
Capitalisation on the newly accessible Japanese generics drug market, along with looming patent expirations of branded products, are the most significant factors behind the majority of the outbound M&A activity.
The sector is also attracting inbound activity from leading drugs companies.
Leading generics producers such as Teva, Dr Reddy's and Sandoz have already expressed keen interest in Japan's generics market, and could possibly expand their presence via non-organic growth strategies to increase their footprint in Japan, according to Pharmaceutical Insight. With the generic drugs industry due to double, the increasing trend of outward M&As is set to continue.