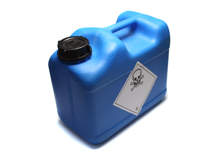 Although studies conducted to date do not suggest that the quantities of pharmaceutical wastes detected in the environment may be harmful to human health, the pharmaceutical industry is increasingly looking into ways to ensure the manufacture, distribution, use and disposal of products are conducted in an environmentally safe manner.
Pharmaceutical companies and researchers are beginning to believe that the solution lies not just in the safe disposal of pharmaceutical waste, but also in the
production of less waste.
Pharmaceutical manufacturers, through the use of research and technology, are now focusing on the integration of "green" chemistry and engineering models during the manufacturing process. Other advances, such as those in the enzymatic catalysis of synthetic reactions, solvent substitution and the recycling of by-products and waste have the potential to increase efficiency and overall productivity.
At the same time, they can reduce waste streams and energy usage and minimise the need for harmful reagents. This will augment the progress that has already been made by the pharmaceutical industry in terms of removing impurities using thermal processing, advanced wastewater treatment and other technologies.
Waste effects and disposal methods
Hazardous waste has properties that make it dangerous or potentially harmful to human health or the environment. The universe of hazardous wastes is extensive and varied. Wastes can take the form of liquids, solids, contained gases or sludges. They can be the by-products of the manufacturing processes or may consist of discarded commercial products, such as cleaning fluids or pesticides.
They are classified as: ecotoxic, whereby they cause damage to the environment; carcinogenic, whereby they cause or contribute to the causation of cancer; persistent, where they remain dangerous for a long time; or bio-accumulative – waste that accumulates as it makes its way up the food chain.
As a general measure, about 200kg of waste is generated per metric ton of active ingredient manufactured by the pharmaceutical industry. This waste contains spent solvents and other toxic organics in significant concentrations requires treatment before it can be disposed of safely. Of these, volatile organic compounds and particulate matter are among the principal air pollutants produced by the pharmaceutical industry.
There are several effective technologies for dealing with and minimising the release of these particulates. These include stack gas scrubbing (which reduces air pollution from a cupola stack or other stack that deliver particulate matter into the atmosphere), carbon absorption and biological filters. Combustion is used for the destruction of toxic organics.
"In 2004, a stricter EU Landfill Directive was implemented in the UK with the aim of improving the disposal of waste by the industry."
However, disposal of liquid effluents from solid wastes is a much tougher problem and is very much at the forefront of the public debate about the impact of the industry on the environment.
Wastes are generally safely treated by reverse osmosis and/or ultra-filtration, which are used to recover and concentrate active wastes. Treatment can also include flocculation, flotation, coagulation, filtration, ion exchange, carbon absorption, detoxification of active ingredients by oxidation and biological treatment.
Exhausted carbon may be sent for regeneration or combustion, organics are steam stripped and toxic metals are precipitated and filtered out. Solid-waste by-products are then generally incinerated at temperatures above 1,000°C. The flue gases are then scrubbed and the remaining waste sent to landfill.
Mike Murray, head of Manufacturing and Environment at the Association of the British Pharmaceutical Industry says that overall the treatment depends on the type of waste: "If the waste involves any finished products, it will go for incineration," he explains.
"The industry would not take any chances with rejected or returned products finding their way onto the market. Anything that looks like a product would definitely involve incineration."
Following new waste regulations
In 2004, a stricter EU Landfill Directive was implemented in the UK with the aim of improving the disposal of waste by the industry. It banned waste co-disposal and forced the UK to pursue new disposal solutions. Of these, thermal processing of pharmaceutical waste has several striking advantages for the industry.
First, it is a process that substantially and permanently reduces the toxicity and volume of virtually all organic-bearing waste streams by destroying organic compounds. Second, combustion devices can accommodate most types of waste, including liquids, solids and sludge.
Furthermore, since combustion reduces the toxicity and volume of waste, residues from combustion are generally more amenable to land disposal than the original waste streams. This is especially important in a country where landfill sites are becoming increasingly scarce and expensive.
"In the US and Europe, every new drug is subject to an extensive regulatory review of its manufacture, use and disposal to ensure patient and environmental safety."
Murray says that as a result, companies are looking at improving their waste procedures and profile, "going through a hierarchy of activities to avoid, substitute or minimise [waste] by using the design processes in their production activities".
"Responsible companies in the pharmaceutical industry follow a good-practice approach, avoiding, reducing and minimising where necessary and disposing of waste appropriately," he adds.
The US Environmental Protection Agency and the EU are considered to have the most advanced and comprehensive waste-treatment directives in the world and methods for the treatment of hazardous waste on both sides of the Atlantic are similar. In the US and Europe, every new drug is subject to an extensive regulatory review of its manufacture, use and disposal to ensure patient and environmental safety.
"Treatments for hazardous waste in the US and Europe are fairly similar because the principles were agreed in the 1970s and 1980s and since then there has been significant convergence," says Dr David Wilson, of The Chartered Institution of Wastes Management and Chair of the special interest group on hazardous waste. "The differences that do exist are really of interpretation and implementation."
Overall, the pharmaceutical industry does seem to be focused on dealing with the issue of hazardous waste. However, it is down to individual companies to ensure they keep their house in order, using principals that aim to enhance and save lives and the environment if it wants to stay clear of debate about hazardous waste.
The pharmaceutical industry is one of the UK's most important manufacturing sectors, bringing in a trade surplus of £4.3bn in 2006. From just one nation, this is a sure sign of how important public perception of good practice in safe disposal of hazardous waste is to an industry if it wishes to continue to prosper.