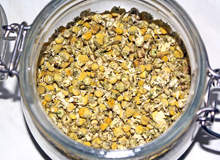 The flora found in Australia's outback, the wilds of Papua New Guinea and China's vast plains is the now vital ingredient that pharmaceutical companies are hunting down in search of the next big blockbuster. The leaves, roots and flowers that formed the basis of these ancient remedies – found everywhere from the deepest jungle to the ocean floor – are proving lead compounds and are in great demand.
In an industry where many of the big earners are facing their patent shelf-lives, the apparent lack of research and development spending by these big firms has been noted by countless analysts. So it is with interest that many viewed the announcement in October 2008 by pharmaceutical giant Pfizer to partner with Australia's Griffith University's Eskitis Institute for Cell and Molecular Therapies, suggesting that the firm is heading back to nature.
Between 2000 and 2005 an estimated 23 new drugs launched on the market had their origins in plant, marine and terrestrial micro-organisms, terrestrial vertebrates and invertebrates. This fact alone demonstrates the importance of compounds from natural sources in modern drug discovery efforts.
Eskitis Institute head Professor Ron Quinn goes as far as saying the recent glut of new drugs to market could be a result of the industry moving away from natural products. "The pipeline has started to become smaller," he says. "The number of new drugs coming on the market has been the lowest on record after a period where the number had been higher.
"I think if you did an analysis you could say that it was natural products that were contributing to that higher figure. If you take those out it could be one reason why the numbers have dropped off. I think people are now more interested in going back and looking at the area of natural products."
Nature banks prove wealthy
The Institute has as its cornerstone a collection of 45,000 plants and marine animals from Queensland, Papua New Guinea, China and Tasmania. Quinn says in the case of simple marine animals like sponges, divers will collect just the sponge but with plants the Institute collects bark, root, leaves, seeds and flowers to gain a complete biological picture.
"The deal with Pfizer demonstrates that the use of natural products is no longer the chore it once was."
The facility was originally set-up in 1993 when AstraZeneca pumped $110m into its development during an exclusive partnership. It was AstraZeneca that hand-picked the collection now known as the nature bank but that partnership ended in 2007. It is thought that the firm is taking forward lead compounds for potential development into anti-cancer and respiratory drugs, proving that the plant bank is paying off.
Business manager Dr Stuart Newman says the focus at Eskitis has been on five basic research areas: cancer, neglected disease, infection and immunity, neurological disease and adult stem cell biology. "It's an extremely strong, unique and diverse collection," he explains. "It's 100% geotagged so we know exactly where we got it from and recollection isn't as much of a challenge as it is perceived with natural products."
Using high throughput screening, compounds from the plants that are suitable for medicines are captured and fractionated using reverse phase, high-pressure liquid chromatography to separate compounds into 11 fractions. The institute has taken a subset of about 18,000 compounds and fractionated them into nearly 200,000 fractions.
Newman says each fraction contains between one and four compounds making it easier to hit targets rather than having to deconvolute highly complicated mixtures. "When you screen a crude natural product it's extremely complicated and it takes a long time for it to go through the process." He adds: "What we're able to do is optimise the crude extract in a number of ways to exclude compounds that we know aren't going to be of any interest."
He says the deal with Pfizer demonstrates that the use of natural products is no longer the chore it once was and the institute has demonstrated that the timelines are competitive with synthetic options. In addition, it is not vastly more expensive, despite how it is often perceived.
"The cholesterol-lowering drug lovastatin is derived from a fungus, while the breast cancer drug paclitaxel is derived from the bark of the Pacific Yew tree."
"Big Pharma seems to be outsourcing a great deal lately and it's an awful lot of time and expense to build up your own natural product capability. We have that already," says Newman. "With attrition rates being what they are it's probably foolhardy to put all your eggs in one basket and just go with one approach, whether it's structure based or big chemical libraries. This is another source of leads."
R&D the natural way
The facility is expected to announce two new collaborations soon but its work developing anti-malaria drugs and medicine for sleeping sickness is already paying dividends. Malaria and sleeping sickness are both caused by parasites and the team's research involves growing the parasite in separate containers before adding natural compounds from the library to see if any kill the bugs.
Sleeping sickness was screened against 25,000 compounds from the marine part of the library and 50 hits look promising. Partners in the project are the Seattle Biomedical Research Institute, the Medicines for Malaria Venture and the Drug for Neglected Diseases Initiative. "Many of the world's leading drugs are natural-product derived," says Quinn. "The cholesterol-lowering drug lovastatin is derived from a fungus, while the breast cancer drug paclitaxel is derived from the bark of the Pacific Yew tree.
"Often a combination of herbs or foods has been used for centuries in folk medicine and is known to be effective but the actual therapeutic ingredient is unknown. Our goal is to identify and isolate exactly what the active ingredient in these natural products is and if possible synthesise them to create better drugs."
The deal with Pfizer will see the facility focus on anti-infectives. Dr Daniel Grant, head of strategic alliances at Pfizer Australia, says the partnership shows that the firm is willing to work with the best and the brightest no matter where they are in the world. "We have a rather large in-house chemistry capability for traditional drug discovery but we also recognise the need to look outside of those capabilities," he explains. "The natural product library does give us the
opportunity to identify new scaffolds around which we might build novel anti-infective drugs or other drugs for other targets."
He says the library has proven itself for some other targets and now Pfizer wants to test its own. In Grant's opinion there was a move away from natural products by the industry but he says the interest is now growing.
"The existence of a number of natural product libraries around the world suggests there is a growing interest."
Grant says that although Pfizer spends between $7bn and $8bn on R&D each year, the company is not too arrogant to think that it doesn't need external expertise. "That's a small portion of the world's total spend on R&D and we recognise the need to tap into that expertise, to learn from those people and collaborate with them," he says. "The existence of a number of natural product libraries around the world suggests there is a growing interest. It's another tool in our tool kit if you like, to identify compounds that might form the basis of becoming a critical candidate and moving into a marketed product."
Quinn says the partnership shows Big Pharma's confidence in the continuing promise of natural products. He was recently in Kimberly, Australia signing an agreement between the university, the Aboriginal community and biotech start-up company Avexis to further develop painkilling drugs from the Marjarla tree.
This project began when Quinn heard about an aboriginal who lost a finger while hunting a crocodile and got pain relief from chewing the bark of the native tree. "I'm really pleased with how it's turned out," he says. "There is great potential within the massive chemical and biological diversity of nature for sources of medicines to be found and we could well have the answers in our own backyard – our job is to find them."