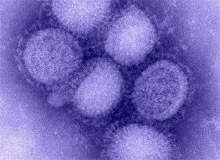 Every morning this week the UK Health Protection Agency (HPA) has sat with Prime Minister Gordon Brown, the country's chief medical officer Sir Liam Donaldson and a multitude of other health officials to carry out a Cobra meeting.
Cobra, named so because of the meeting's venue in 'Cabinet Office briefing room A' in the depths of Downing Street, is the UK's civil contingencies committee that leads responses to national crises. In the past it has been convened to discuss strategy towards the 11 September terrorist attacks on the World Trade Center in New York, then a few years later the 7 July bombings across London's transport network. Today it met to discuss the government's response to the
possibility of a global flu pandemic.
As the suspected killer of 176 people in Mexico and one child in the US state of Texas, the variant of the H1N1 flu virus – a deadly combination of avian, human and swine influenza – continues to spread around the world. As the World Health Organisation (WHO) raised its alert level from four to five, director general Dr Margaret Chan warned that "it really is all of humanity that is under threat during a pandemic."
UK gets tested
"The H1N1 flu virus – a deadly combination of avian, human and swine influenza – continues to spread around the world."
With five confirmed cases, the UK is now in the thick of the swine flu crisis with HPA's regionally located health protection units testing suspected cases at on-the-ground laboratories. These will first be tested for influenza A and if the results are positive, samples are then sent to the agency's primary lab in Colindale, North London.
HPA spokesperson Eleanor Bunch says there are already protocols in place for limiting the spread of swine flu around those patients with a confirmed diagnosis. "Anyone who has had close contact with someone with swine influenza – and we define close contact as having been within a metre of the person for an hour after they began displaying symptoms – is being monitored." If they begin displaying symptoms they will then be tested.
With US President Barack Obama announcing that the US is in the middle of a national health emergency, many countries warning against travel to Mexico, and every UK home about to be litter dropped with information on how to avoid and react to possible swine flu symptoms, public discourse is becoming understandably more panicky.
With HPA advice being to contact the national Health Service's telephone advice line NHS Direct, spokesperson Lisa Gaskell says that demand for its services is on the rise. Gaskell says that on Sunday 27 April afternoon and evening – when news was beginning to filter through from Mexico – the service received 88 calls related to swine flu, a figure which jumped to 1,659 on Tuesday. Of these, 249 were advised to seek further help from their GP.
The latest move by the UK Department of Health has been to set up a health information line that gives concerned callers access to a recorded message detailing symptoms and prevention methods. This is in addition to an online symptom checker on the NHS website – a tool that has received over 16,000 hits since Tuesday 28 April.
Spreading the word
The government, HPA and the NHS's priority now is educating the public. HPA has internal levels of emergency that dictate how it reacts to a public health scare and even if this is raised, Bunch does not predict that this will change how the agency operates. "If the WHO raised its alert level again, then hypothetically we would raise our internal alert and we would continue to advise the public.
"With five confirmed cases, the UK is now in the thick of the swine flu crisis."
"We would hope to carry on operating as we are now but the advice to the public might change depending on how severe the situation became," she continues. But for now, the HPA's main activity is to ramp up its presence at the country's borders and in particular at airports.
Those returning from affected areas who become unwell within seven days of their return are being advised to stay at home and contact their doctor.
The most similar risk that the UK has seen in recent years is the avian flu outbreak that took Asia by storm in 2003. But critically, that strain could not be passed directly from human to human, making the situation today even more pronounced.
As pharmaceutical firms across the world shift their drug development departments to focus on developing a vaccine for the H1N1 mutation, the UK is watching closely to see how national civic institutions work together to prevent a worldwide disaster.