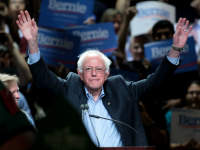 When veteran senator Bernie Sanders lost his bid to become the Democratic Party's presidential nominee in June this year, millions of his supporters, mostly young Democratic voters attracted by his progressive positions on income inequality, Wall Street reform and climate change, were left despondent. Now that divisive Republican candidate Donald Trump is the US' new President-Elect – having achieved a stunning victory over Democratic frontrunner Hillary Clinton – that sense of dejection has likely sunk to new depths of despair.
In spite of Sanders's loss in the primaries – and any speculative debate about how he would have fared against Trump in a presidential contest – the senator from Vermont has always been a passionate campaigner across a range of social, economic and environmental issues, and he has made it clear in the months following his defeat that he has no intention of pumping the brakes on his activism as a result.
"The political revolution continues," Sanders told his devotees in a live online speech delivered just after Clinton clinched the Democratic nomination.
Senator Sanders: veteran drug price campaigner
One of Sanders's key platforms during his presidential campaign was prescription drug price reform and standing up to what he has described as the pharmaceutical industry's "avarice" and "price-gouging" of American patients.
"Last year, nearly one in five Americans between the ages of 19 and 64 – 35 million people – did not get their prescriptions filled because they did not have enough money," the Sanders campaign argued in its election manifesto. "In the wealthiest country in the history of the world, Americans should not have to live in fear that they will go bankrupt or die because they cannot afford to take the medication they need."
"Americans should not have to live in fear that they will go bankrupt or die because they cannot afford to take the medication they need."
Of course, the pharma industry responds, as it always has, that high prices are a necessity to fund the expensive discovery and development of innovative new treatments. Sanders's criticism of this position is far from a new-found passion; since his election to the House of Representatives in 1991, he has been consistent in his position that US drug pricing requires radical reform, primarily in the inability of Medicare to negotiate with drugmakers on price, the ban on the import of cheaper drugs from abroad and the practice of 'pay-for-delay' deals that innovative companies can strike with competitors to keep generic versions of their drugs off the market.
In 1999, Sanders was the first Congressman to take a busload of patients to Canada to buy cheaper drugs; in the first case, it was mainly women from Vermont with breast cancer, who bought Tamoxifen at one tenth the price they would have paid in their home state.
The resilience of the pharma status quo
Sanders's reform proposals for drug pricing have been radical; although he didn't mention it much during his presidential campaign, as a senator in 2004 he worked on the drafting of the Medical Innovation Prize Fund Act, which aimed to de-link research incentives from drug prices by removing barriers to the sale of generic drugs and replace pharmaceutical patent protection with a government-controlled prize fund rewarding companies for innovation. The bills introduced by Sanders have never been put to a vote in Congress, with industry association Pharmaceutical Research and Manufacturers of America (PhRMA) once again arguing that a prize system would act as a disincentive to innovation investment.
In January, while Sanders was still in the race for the Democratic nomination, he placed a hold on the prospective nomination of Dr Robert Califf as the new commissioner of the Food and Drug Administration (FDA), on the grounds that Califf had received extensive research funding from the pharmaceutical industry for his work at a Duke University clinical research centre, as well as receiving consulting fees and salary support for pharma companies including Merck, Novartis and Eli Lilly.
"Dr Califf's extensive ties to the pharmaceutical industry give me no reason to believe that he would make the FDA work for ordinary Americans, rather than just the CEOs of pharmaceutical companies," Sanders said.
The attempt to block the nomination failed as a procedural vote limited the time to debate the nomination, and the Senate confirmed Califf as the new FDA commissioner in February.
Pharma spends big on Proposition 61
Despite such setbacks reinforcing the entrenched status quo on the US drug pricing system, Sanders has continued to strongly advocate for change since conceding in the Democratic primaries. Indeed, there are signs that grassroots messaging on the drug price issue has been gaining traction with the American population and having a marked effect on the pharmaceutical industry in the US.
"The tweet is credited with a sudden plummeting of Ariad's share price."
In October, Sanders tweeted his criticism of the "unbelievable greed" of Massachusetts-based oncology specialist Ariad Pharmaceuticals for its repeated hiking of the price of leukaemia therapy Iclusig this year, up to a cost of nearly $199,000 per year. The tweet is credited with a sudden plummeting of Ariad's share price, knocking around $387m off the price of the company's stock.
Given the increasingly widespread condemnation of drug price hikes like this, there was hope among drug price reformers that California's 8 November vote on Proposition 61 – which would prohibit the state agencies from spending more on drugs than the lowest price paid by the Department of Veterans Affairs (VA) for the same drugs – might receive sufficient support from voters to pass.
Sanders went out to bat in a big way for Proposition 61, holding rallies in support of the proposal and headlining a 30-second campaign advert aired in California. Although the drug price controls would affect only a relatively small proportion of California's population (those covered by state healthcare services) it had a chance to set a precedent on limited drug price control for the rest of the country to potentially follow, or as Sanders put it in an October editorial published in the Los Angeles Times, "spark a national movement to end this price-gouging".
Unfortunately for advocates of Prop 61, the ballot measure was defeated by a margin of 54-46 on 8 November. Industry spending on opposing the measure provides some insight into Big Pharma's anxiety over its potential passage into law, with the pharmaceutical lobby spending a record $109m to defeat the proposal, compared to the $19m raised by its proponents. Critics of the measure argued that it could lead to higher drug costs for veterans if pharma companies raised prices on VA drugs, something that Sanders contended was not possible, as VA price caps are mandated by law.
President Trump: pharma wildcard?
So despite fevered campaigning and consistent advocacy for drug price reform, neither Sanders nor any other campaigner has thus far managed to put a dent in a pharmaceutical pricing system that appears incredibly resilient in its resistance to change.
The surprise election of property mogul and former reality TV star Donald Trump to the White House on 8 November brings an unpredictable element to the ongoing drug price debate over the next four years. On one hand, European pharma stocks surged in the immediate aftermath of the election on the news of Trump's election (as well as the defeat of Proposition 61). The industry will be relieved to find that Clinton's detailed and aggressive plan for drug price reduction, which included allowing Medicare to negotiate on price, prohibiting 'pay-for-delay' deals, allowing foreign imports and increasing generic competition, will not come to pass.
On the other hand, Trump has signalled a willingness to confront the industry on drug prices, raising the prospect of lifting importation bans and allowing more negotiation. His pledge to repeal President Obama's flagship Affordable Care Act – dubbed Obamacare – is also a source of uncertainty. Nevertheless, with the somewhat off-the-cuff nature of Trump's statements on the campaign trail, it is difficult to predict exactly how his policies as president will match up, making him a wildcard on many issues, pharmaceutical pricing included. Only the months and years to come will reveal exactly what stance Trump will take.
There is, however, a sense that public awareness and anger over drug pricing scandals and the high general cost of drugs in the US when compared to other developed countries is on the rise. A Gallup poll in August revealed the pharmaceutical industry as the most disliked private sector in America, second only to the federal government.
Trump may take a less robust and thoughtful approach to pharma reform than Clinton would have, but his campaign has proven beyond doubt that he is a populist at heart; and if the worm of public opinion finally turns on the issue of drug prices, he will likely turn with it. If that happens, Trump might find an unlikely ally in the form of a veteran Vermont senator from the opposite side of the political spectrum.