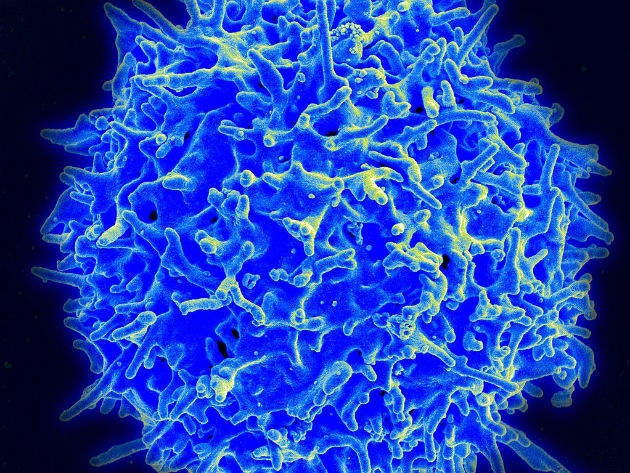 Until recently, Gamma Delta T Cells, which live in our tissue and form a crucial part of our immune system, have been on the sidelines of cancer research. But a $100m cash injection from drug giant Takeda Pharmaceuticals into a small biotech firm with big ideas in this area is set to change that, bringing a new class of immunotherapies one step closer to reality.
Gamma Delta T Cells, which come in two forms (tissue- and blood-derived), have been of interest to the scientific community for many years, with advancements in knowledge in the last 15-20 years generating important steps forward in the field. For example, research in mice has shown that defects in these cells result in a significant increase in tumour occurrence and severity, while studies conducted in large samples of tumours in humans have revealed that the presence of Gamma Delta T Cells is a major positive prognostic factor for overall survival across 39 tumour types.
Digging deeper
Yet research into new therapies for solid tumours hasn't traditionally focused on these unique lymphocytes – for two reasons. First, the mechanisms behind their striking activity on tumour cells in vitro haven't been well understood; and second, it hasn't been possible to obtain enough of them, particularly in the case of tissue-derived cells, to study or use an effective treatment.
That is until Professor Adrian Hayday of King's College London decided to delve a bit deeper. He discovered that tissue-resident Gamma Delta T Cells are distinct from their better known Alpha Beta counterparts in several key ways. Most importantly, while Alpha Beta T Cells need to be primed to recognise antigens before they can be recruited to sites of infection, Gamma Delta T Cells recognise patterns of dysregulation within the tissue itself and can then respond immediately, killing infected or transformed cells.
Based on this and other observations, Hayday, along with his colleague Dr Oliver Nussbaumer, managed to develop a two-step platform that first isolates and extracts these cells from tissues, preserving their quality, quantity and function, and second amplifies and expands the population of the cells. The idea is that the resultant larger quantity of cells can then be reinjected back into the patient from which they were taken, killing cancer cells.
"We know that in vitro, tissue-resident Gamma Delta T Cells kill cancer cells once they have been isolated. We want to see if this will be replicated in humans," explains Paolo Paoletti, CEO of GammaDelta Therapeutics, the small biotech firm that was formed with the help of life science investment firm Abingworth and support from Cancer Research UK to develop Hayday and Nussbaumer's innovative platform.
Full steam ahead
At present, the platform's development is still in its very early stages, but thanks to a recent injection of $100m from drug giant Takeda Pharmaceuticals, which also holds on to the exclusive right to buy GammaDelta Therapeutics, it will now go full steam ahead.
"The ultimate goal of the company is to exploit our understanding of Gamma Delta T cells to develop effective therapeutics for patients suffering from cancer and auto-inflammatory diseases, so our main focus will be to optimise the process of isolating, amplifying and expanding these cells and then create an autologous cell therapy, whereby we will reinject the same cell taken from the same patient in larger quantities," explains Paoletti, who before becoming CEO of one of London's most exciting biotechs, had a long run through the ranks of corporate pharma, including heading up the oncology department at GSK.
Alongside this, the team will use the $100m investment, which also comes with an equity investment, an option fee and research and development funding, to improve their understanding of the cells' biology. "This is a very young biology so by isolating these cells from normal tissue and from tissue with cancer, we should be able to understand better how we can enhance the activity of these cells and develop agents for the treatment of cancer and auto-inflammatory diseases," Paoletti notes.
One important characteristic of the cells that certainly warrants further investigation is that they don't depend on what's called the major histocompatibility complex (MHC). In other words, my Gamma Delta T-Cells can be given to you and yours can be given to me. "In theory they can be used off the shelf," Paoletti explains, adding that this still needs to be proven outside of the lab.
Unprecedented path
Looking ahead, Paoletti is keen to stress that the team is still at a very early stage of the development of their technologies, and challenges still to come will include establishing a GMP compliant protocol for expansion of the cells for clinical applications and scaling up such processes for commercial products.
"Being pioneers in the tissue-resident Gamma Delta T cell space means that we have fewer precedents to rely on and hence have to overcome each of the challenges ourselves. This is what makes our efforts greatly challenging and exciting in equal measure," he says.
Exciting is clearly the operative word for everyone involved. "Our pre-clinical data shows that we can treat solid tumours, and this is something different to a lot of the cell therapy that is happening as we speak, which is mostly in leukaemia and lymphoma," Paoletti says.
"Takeda researchers were immediately able to understand the potential of our platform and as the chemistry was so good between Takeda and ourselves, we are excited to work together with them to give the best chance for this science to become a reality not only for cancer patients but also for patients with auto-inflammatory disease."