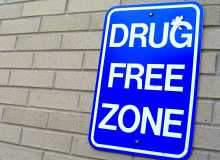 The idea of vaccinating drug addicts against substance abuse is nothing new. In fact, researchers have been intrigued for nearly three decades by the idea of developing inoculants which would stop addicts from enjoying or even feeling a drug's high – be it nicotine, cocaine or heroin.
Drug abuse is not only a major public health problem with great costs to society and individuals, but a market that is potentially worth many billions for pharmaceutical companies. Furthermore, with addiction now thought to cause physical changes in the brain, medical solutions to the worldwide drug problem have led to renewed interest in the field.
But despite promising research results in the hunt for an anti-addiction vaccine, big pharma has so far shied away from sponsoring or supporting further trials. Ethical issues remain high on the agenda, as some fear that addicts could overdose or even turn to other drugs to overcome a vaccine's numbing effects. Also, regulatory barriers still pose a major challenge to a successful introduction in to the market.
Researching drug addiction vaccines: no support from Big Pharma
"Selincro will be the first and only drug to be indicated for the reduction of alcohol consumption in patients with alcohol dependence."
For about 30 years scientists have been trying to find a vaccination in the battle against drug abuse. But despite many promising breakthroughs in the lab, none of the developed vaccines have received regulatory approval. Currently, there are no approved treatments for most common drug addictions available on the market, except for alcohol and nicotine.
One of the veterans in the search for a cure against addiction is Kim Janda, professor of chemistry at The Scripps Research Institute. Most recently, he made headlines with a study published in the Journal of Medicinal Chemistry with a vaccine which diminished the effect of heroin in rodents. But despite very "robust and solid" research results, there is no hope for financial support from big pharmaceutical companies to move the research into clinical trials, and eventually become commercially available.
"It would be great if we had some interest from big pharmaceutical companies but I'm not holding my breath on that one," Janda explained. "Big pharma do not see drug addicts as a major cash cow for their development so we potentially have to partner with a smaller biotech company."
Janda and his team have been well placed to understand the barriers to this research after developing a vaccine which could potentially guard against heroin addiction. The vaccine, potentially worth billions of dollars, is now waiting on positive clinical studies results and regulatory approval from the FDA.
The magic bullet is a vaccine consisting of a heroin-like hapten, a molecule which incites the immune system, attached to a carrier protein that acts as a platform. This is mixed with alum, an adjuvant that attracts the immune system's notice and tricks it into making antibodies against a substance that it usually would not see. The result is that the drug or drug-like hapten is sequestered in the bloodstream before it can reach the brain.
"This vaccine seems to be a stronger vaccine than some of the ones we've seen in the past, just based on the antibody titres and affinity that we've seen," said Janda.
"I can't tell why exactly, but it seems to be a little more robust. Maybe it's just because this particular drug that we're targeting has the right pharmacokinetics to match the right pharmacodynamics with the antibody that allows it to work better."
Janda said that instead of trying to find support from a big pharmaceutical company, he will now look into cooperation with smaller biotech companies and foreign partnerships, to move the research into clinical trials and "see if it really does have value."
"We've had more interest from foreign countries who want to try to develop this with us versus people in the US, to tell you the truth," he added.
Vaccines to treat drug abuse: ethical and regulatory issues
One of Janda's US-based colleagues Thomas Kosten, psychiatry professor at the Baylor College of Medicine (BCM), has already gone a step further and completed a first Phase 2 placebo controlled study for a very similar drug.
Kosten is working on a vaccine against cocaine and methamphetamine and has been successful in reducing cocaine abuse by his patients. His team just completed the second national multisite study with its vaccine, known as TA-CD (therapy for addiction – cocaine addiction), with results expected to be available in about one year.
Kosten, who recently received the National Institute on Drug Abuse Avant-Garde Award for Innovative Medication Development Research, said some of the most promising results in the history of anti-addiction research came from the area of antibodies. "A vaccine is particularly useful because it blocks the effects of abused drugs without producing any major side effects," he explained.
"It simply keeps the abused drug out of the brain, heart and other organs that can be damaged by abused drugs."
"Concerns remain that addicts could overdose to overcome the vaccine's effect or turn to other drugs."
However, concerns remain high that addicts could overdose on drugs to overcome any vaccine's effect, or even turn to other drugs to feel a high. In a 2010 study by Kosten, some cocaine addicts ended up with ten times as much cocaine in their blood than usual, in an effort to overcome the blunting effect.
Wayne Hall, professor and addiction expert at the University of Queensland, Australia, told the New Scientist in July 2011 that introducing such a vaccine raises several other ethical concerns, as the antibodies never disappear completely from a human's body. This could lead to potential discrimination against past addicts in some cases, for instance, when employers ask for drug screening tests.
Before such vaccines are released on to the market, ethical considerations need to be worked out. In 2004, the UK Government for instance considered a radical scheme to vaccinate children against future drug addiction, operating in a similar way to other nationwide vaccination programmes for measles, mumps and rubella. The plan was highly debated and later scrapped, largely because of ethical issues.
According to Thomas Kosten, another difficulty is that there are no available models for guidelines to get regulatory approval, in particular in the US. Kim Janda on the other hand hopes to find more interest from foreign countries, as their governments might be more "apt to move forward and put dollars behind doing clinical trials" and eventually simplify getting regulatory approval from there.
Treating alcoholism – an unmet market for new anti-addiction drugs
Currently waiting on regulatory approval in Europe is a medication which claims to treat patients for alcohol addiction. Danish pharma company Lundbeck filed for European approval for its Selincro drug, also known by its generic term nalmefene, in December 2011 and expects to be able to launch the drug commercially "in early 2013", as the company's clinical research scientist Lars Torup predicted.
"It would be great if we had some interest from big pharmaceutical companies but I'm not holding my breath on that."
Selincro reduces the urge to continue drinking when alcohol is consumed. "Selincro is an opiate receptor modulator, which means it works in the brain, and it's very specific for the opiate receptor system," explained Torup. He went on to say that Selincro's treatment goal would not necessarily be abstinence, but rather a reduction of alcohol consumption.
At the beginning of March, the company released some late-stage data from three studies which showed that patients with alcohol dependence who took Selincro were able to decrease their total alcohol consumption by 66% on average after six months. "Selincro represents a paradigm shift in the treatment of alcohol dependence. It will be the first and only drug to be indicated for the reduction of alcohol consumption in patients with alcohol dependence," said Torup.
Even though the company has no current plans to venture into the US market, as the protection of the underlying data of the drug is not as strong there as it is in Europe, Torup is convinced that Selincro will have no further issues to receive approval by European regulators: "I think it's fair to say that in my business it's never easy to get approval and it should not be easy, but we are pleased with the data and optimistic regarding approval," he explained. "If we look across the studies, we see is a very robust effect of Selincro."
Torup said that in general there is a large unmet need to be filled and he hopes that pharmaceutical companies will soon play a much bigger role in finding more and better vaccines against alcohol dependence and drug addiction. "It constitutes an enormous health burden to the society and both to the patients and their friends and families," he added.
Research into treatments against drug addiction will go on – with or without the support from big pharmaceutical companies. One day, big pharma might wake up and see the value and financial profitability of such vaccines and medications. This, however, could still take several years.