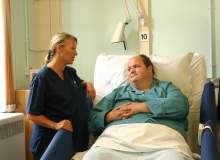 Bypassing gastric surgery
Gastric bypass surgery is a common last resort for individuals with a body mass index (BMI) of more than 40 or those with a BMI of 35 and comorbidities such as diabetes or blood pressure. It is an invasive course of action with numerous potential side-effects and complications.
Fortunately, doctors and researchers are seeking ways to treat severely obese individuals without the drastic and expensive option of gastric bypass surgery. Professor Steve Bloom, head of the Division of Diabetes, Endocrinology and Metabolism at Imperial College, London, is studying a drug that mimics the effect of gastric bypass surgery.
"Research suggests gastric bypass surgery works by elevating satiety gut hormones Glucagon-like peptide-1 (GLP-1), oxyntomodulin (OXM) and peptide tyrosine-tyrosine (PYY), and inhibiting the gut hunger hormone ghrelin," says Bloom. The main drug components being studied by the team are OXM and PYY, which act on the appetite centre in the brain to make patients feel as if they have just eaten. Bloom says, "The main advantage of drug therapy over gastric bypass surgery is the absence of the need for surgery and surgical complications which are fairly common after operations in the obese."
The drug is planned to be administered intravenously via a pump fitted around the waist – to painlessly deliver small, regular doses of the hormones GLP-1, OXM and PYY. Endogenous production of these hormones to communicate satiety is only transient, but when they are delivered at regular intervals, the body is tricked into thinking it doesn't need more food.
---
---
With close to ten percent of the world's population currently living with type 2 diabetes, this is the pandemic of the 21st century.
---
Current research is focusing on development of longer-lasting versions of these hormones, which would mean individuals could take a single weekly injection to control their appetite. In a small phase 1 clinical trial of obese patients receiving a synthetic hormone, participants lost weight and experienced a long-lasting reduction in appetite over a five-week period.
Harnessing side-effects
While Bloom is working with new drugs, other scientists are discovering novel side-effects of drugs already in use – such as Liraglutide (Victoza), an approved treatment for diabetes. Lead researcher Professor John Wilding, head of the Department of Obesity and Endocrinology at the University of Liverpool, England, explains, "Liraglutide is an injectable GLP-1 analogue that is an agonist at the GLP-1 receptor. GLP-1 has a role in regulation of body weight, and Liraglutide and other GLP-1 agonists result in weight loss when used in lower doses than used in people with diabetes."
The SCALE (Satiety and Clinical Adiposity – Liraglutide Evidence in Non-diabetic and Diabetic people) clinical programme comprises four trials, each with a different focus, encompassing over 5,000 overweight adults with comorbidities such as hypertension or type 2 diabetes. Stage 3a of the trials explored the effects of 1.8mg and 3mg of Liraglutide on 846 obese people with type 2 diabetes. On average, those on the 3mg dose lost 6% of their body weight over 56 weeks, with 22% of participants losing more than 10%. In contrast, 1.8mg of Liraglutide resulted in an average weight loss of 5%, and placebo recipients lost an average of 2%. Non-diabetic obese participants who took 3mg of Liraglutide for over a year lost an average of 8% body weight compared with 2.6% in the placebo group.
Wilding warns, however, "Diet and lifestyle are an essential aspect of weight management (drugs act as an adjunct to this) and were provided equally to active and placebo arms in the trials – weight loss is less when diet and lifestyle advice is not provided or followed."
"Researchers from the Norwegian University of Science and Technology, together with St. Olav's Hospital, are due to begin studies on the use of Botox for weight loss."
Victoza has not yet been approved as a treatment for obesity and is currently only available in 1.2 and 1.8mg doses. Wilding says, "The main studies with Liraglutide for weight loss are not yet published in full and the drug is currently undergoing regulatory review in both the USA and in Europe."
Botox for weight loss
Researchers from the Norwegian University of Science and Technology, together with St. Olav's Hospital, are due to begin studies on the use of Botox for weight loss. The Botox is injected into the muscle of the stomach wall, slowing down the rate at which food passes through and allowing individuals to feel full for longer. One of the researchers, Magnus Strømmen, says, "There won't be a single treatment working for everyone. Instead, we need an arsenal of different treatments to help different subgroups of the very heterogeneous obese population."
In Strømmen's opinion, personalised medicine is the ideal in obesity research, with drug, surgical or lifestyle interventions chosen on a patient-by-patient basis. He says, "We consider procedures like the gastric bypass and gastric sleeve to be invasive in their nature. Although an experienced bariatric team has very low complication rates, there is still risk of severe complications related to the procedures, from the immediate effects, to others occurring several years after surgery."
Despite these risks, Strømmen explains, "Due to a belief in tailored treatments, our goal is that every patient referred to the clinic be offered the treatment best suited to their needs. If Botox works, we can avoid complications like wound infections, bleedings, blood clots and leaks, as well as dumping syndrome (rapid gastric emptying), malnutrition, hernias, and bowel obstructions. Botox would be administered without general anaesthesia, which also reduces risk. It would also significantly reduce the resources needed for treatment, or at least help us allocate resources differently."
Strømmen cautions, "Many patients will probably need repeated treatments. The fact is that we don't know how long the treatment effect will last, and this is part of the reason why we are prepared to try different retreatment schedules in this trial, as well as follow them for several years."
---
---
As attitudes towards medical marijuana soften, new investigational paths for cannabinoid-based are opening up.
---
If Botox works sufficiently well in clinical trials, Strømmen believes it may be more suited for patients in the lower obese BMI range, who are in need of a more gentle physiological push to modify behaviour – as opposed to heavier patients who need the more drastic kick start offered by gastric bypass surgery.
Botox is a potentially very dangerous neurotoxin considering its history as a food poison and biological weapon. However, one major advantage is that it works locally, making systemic side-effects unlikely. The temporary nature of the effect is also positive when considering the risks. Strømmen says, "Our surgeons have experience in administering Botox through an endoscope, which also reduces the chance of complications."
Only time will tell what will emerge from these potentially ground-breaking trials, but patients now have alternatives to consider and invasive gastric bypass surgery could soon be a thing of the past.