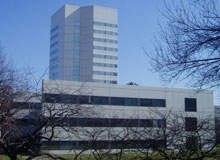 Johnson & Johnson (J&J) – $70.07bn
Johnson & Johnson (J&J) is a multinational company that specialises in producing health-care products, pharmaceuticals and medical devices.
Headquartered in New Jersey, US, J&J boasts over 250 offices in 60 countries, and operates through three main business divisions: Consumer, Pharmaceutical and Medical Devices.
The Consumer unit offers wellness, nutritional and over-the-counter pharmaceutical products. Its baby-care range includes Johnson's, Johnson's bedtime and Johnson's head-to-toe fragrance free baby lotion. Skin and hair products include Bebe, Clean & Clear, Roc, Neutrogena, Band-aid, Bengay, Neosporin, Compeed, and Tucks ointment.
The division's oral-care brands include Listerine, Listerine whitening and Rembrandt. Non-prescription medicines range from Tylenol, Imodium to Zyrtec. Vision-care products include Visine and Acuvue contact lenses, and nutritional products include Lactaid.
With 57 manufacturing facilities across the globe, J&J's Medical Devices division provides medical products to health care professionals in differing fields such as diagnostics, optometry and neurology. Some of the major offerings include disinfectants, general surgery products and orthopaedic, endomechanical and electrophysiological devices.
J&J's Pharmaceutical segment, traded as Janssen Pharmaceutical Companies, develops prescription medicines for complex diseases. The unit, which spent over $6bn in research and development in 2014, focuses on five areas of healthcare – cardiovascular and metabolism, immunology, infectious diseases and vaccines, neuroscience, and oncology. The company has 26 manufacturing facilities across the globe.
"The company recorded revenue of $70.07bn in 2015, a 5.7% decline year-over-year."
Financial Performance
The company recorded revenue of $70.07bn in 2015, a 5.7% decline year-over-year. The company's operating margin stood at 27.4%, whereas the net margin was 22%.
Key Competitors
Johnson & Johnson's key competitors include Abbott Laboratories, BABOR Cosmetics America, Boston Scientific Corporation, C.R. Bard, Eli Lilly and Company, Kimberly-Clark Corporation, Merck & Co, Sangui BioTech International, St. Jude Medical, Stryker Corporation, Beiersdorf AG, F. Hoffmann-La Roche, GlaxoSmithKline Plc, L'Oreal S.A., Mallinckrodt, Medtronic and Sanofi.
Latest Developments
In April 2016 Johnson & Johnson Consumer announced that it has entered an agreement to acquire NeoStrata Company – a provider of therapeutic and cosmetic dermatological products – its affiliates and privately-held parent company TriStrata.
In the same month the pharma-giant said it wouldinvest $50m in Tesaro Company'sprostate cancer candidate Niraparib. J&J will pay $35m up front and invest about $415m in milestone payments. It will also fund the entire development and commercialisation activities of the drug.
In February 2016J&J sold its 5.1% interest in Galapagos NV, a pharmaceutical research company, for about $95.7m.
In January 2016 J&J and BioMed X GmbH, a biotechnology company, entered a research agreement to develop novel methods for biofilm disruption. Biofilm or plaque is one of the leading causes of gingivitis, caries and halitosis.
In the same month the company made an agreement with ProdermIQ, a personalised skin care company, to explore the latter's proprietary SKINdex skin health measurement platform.