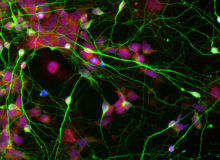 A pioneering treatment, which involves destroying a patient's immune system before replacing it with a new one created from their own purified stem cells, can halt the progression of multiple sclerosis (MS) and has been described by experts as 'truly impressive' and 'close to being curative'. But it's not without significant risks, it won't be applicable to all MS patients and there's still work to be done by the research community to convince transplant surgeons it's the way forward.
First steps
It all started back in 2000 when a group of Canadian researchers decided to take radical action to find out what starts MS, an autoimmune disease, which affects around 2.5 million people globally and causes the immune system to mistakenly attack the protective coating around the nerve fibres in the brain and spinal cord.
"We didn't know what was wrong with an immune system that was persistently attacking the brain and spinal cord; years of research had not really turned up a common denominator," explains Dr Mark Freedman, a professor of medicine in the field of neurology at the University of Ottawa and one of the researchers behind the recent breakthrough. "So we thought, if we reboot the system, the disease comes back and we're watching these patients like hawks, we can correlate what happens immunologically with the first signs of disease and get an insight into what starts MS."
"Stem cells are then transplanted back into the patient to generate a new immune system that has no 'memory'."
What Freedman and his team actually found was that their technique stopped the disease, which can cause serious disability and in severe cases early death, in its tracks. Known as immunoablation and autologous hematopoietic stem cell transplantation (IAHSCT), it involves taking stem cells from a patient's bone marrow before injecting a cocktail of powerful chemotherapy drugs to destroy the immune system. After being purified, the stem cells are then transplanted back into the patient to generate a new immune system that has no 'memory' of attacking the brain.
Over a period of up to 13 years, not one patient who was given the therapy relapsed; 70% saw a complete stop to the progression of the disease; and 40% saw lasting reversal of symptoms such as vision loss, muscle weakness and balance problems, the researchers reported in The Lancet medical journal in June.
"From the science standpoint, it was a total failed experiment," Freedman says. "But we've got sustainable disease control without therapy in highly active patients that have an impressive amount of disease activity for up to 13 years. It's a phenomenal finding."
Significant risks
The new therapy isn't without risks, however. During the study of 24 patients, one died of liver failure brought on by one of the strong chemotherapy drugs involved in the treatment process, which at the time he underwent the procedure could only be administered orally. "It was very hard to control the levels of the drug, busulfan, and this is why we believe we had the one death," Freedman notes, adding that six months later, busulfan became available in an IV formulation, making it much easier to control the quantity administered.
Even with this improvement, the procedure still has serious side effects for patients. "It's a bone marrow transplant – you're out of commission for a while," Freedman says. "Of course you get rid of the bone marrow but you also lose your hair, your eye brows, your nails and your gut takes a huge beating. There's also a lot of bone pain and patients need to be on heavy duty anti-fungals, anti-bacterials, anti-virals and so on because they don't have an immune system. For about six months, it's a bit of a fog for most of these patients."
They also need to be supervised vigilantly to ensure any complications that do arise are dealt with before they become serious. "Our patients are very closely monitored by a transplant team, which is absolutely key because it's all about anticipating problems and putting out the fires before they begin," Freedman stresses. "If you go through this regimen and don't have a good transplant team, you won't have this kind of positive outcome."
Because of the side effects and risks involved, this therapy is only appropriate for a small proportion of people with very active MS. "It will work for anybody but if you have very mild disease, have only had one or two attacks, and don't really have a lot of disease activity, why do you need an atomic bomb when a pop gun will work?" says Freedman. "These are patients where their level of disease is beyond what current disease modifications will control."
Convincing the surgeons
Looking forward, Freedman hopes the new transplant technique will be adopted by other teams both in Canada and around the world, but admits that this will take time. "We're already doing it; it's part of clinical practice for us," he says. "The Canadians recognise it and we can treat anybody across the country because it's part of the national service. We're also trying to get other colleagues up and running in other parts of the country, if they're willing to do it.
"The Canadians recognise it and we can treat anybody across the country because it's part of the national service."
"The problem is these transplant teams all mix their eggs differently and they need to buy into the fact that all the steps we did are necessary. It's a matter of convincing other transplant teams this is what they should be doing."
Meanwhile, early feedback from Freedman's fellow scientists has been overwhelmingly positive. While Professor Siddharthan Chandran at the University of Edinburgh described the work as "important and carefully conducted", Dr Stephen Minger, a stem cell biologist and independent consultant, called it "truly impressive" and "close to being curative" although he did also stress that longer-term follow-up would be necessary to know for certain whether the patients continue to do well or if there is a chance of relapse.
Already, Freedman's colleagues have carried out the procedure on more than 25 other patients, achieving the same level of success as during their original study, something they will report on fully in the UK later this year. And if feedback from those patients is anything like it was from those in the original cohort, more will almost certainly be lining up for the therapy. "We asked all of our patients a couple of years later, regardless of their outcome, 'Would you do it again?'" Freedman recalls. "100% said yes."