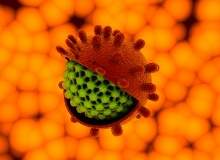 Gilead Sciences submitted a new drug application to Japan's Pharmaceutical and Medical Devices Agency (PMDA) for approval of its sofosbuvir for treatment of chronic hepatitis C virus (HCV) infection.
The data in the new drug application supports the use of sofosbuvir, a once-daily nucleotide analog polymerase inhibitor, with ribavirin for 12 weeks in patients with genotype 2 HCV infection.
Gilead Sciences' new drug application is supported by positive outcome from a Japanese Phase III clinical study (Study GS-US-334-0118) among 153 treatment-naive and treatment-experienced genotype 2 patients.
Mersana Therapeutics signed an agreement with EMD Serono, Merck's biopharmaceutical division, to co-develop next-generation antibody-drug conjugates (ADCS).
Mersana's Fleximer technology will be used to generate ADCs for multiple undisclosed targets.
The two companies will test a variety of ADCs by using Mersana's platform technologies and several cytotoxic agents as conjugates.
The Centers for Disease Control and Prevention (CDC) reported that 75 Atlanta-based staff may have been unintentionally exposed to live Bacillus anthracis, the cause of the anthrax disease, and are being monitored or provided antibiotics to prevent infection.
According to CDC, the staff may have been unintentionally exposed to Bacillus anthracis after they failed to follow established safety practices.
The CDC found the potential exposure on 13 June when the original bacterial plates were collected for disposal and Bacillus anthracis colonies (live bacteria) were found on the plates.
Japan-based Takeda Pharmaceutical announced the termination of orteronel (TAK-700) development for prostate cancer in Japan, the US and Europe.
The company has voluntarily decided to end the development programme for orteronel following the results of two Phase III clinical trials in metastatic, castration resistant prostate cancer (mCRPC) patients.
Last month, Takeda reported data from the pivotal Phase III trial, ELM-PC4, in men with mCRPC who had not received chemotherapy.
Janssen R&D Ireland and ViiV Healthcare announced a collaboration to develop and commercialise a new single tablet regimen containing Janssen's rilpivirine and ViiV's dolutegravir as the sole active ingredients for maintenance treatment of people with human immunodeficiency virus (HIV).
Rilpivirine is a non-nucleoside reverse transcriptase inhibitor and is being marketed as Edurant. Dolutegravir is an integrase inhibitor marketed as Tivicay.
If successfully developed and approved by regulatory authorities, this treatment could offer an option to HIV patients to switch from a standard three-drug therapy to a two-drug, nucleoside reverse transcriptase inhibitor (NRTI) sparing antiviral regimen.
Merck reached a definitive agreement worth $3.85bn to acquire Idenix Pharmaceuticals, a biopharmaceutical firm specialising in the discovery and development of drugs for treating human viral diseases.
Under the agreement's terms, Merck will begin a tender offer through a subsidiary to acquire all outstanding shares of Idenix Pharmaceuticals for $24.50 per share in cash.
Following completion of the tender offer, which will be subject to customary conditions, Merck will purchase all remaining shares of Idenix Pharmaceuticals through a second-step merger.
GSK" width="200″ height="100″ />
GlaxoSmithKline (GSK) agreed to pay $105m to settle allegations that it unlawfully promoted its asthma drug Advair, and antidepressants Paxil and Wellbutrin.
This payment settles charges brought by 45 state attorneys general. California's portion of the settlement is around $7.1m.
The settlement prohibits GSK from providing incentive payments to its salespeople that encourages the use of drugs not indicated on their labels, and from using paid doctors to promote its products.
Germany-based Bayer and Finland-based Orion signed a global agreement to develop and commercialise the investigational oral androgen receptor inhibitor, ODM-201, for treating prostate cancer patients.
ODM-201 is an investigational androgen receptor inhibitor with unique chemistry that is designed to block the growth of prostate cancer cells.
Under the new global agreement, Bayer is planning to begin a Phase III programme in 2014 jointly with Orion to further assess the safety and efficacy of ODM-201 in patients with non-metastatic castration-resistant prostate cancer.