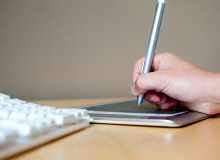 Apple's iPad tablet" src="https://www.pharmaceutical-technology.com/wp-content/uploads/static-progressive/5-ipad-pharma-mobile.jpg" alt="Apple's iPad tablet" width="430″ height="250″ />
As a conservative industry, Big Pharma is usually not an early adopter of new technologies. Recently, however, there have been signs that even pharmaceutical companies are embracing the mobile revolution to leverage some of the benefits of new wireless technologies, such as smartphones and tablets.
"Helius is a sensor-enabled pill that communicates to a peel-and-stick sensor patch worn on the patient's body."
A recent report published by market researchers Ernst & Young, shows that in 2010 pharmaceutical businesses increased their investment in digital, mobile phone apps, social media, educational websites and wireless devices by 78%.
A large proportion of the investments have been made in mobile health technology, particularly smartphone apps, which accounted for 50% of all new initiatives, an increase of 34% from 2006-2009.
One reason for this trend is most certainly the simple functionality of these mobile and lightweight devices, most of them featuring rapid start-ups, tactile interfaces and easy-to-use operating systems.
Others believe that pharma is at last moving on from its more traditional responsibility of producing medicine to a new role of demonstrating improvements in health outcomes and creating innovative business models.
Pharma's mobile opportunity: adding data connectivity to clinical trials
In the two years since the launch of Apple's iPad, the use of tablets and smartphones has become an integral part of businesses – most recently in the pharmaceutical industry. While initially everything and everyone concentrated on developing medical healthcare applications (apps) for patients, mobile technology experts now believe that Big Pharma is ready to exploit the true potential of mobile technology.
"We are in an era when the pharmaceutical industry has an optimistic view of the potential value of mobile, but has yet to step out boldly."
Some pharmaceutical companies have already realised that existing digital mobile activities require greater control, structure and rationalisation, and that there is the need to wholly integrate mobile tech into the core of its business structure. In a January 2012 report, research analyst company Cutting Edge Information (CEI) suggested that drugmakers should start looking to clinical trials and other pre-launch activities to get the most out of mobile technologies.
"With usage retention rates likely to continue hovering in the single digits, the industry may soon conclude the market is saturated with mobile health apps," according to CEI. "Despite the low cost of development, a reasonable [return on investment ROI] is much more difficult than first envisioned."
The report further proposed that pharma companies should focus on streamlining trial data collection and analysis and on connecting potential trial patients to investigators to "differentiate themselves from the pack".
Pharma giant Pfizer has done exactly that. In summer 2011, the drugmaker made big waves when it announced plans to initiate a trial to find out how mobile tools could make clinical trials more efficient. With the help of Exco InTouch's mobile phone technology, it tried to improve the efficacy of its patient recruitment and retention in Phase I clinical trials and to streamline interaction with volunteers at its sites in New Haven, Connecticut, Singapore and Brussels, Belgium.
The system had an immediate impact on Pfizer's recruitment strategy: an intelligent data system now enables the company to quickly identify, contact and assess relevant patients and maintain communication with them. "Prior to the implementation of the Exco InTouch system, Phase I subject recruitment using traditional methods was more challenging and costly," said Pfizer Clinical Trials Operations senior manager Jonathan Ventresca.
"With the adoption of InTouch Recruit technology, we can quickly recruit subjects and drive them into clinics for the screening process."
In addition, the system works as a contingency plan for Phase I subject recruitment as it processes and organisers a mobile volunteer database which instigates immediate contact via text message.
Optimising customer management with new technology
"With usage retention rates likely to continue hovering in the single digits, the industry may soon conclude the market is saturated with mobile health apps."
Pharmaceutical companies are also trialling new applications of mobile technologies, especially in the area of customer relationship management (CRM). One of them is Novartis, which according to an October 2011 internal memo obtained by the blog Pharmalot, will swap more than 80% of PCs used by the company's global field force with iPads by the end of 2012. In Italy, the company has already implemented a CRM system especially designed for the tablet.
In the UK, drugmaker Daiichi Sankyo recently revamped its corporate structure and culture, making mobile technologies the core of its business organisation. Simon Clough, the company's UK managing director, explained at Eyeforpharma's Mobile Pharma Strategy conference in London in December 2011 that the aim would be to reinvent relationships with customers, to shift away from a transactional, product-oriented selling role to one of partnerships and key account management (KAM).
"It's a question of changing systems, processes and patient outcomes for the better [and] getting better results from any resources that are being consumed," said Clough.
According to him, every employee in the UK has been equipped with an iPhone and an iPad with a specifically designed CRM which automates many processes that were formerly manual.
"Our iPads have now become our mobile business hubs," he said, adding that they are used not only for email and video-conferencing, but also as a depot for information, policies and in-house product apps to engage customers. Even dry and standardised information, such as standard operating procedures (SOPs), have been brought to life by the use of the mobile platform, with employees interacting in more meaningful ways.
Another way of exploiting the opportunities of mobile technologies has been researched and developed by Proteus Biomedical, a California-based developer of intelligent medicine products. In January, it launched its first intelligent medicine service, Helius, which will be available at Lloyds Pharmacy branches in the UK from autumn 2012.
Helius is a sensor-enabled pill that communicates to a peel-and-stick sensor patch worn on the patient's body. It gets activated by stomach fluid and sends a signal to the patch to indicate that the capsule had been taken. Then the patch relays the information along with the person's heart rate and other medical details to a caregiver's phone.
"We're seeing an enormous surge in demand for health services across the globe," said Proteus CEO Andrew Thompson in a press release in March 2012, adding that he plans to offer a comparable product in the US soon. To meet that need at a reasonable cost, he added, the pharmaceutical industry "must digitize. It must move into the 21st century."
Data challenges for mobile pharma and the wireless revolution
A survey, carried out by Creation Healthcare in September-October 2011, found that while half of the respondents were already using mobile internet in a pharmaceutical environment, 70% indicated that regulatory compliance is a significant or moderate challenge to their use of mobile solutions.
---
Related feature
---
UK proposals to open up public healthcare data to Big Pharma could boost British pharmaceutical innovation once again. But while the Government hopes to create a real centre of drugs research, concerns about patient privacy and organisational issues still need to be addressed.
---
While Pfizer, Daiichi and other companies may have embraced the wireless revolution, other drugmakers are not moving ahead so quickly.
Creation CEO and director of digital engagement Daniel Ghinn said at the Mobile Pharma Strategy conference in December 2011: "We are in an era when the pharmaceutical industry has an optimistic view of the potential value of mobile, but has yet to step out boldly into this medium."
Indeed, regulatory issues need to be tackled in the years ahead and it yet has to be clarified what happens to data in the special case of mobile technology. But also, data dealt with on wireless devices, such as smartphones and tablets, must be kept confidential without exception.
In the case of Pfizer using mobile technology for its clinical trials, the company had to comply with the strict data protection regulations in the US, Singapore and Belgium. Within the system, phone numbers and messages are encrypted at the database level, all compliant with Food and Drug Administration (FDA) and Health Insurance Portability and Accountability Act (HIPAA) regulation standards.
Nevertheless, there is a wealth of tracking, monitoring and outcomes behaviour that mobile devices such as smartphones and tablets will increasingly be able to collect, convey and aggregate. This data, coming in particular from medical apps, will represent a prosperous research resource that once anonymised can be mined for efficiency and effectiveness data by pharmaceutical companies.