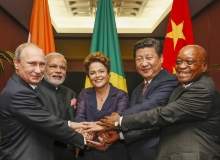 As the patent cliff continues to bite into pharma industry profits in mature pharmaceutical markets such as Europe and the US, companies are increasingly looking to establish themselves in high-growth emerging countries to seek new opportunities. Emerging markets comprise around 70% of the global population and pharmaceutical spending is increasing rapidly in countries, including Brazil, China and India, that had previously not been the subject of the industry's focus.
The scale of opportunity is too great to ignore: the Economist Intelligence Unit has predicted pharmaceutical spending in China, for example, to reach $166bn by 2017. Securing regulatory approval to market drugs in these countries requires local clinical studies to prove safety and efficacy, meaning more large-scale multi-site trials are predicted in years to come.
In a new report published by benchmarking research and consulting firm Best Practices, 83% of pharma industry survey respondents thought there would be an increase in clinical trials in emerging regions over the next two to three years. Finding experienced local clinical research organisations (CROs) and partners is an important means for sponsor companies to complete the necessary research, but previous false-starts for pharma firms in emerging markets have proven that the outsourced model is not without challenges.
We spoke to Best Practices' executive director of research services, Cameron Tew, to discuss the firm's findings on clinical trial strategies for the emerging world, and how pharma companies can navigate unfamiliar regulatory landscapes.
Chris Lo: What has your research revealed about the growth of clinical trials in emerging markets such as Brazil and China?
Cameron Tew: The work that we've done has shown that companies are definitely looking to do clinical trials in emerging markets, because these are places where there are large, diverse populations that they can work with. And also, frankly, it's less costly than doing those sorts of trials in, let's say, the European Union or the United States, where trials can be quite cost-prohibitive.
But it's definitely on the rise, and what companies are ultimately looking at and trying to get a handle on is not only the idea of utilising clinical trials in places like China, India, Russia, Brazil, but it's also the quality of those trials – making sure the work you're doing is going to be credible and that there have not been any mistakes or lapses in the quality of the work.
CL: How did you go about gathering information for your report?
CT: We were getting our information from a group of benchmark companies that participated in our research. The people who participated were heads of clinical operations, as well as people at senior director levels. We had companies including Eisai, Daiichi Sankyo, Roche and Merck Serono that participated in this work.
So we were talking to people at the director level – the people who had boots on the ground and [who were] running these clinical affairs groups inside their organisations. It's the type of work that we've been doing for 25 years, where we go directly to the people who are actually doing this and benchmark them through a survey tool, and then go about interviewing a sub-set of the people who participated.
CL: Does your poll data suggest that pharmaceutical companies see emerging areas as increasingly important markets when compared to mature markets like the US and Europe?
CT: Definitely, in that you have the opportunity to broaden the base of population that you're working with. Those things are important. What they have to remember as they're going into this, as pharma companies that are trying to set up these trials, is that they have to be able to hire quality clinical affairs staff in those countries. A lot of times you're looking for expatriates who are working in those areas and who can help you. You really have to vet the people you're hiring there, and then you're trusting those people to be able to vet the vendors and outsourced groups that you're hoping to use.
And then you have to be on top of the laws, rules and regulations in all of these different countries. There is really a wide array of rules and regulations from country to country. For example, data requirements can vary quite widely. If you take China, for example, you might be looking at doing a 500-patient randomised controlled trial, and you might need to have a 2,000-patient post-market trial. But then when you go to India, you're looking at 100-patient trials. So you've got to know the rules and regulations of where you're going, what that's going to mean and how you're going to deal with it.
CL: What are the major challenges when it comes to recruiting patients to clinical trials in emerging countries?
CT: I would say one of the biggest things to consider if you're going to outsource activities, versus in-sourcing the work, is to have a very on-top-of-it CRO to work with. They also need to have been vetted, because if you haven't done a good job of vetting, you can have patients coming in and out of the trial, and you lose time. Time is very valuable, so it's really a matter of making sure they have not only the follow-through, but that there aren't quality problems in the work that they've previously done.
You also have to have someone who is going to be able to communicate [with a CRO] and make sure there aren't miscommunications of your intentions or misinterpretations of languages. So you have to have someone who is very conversant and able to do those things. Ultimately, you might choose to outsource the majority of activities: your site evaluation, recruitment, data management, patient enrolment – most of those things are going to be done, in some way, shape or form, by the vendors that you're hiring. On the other hand, you might be more likely to focus on data analysis and similar things in-house. So you really have to have confidence in the people who are going to be your boots on the ground.
CL: What are the advantages of outsourcing clinical research and trial activities to companies with local expertise?
CT: When we talked about the predictors of a quality vendor, the things that pharma and medical device companies are measuring when they're doing this type of work is the experience of staff in the therapeutic areas you're going into – do they have that type of experience? That's probably the core thing that most companies are looking for. But then, through word of mouth and the vetting that we were talking about, does this vendor have a proven track record in this specific country? You're looking for people who have [already] done work there; they know how to set up trials, they know the lay of the land, the rules and regulations that you're going to go through. That leads into that main concern that's inherently important – do they have a high staff turnover? If they have had considerable variability in staffing, that potentially leads to them over-promising and under-delivering on their timelines because they don't have the right type of staff on hand.
CL: How do you think clinical trial outsourcing in emerging regions could be improved in the future?
CT: Part of it is building relationships, like anything else – you have those relationships and build trust. I think it's important that you focus on those things and continue to work with groups that have a very strong work ethic, a very strong quality of work that they bring back. You're really trying to build in what we call templates, or systems that allow you to move efficiently through the work at as quick a pace as possible, so that we don't have these opportunities for gaps or lags to occur, which sometimes lead to frustration on the company's part and the vendor's part.