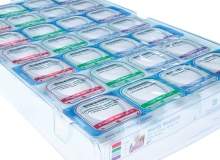 Studies across various different disease areas of the healthcare industry by the World Health Organisation show that between 30% and 50% of patients do not take their medicines as prescribed by their healthcare provider. If prescription medication cost the NHS £8.1bn in 2007-2008, then potentially £4bn worth of medicines are not being used in the correct way.
Further research shows that three to four percent of admissions to hospital are avoidable, as they are medicine related. Moreover, up to 30% of these admitted patients are not using their medicines as recommended by the prescriber. The cost of admissions due to patients not taking their medicines as recommended was estimated to be between £36m and £196m in 2006-2007.
While evidence stacks up for the financial (not to mention administrative) strain non-adherence puts on the health service, it seems evident that certain strategies need to be put in place to improve the adherence rate.
The Healthcare Compliance Packaging Council (HCPC), which has promoted the benefits of dose packaging since 1990, believes better packaging helps and is working towards the goal of more medicines being packaged in the unit dose format.
Smart packaging on the market
"Further research shows that three to four percent of admissions to hospital are avoidable, as they are medicine related."
A new unit dosing product on the market allowing for the dispensation of liquid as well as solid oral medications is the Total Medication Management System (ToMM) system from Biodose.
"This system helps patients in any situation where the use of bottle and spoon is difficult and inconvenient," said Brian Fisher, commercial director of Quantum, which has a stake in the product.
Currently 45,000 UK patients in care homes and the domiciliary care sector are using Biodose.
"It is beneficial to clinicians, patients, carers, care homes and pharmaceutical companies as it offers improved compliance and patient outcomes, with the ability to manage and monitor results of medication," said Fisher.
Another intelligent packaging system already proving popular on the market is the GlowCap from Vitality. Winner of the HCPC's innovative design in its compliance packages of the year awards in 2009, the design has attracted a lot of attention. It can illuminate, play a melody, send a text message or call a phone over a wireless network to prompt patients to take their medicine. It also has an embedded 'push-to-refill' button that connects to the pharmacy to automate refills.
Lack of evidence for ROI
However, while numbers stack up against non-compliance there is little evidence to prove a direct link exists between intelligent packaging and improved patient adherence, which is an obstacle Dr Steven Carden, a technology and innovation expert at PA Consulting Group, comes across when working with pharmaceutical companies.
"We have lots of conversations with pharmaceutical companies and CROs (Clinical Research Organisation) about the development of intelligent packaging solutions," said Carden.
"But even if we are talking to a passionate champion of intelligent packaging, what we so often hear is that they struggle in their organisation to get any traction because there is no hard evidence to prove it has any return on investment. There is really only anecdotal evidence to suggest it helps with patient treatment regimes."
Carden argues that because the benefits fall at the eco-system level and not at the individual company level, the direct link is not there for pharmaceutical companies to make an investment that could affect profit margins. "If, for example, the NHS took a view and stated that intelligent packaging would reduce the billions they pay out against non-adhering patients, then that would be a massive change and companies would have to address it."
On the path to concordance
Even if a direct link did emerge, statistics indicate there would still be approximately one-third of patients that would not adhere.
"Another intelligent packaging system already proving popular on the market is the GlowCap from Vitality."
Industry professionals recognise the approximate division of patient behaviour in adherence, where: one-third of patients follow their regime and one-third of people will be non-adherent no matter what, leaving just one-third that can be influenced by intelligent packaging concepts.
While adherence is a buzz word often heard in healthcare these days, in order to address these behavioural issues a move towards concordance is what is required, explains Carole North, director of 90TEN, a healthcare communications company which provides concordance programmes worldwide.
"Adherence is the extent to which a patient's behaviour matches the agreed recommendation from the prescriber, but concordance is a shared decision-making process, with an agreement on both sides from the prescriber and patient, stating they will continue to take the medicine at the right dosage at the right time," said North.
"It is important that the prescriber understands the patient's health beliefs and identifies their potential adherence level at the start of treatment."
Individual health beliefs
A patient's health beliefs have a large role to play in patient non-adherence. When 90TEN carried out a study last year, out of 400 hypertensive patients the team discovered around 25% of patients had forgotten to take their blood pressure tablets on at least one day in the previous month and didn't consider their condition to be particularly important.
But it is not only patients who are failing to keep on top of their medication regime. A recent study from Medscape showed that, out of 257 physicians, none of them kept track of their patient's compliance rates.
Steps are being taken to address the issue. A steering group has been put together to manage and support medicine adherence in the EU: the ABC (ascertaining barriers to compliance) project.
"Understanding patients, their health beliefs, education, listening and using certain motivational tactics are going to lead us towards concordance," said North, adding that this is why she believes the new smart pill from Proteus, which uses 'chip in pill' technology, is only one step in the much bigger need to provide tailored adherence solutions.
Technology and the future
"Even if a direct link did emerge, statistics indicate there would still be approximately one-third of patients that would not adhere."
Proteus smart pill technology runs on an electric charge generated by the patient's stomach acid, which is detected through the patient's body via a patch on their skin. Records, such as the time that the pill was taken and heart rate, are then analysed and sent to the patient's mobile phone and to the healthcare providers. A small patient study with Novartis showed that compliance improved from 30% to 80%.
Many remain sceptical about the future effect of the smart pill, but its actual roll out into the market is one of its biggest obstacles. "For existing drugs, companies would have to go through the entire process of proving the validation of their product again, along with proving that the metal sitting in the bottom of a patient's stomach isn't going to make a medical problem even worse," said Carden.
"Worse, improved compliance may actually undo previous clinical studies which have built-in assumed compliance levels. It begs the question of how disruptive is adherence technology to what pharmaceutical companies are already trying to do?"
But with technology companies eager to address patient adherence with their technology – and with smartphone use exploding, encouraging the use of apps with adherence – innovative intelligent packaging solutions will keep entering the market.
PA Consulting presented its 'Inhaler of the Future' last year. The device engages with the patient, issues personalised doses, monitors the patient's environment and sends the analysis to the healthcare provider. For North what is required for patient adherence to progress towards concordance is a combination of the right technology and the right level of education.
"An agreement between the healthcare professional and patient at the point of prescribing is essential. Concordance requires an entire buy-in from all involved: pharma, technology, patients, healthcare organisations and caregivers."