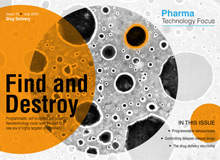 Nanotechnology has emerged as one of the most exciting new drug delivery technologies. We explore groundbreaking research in nano-scale devices, from programmable nanoparticles for highly targeted drug delivery to a wirelessly controlled micro-device that can propel itself through the human bloodstream, and find out how to control drug absorption for a three-month period using superhydrophobic materials.
We also look at other breakthroughs in drug delivery, including the first successful test of a drug delivery microchip embedded in patients' skin and the promising new technologies for disposable insulin devices. Finally, we find out how biopharma companies plan to overcome the challenges of developing these drug delivery devices in future.
Read the latest issue for free
In this issue
Nano goes for Gold
Targeted drug delivery is one of the most challenging aspects of drug administration. In the field of oncology, scientists have been able to show nanoparticles can be introduced into cancer cells. We explore how nanotechnology is fast becoming a powerful weapon in the war against cancer.
Read the full article.
Fine-Tuned Treatment
A new technology using programmable nanoparticles could make cancer drugs more effective. BIND Biosciences CEO Scott Minick explains the particle-by-particle workings of a breakthrough technology, and sheds a light on potential applications and the impact it could have on cancer therapy in years to come.
Read the full article.
Blood Drive
Stanford University engineers have developed a self-propelled wireless device capable of travelling through the bloodstream. Liam Stoker explores this breakthrough and the future developments that could be in store.
Read the full article.
Take Control
Science is getting closer to delaying the rate at which drugs are released into the human body to fight cancers and other life-threatening illnesses. A new study demonstrates a mechanism using air as a removable barrier to delay the release of drugs. We find out how the device, which is made of superhydrophobic materials, could control drug absorption for a three-month period.
Read the full article.
Under Your Skin
A new, wirelessly controlled microchip could revolutionise drug delivery. Laura Husband investigates whether the device, which is embedded under the patient's skin, could improve therapy outcomes and change lives.
Read the full article.
Routes to Success
Competition and pressures on reimbursement is making it difficult for biopharma companies to innovate. Kate Farmer and Iain Simpson of Cambridge Consultants explore the challenges of developing drug delivery devices.
Read the full article.
Pumping Insulin
Market analyst Global Data rounds up the key trends shaping the market for disposable insulin devices, including the top market players and promising new technologies.
Read the full article.
Next Issue: Trialling Times
Last year the UK Government announced its intention to streamline clinical trial regulations to get medicines to the public more quickly. In the next issue we investigate whether a simplified approval process can be achieved safely.
We also find out how Big Pharma is working towards the introduction of industry-wide standards for electronic data collection, and look into strategies for better success rates in clinical trial recruitment.
With a number of potentially groundbreaking medicines in the pipeline, we look at trials of Avastin and Lucentis to prevent blindness, and find out how Truvada, a drug recently submitted to the FDA for approval, could represent a breakthrough for HIV prevention.
Subscribe for free to get each future issue of Pharma Technology Focus delivered directly to your inbox.
Digital Magazine FAQ
The digital magazine is viewable on any computer with Flash Player installed. It is also viewable on mobile devices, iPhones and iPads, although some features and videos may be disabled.