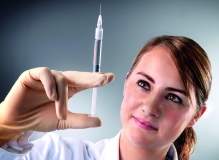 As the pharmaceutical industry continues to seek out drug delivery methods that improve safety and efficiency while reducing costs, the traditional multidose or single-dose vial format for vaccines and injectables is starting to show its age.
"This sector is abuzz with development activity seeking to improve the technology behind prefilled syringes."
Developed markets are increasingly turning to packaging vaccines in prefilled, single-use syringes, with more and more companies recognising the benefits that come from this area's innovations. Prefilled syringes have been used to delivery drug categories like vaccines, therapeutic proteins, blood stimulants, erythroproteins and more.
Reports acknowledge that the market's continued growth will have to be driven by continuing improvements to syringe technologies and materials, making prefilled syringes better, safer and more convenient than ever before.
Fortunately, this sector is abuzz with development activity seeking to improve the technology behind prefilled syringes for the benefit of the pharmaceutical industry and the patients it serves (patients particularly stand to benefit from advances in the related field of self-injection technologies).
Here, we profile the range of benefits that modern prefilled syringes are bringing to the market, and check out some of the sharpest developments in this area.
The growth of the prefilled market
The growing popularity of this drug delivery route for injectables has been noted by UK-based business analyst Visiongain, which released a report in June 2011 predicting that global revenues from prefilled syringe technology would grow from $2.7bn in 2010 to $3.9bn in 2015.
"The advantages are great, with prefilled syringes taking over from traditional formats," said Visiongain's healthcare reports editor Dr Gordon Low. "Prefillable syringes constitute one of the fastest-growing markets in the drug delivery and pharmaceutical packaging industries."
Reports of rapid growth in the prefilled syringe market have not gone unnoticed by device manufacturers. In November 2010, for example, German healthcare device manufacturer Gerresheimer began work to add a fourth production line dedicated to prefilled syringes to its plant in Bünde.
The company was prompted to make the €20m investment out of a desire to tap into the prefilled market's double-digit annual growth rates. The plant's prefilled syringe production line is due to join its three ready-to-fill lines in 2012.
Prefilled syringe advantages: contamination prevention
So what are the reasons for the industry's gradual shift towards prefilled technologies? The most obvious explanation is that, from a healthcare and production perspective, prefilled syringes address many of the persistent issues that are intrinsic to the traditional vial-based status quo.
"Syringes made from plastic-based cyclopoly olefin (COP) resin are becoming more common."
One-use, prefilled syringes reduce the risk of drug contamination. Every time a syringe is inserted into a drug vial to draw out a dose it represents another potential admixture-related contamination risk.
Eliminating that risk with a pre-sterilised syringe increases safety and removes the additional process of on-site vial cleaning and depyrogenation.
For manufacturers, pre-sterilising prefilled syringes can be easily accomplished on a large scale, especially as modern techniques like electron beam sterilisation tunnels can be integrated into a production line for high throughput.
Although the majority of prefilled syringes still use glass for their containers, syringes made from plastic-based cyclopoly olefin (COP) resin are becoming more common due to the material's improved break resistance, as well as its decreased surface reactivity and drug absorption rates compared to glass.
This is particularly the case in the Japanese market, where more than 50% of syringes are now plastic-based.
Prefilled advantages: ease of use and dosages
Vaccines and injectable biologics are not always used in perfect environments. Indeed, they regularly need to be deployed in emergency situations or in remote areas to respond to outbreaks of disease. Prefilled syringes are often better suited to these applications due to the speed at which they can be delivered and the fact that less specialism is needed for tasks like drug reconstitution.
Medical professionals have responded positively to the benefits of prefilled technologies, as in studies by prefilled syringe market leader Becton Dickinson, as many as nine out of ten healthcare professionals preferred prefills to standard syringes.
For healthcare providers, the fact that prefilled syringes come ready to use with the exact drug dosage required is a major advantage, minimising the potential for dosage errors.
Providing prefilled needles with exact dosages is not only convenient for medical users, it also prevents a huge amount of drug wastage for pharmaceutical companies.
Typically, multidose or single-dose vials have a drug overfill of 20-25% to ensure the drug administrator always has enough to fill the correct dose and to account for human errors. The virtual elimination of overfill by prefilled syringes eradicates a major source of inefficiency in the manufacturing process, allowing larger quantities of drugs (the production of which is often highly expensive) to be sold and used.
Major innovations and growth in the prefilled syringe market
"Innovations in prefilled syringes are seeking to address ongoing safety concerns about needlestick injuries."
As a sector whose growth is primarily dependent on continual refinement and innovation, the prefilled syringe manufacturers are on an incessant quest to improve the safety, convenience and efficacy of their products. Much of the development in this area is focussed on expanding the range of applications for which prefilled syringes are suited.
In August of 2011, for example, sharp devices specialist Unilife Corporation unveiled its Unifill EZMix multiple-chamber prefilled syringe, which it claims is the market's first prefilled syringe that is able to reconstitute lyophilised (freeze-dried) drugs and vaccines, a task that usually has to be done manually.
The syringe incorporates two chambers, one containing the freeze-dried pharmaceutical ingredient and the other containing a diluent liquid. Pressing down on the syringe's plunger causes the chambers to mix the powder and the diluent, with a quick swirl completing the reconstitution.
Innovations in prefilled syringes are also seeking to address ongoing safety concerns about needlestick injuries. Despite official needlestick legislation being passed in countries like the US, Germany and the UK in the last decade, a survey conducted by MedPro Safety Products at the June 2011 APIC Conference revealed that 68% of 262 healthcare professionals did not believe needlestick injuries had been eliminated at their own medical institutions, with 43% not satisfied with the syringes currently being used.
As prefilled syringes are self-contained units that require less interaction and preparation than standard syringes, they are arguably better suited to prevent needlestick incidents simply by their design.
Still, more proactive safety systems are being designed for integration with prefillable syringes to ensure that all steps are taken to eliminate these unnecessary and dangerous injuries. Safety systems range from simple plastic needle shields to automatic needle retraction systems that seal the needle away inside the syringe barrel even as it is being withdrawn from the injection site.
Self-injection technologies
Another key reason for the rapid growth of prefilled syringe technology is its suitability for home use, a prevalent healthcare trend that provides the benefit of convenience for regular patients. Pen injectors and auto-injectors are particularly common for self-administered insulin injections (and other hormone replacement therapies), but are also used in the home-based treatment of major therapeutic areas like autoimmune disease, cancer and allergies.
Pen injectors have been a common sight since the mid-1980s, but the growth in the number of drugs that have been made suitable for self-injection has prompted a surge interest for auto-injection technologies (devices that, unlike pen injectors, complete injection automatically).
As they are indicated for use at home without clinical supervision, fool-proof safety systems are the main concern for auto-injectors.
Safety features on auto-injectors are gradually shifting away from active features, which require patients to make a syringe safe after use themselves, towards passive features like the retractable needle, which automate the process.
The most advanced technologies in this area are usually found in modern disposable auto-injectors like the new Vibex auto-injection platform developed by Antares Pharma and granted a US patent in October 2011.
This single-use auto-injector has an integrated hidden needle that is propelled into the skin by a coil-spring, delivering the drug through the skin to a depth of 2.5mm. As well as incorporating a passive safety system that allows Vibex to be thrown away without risk of needlestick injury, the system also allows for changes to the gauge of the hidden needle to cater for different drug formulations. The fact that Vibex is compatible with standard prefilled glass syringes from companies like Schott and Becton Dickinson demonstrates the extent to which prefilled technology is intertwined with some of the syringe manufacturing industry's most innovative developments.