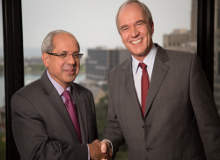 US-based Merck signed an agreement to acquire Sigma-Aldrich for $17bn (€13.1bn), which will boost the company's position in the life science industry.
Under the deal, Merck will acquire all outstanding shares of Sigma-Aldrich for $140 per share in cash.
Merck executive board chairman Karl-Ludwig Kley said: "This transaction marks a milestone on our transformation journey aimed at turning our three businesses into sustainable growth platforms."
Brazilian researchers released mosquitoes infected with dengue-blocking bacteria as part of the 'Eliminate the dengue: Challenge Brazil' project to fight against fever through a natural means.
Around 10,000 mosquitoes infected with bacteria that suppress dengue fever have been released by state Brazilian laboratory Fiocruz to let them multiply and breed, becoming a majority and reducing cases of the disease.
Mosquitoes are infused with intercellular bacteria Wolbachia, which is found in 60% of insects that will not transmit to humans.
GSK" height="100″ src="https://www.pharmaceutical-technology.com/wp-content/uploads/image-digitalinsightresearch/Archive/Main/GSKtext.jpg" style="padding: 10px" title="gsk" width="200″ />
GlaxoSmithKline (GSK) was fined £297m by the Changsha Intermediate People's Court in Hunan Province, China, over bribery charges.
The fine follows after GSK China Investment (GSKCI) was found guilty by the court of bribing non-government personnel.
Under Chinese law, the company offered money or property to non-government personnel, in order to obtain improper commercial gains.
Researchers from the University College London discovered a new gene associated to a rare disease, which induces respiratory problems similar to cystic fibrosis.
Primary ciliary dyskinesia (PCD) is an inherited condition, which affects cilia. These are the hair-like projections that line the respiratory tract and forms a part of the body's defence mechanism to fight against microbes that enter into lungs.
University College London researcher Dr Hannah Mitchison who led the study said: "Having a better understanding of the genetics behind PCD means we can begin to identify which mutations cause the most severe problems in patients, and tailor treatment to them."
Research by Germany-based biotech company PharmaInformatic compared study results on drug-uptake (oral bioavailability) in animals and humans for a wide range of approved and established drugs has claimed that sole reliance on drug-uptake in animal trials can be misleading.
Results demonstrated that oral bioavailability in animals is not in line with the values reported for humans. For instance, Aripiprazole and Esomeprazole, which are the most sold drugs in 2013, possess low oral bioavailability in animals, while it is high in humans.
Most successful commercial drugs such as blockbuster treatments also showed large difference in the values, which are said to have annual sales of around $1bn.
Amag Pharmaceuticals signed an agreement to acquire a privately held maternal health pharmaceutical company, Lumara Health, for $675m.
The deal also includes an additional contingent consideration of up to $350m based on achievement of certain sales milestones for Lumara's product Makena (hydroxyprogesterone caproate injection).
Amag president and CEO William Heiden said: "This is a truly transformative transaction that will propel Amag into a profitable, high-growth multi-product specialty pharmaceutical company positioned for what we expect to be continued revenue and bottom-line growth, further business diversification and shareholder value creation."
Liberia's Defence Minister Brownie Samukai said that the Ebola virus disease outbreak is seriously threatening the country's future.
The deadly virus has killed more than 1,000 lives in the country to date.
The World Health Organization (WHO) said that the country is the worst hit by West Africa's Ebola epidemic and is expected to report thousands of new cases in coming weeks.
India-based Cipla partnered with UK's S&D Pharma to launch affordable, high-quality alternatives in the Czech Republic and Slovakia.
Under the deal, Cipla will introduce its respiratory product portfolio in both the countries, while S&D Pharma will look after the physical distribution of all products, including respiratory products.
Cipla Europe head Frank Pieters said: "We are excited to partner with S&D Pharma and believe that this collaboration will enable us to drive access in the Czech Republic and Slovakia across therapy areas in the coming years."