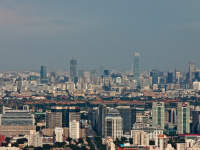 There are some sharp contrasts in China's pharmaceutical sector. On one hand the industry can be counted as one of the country's economic success stories, maintaining rapid growth over the past two decades and overtaking Japan as the world's second largest pharmaceutical market, just behind the US.
The Chinese pharma sector was worth $105bn in 2014, and is on track to top $200bn by 2020. R&D spending is rising fast while other countries have seen investment in this area falling, a testament to the Chinese Government's determination to transform the country's domestic life sciences and pharmaceutical industries.
In the space of a few decades, the Chinese drug development sector has grown from practically nothing into a top global industry, with significant potential to improve the world's health through the supply of active pharmaceutical ingredients and the production of affordable generic drugs.
However, as can be the case when looking into one of the world's largest and least transparent economies, digging beneath the spectacular statistics reveals vulnerabilities that threaten the legitimacy and global reach of China's booming pharma sector.
Data integrity and authenticity is among the most pressing of the issues facing Chinese drug development. The spectre of inaccurate or falsified data is a long-running issue in the pharma sector, along with other academic fields, but the scale of the problem was underlined by the results of a recent investigation by the China Food and Drug Administration (CFDA), the country's regulatory body for pharmaceutical products, which highlighted the disturbing pervasiveness of the issue.
CFDA investigation spotlights worrying trend
In late September, Chinese media reported on a CFDA review of 1,429 pharmaceutical products that had been through clinical trials and were awaiting regulatory approval for mass production. According to the reports, the CFDA found that more than 80% of the applications had been withdrawn due to data integrity and clinical practice concerns.
An unnamed CFDA official noted in an October statement: "Some were for non-conformance to the Good Clinical Practices, which could affect the…accuracy of the clinical trial results; some were for data incompleteness, which could not be traced back, and were insufficient to demonstrate the safety and effectiveness for the drug in application; some were for untruthful data, part of which cannot be excluded of the possibility of deliberate data fraud."
Naturally, it was that 80% statistic that caught the media's eye. The CFDA has been critical of many publications for suggesting that all applications withdrawn were as a result of deliberate fraud, while acknowledging that "drug R&D must be conducted scientifically and rigorously, in which no dishonesty is allowed, let alone deliberate fraud".
"Clinical data fabrication was an open secret even before the inspection."
Setting aside the finer points of the Chinese new drug approvals process, the high rate of inaccurate or incomplete data, whether due to deliberate falsification or poor clinical standards, is concerning. The scale of the CFDA's investigation precludes any claims of an isolated incident, or the 'one bad apple' defence, and lends credence to those who have recognised that the problem is a broad one.
"Clinical data fabrication was an open secret even before the inspection," an anonymous hospital official told the Economic Information Daily newspaper in the wake of the investigation.
Chinese human rights activist Mai Ke went a step further in an interview with Radio Free Asia, one of the first media outlets to break the story to the world: "It's not just the medicines," the campaigner said. "In China, everything is fake, and if there's profit in pharmaceuticals, then someone's going to fake them too."
The roots of China's data integrity problem
Previous incidents and scandals also prove that the issue of data fabrication and dishonest clinical practice is not a new one in China. In 2007, the Chinese Government executed Zheng Xiaoyu, the former head of China's drug regulator – then called the State Food and Drug Administration (SFDA) – for accepting bribes in exchange for issuing licences to untested medicines.
Drugs approved during Zheng's term have had deadly consequences that have damaged China's reputation as an exporting nation, including a Chinese-made cough syrup that killed around 40 people in Panama as it contained diethylene glycol, a toxic chemical that had been incorrectly labelled as harmless glycerine.
But what is at the root of China's data integrity crisis? Chinese regulators at the time of Zheng's execution acknowledged that the rapid growth of the country's pharmaceutical sector had outpaced the government's ability to regulate it effectively.
"As a developing country, China's current food and drug safety situation is not very satisfactory because supervision of food and drug safety started late," SFDA deputy policy director Yan Jianying told a news conference in 2007. "Its foundation is weak so the supervision of food and drug safety is not easy."
Others have pointed to a wider integrity issue in Chinese academia that prioritises patronage and career progression over scholarly credibility. "Chinese academia is marked by fraud and poor academic ethics, which may hamper the country's drive for an innovative economy," wrote Steven Kuo, then a visiting academic in China, in a 2010 article published by The Guardian newspaper. In its coverage of the CFDA investigation, Radio Free Asia quoted Chinese healthcare professional Luo Liang, who argued that academic ethics is "an underdeveloped field in China, leading to an academic culture that is accepting of manipulation of data".
Pushing for regulatory reform and enforcement
While these factors have certainly played a role in China's problems with clinical data credibility, the way new drug applications are assessed and approved has also exacerbated the problem, according to experts.
In a May editorial published on the American Society of Clinical Oncology website, Dr Si-Yang Liu and Dr Yi-Long Wu of the Guangdong Lung Cancer Institute argued that the backlog of new drug applications waiting to move into clinical trials – more than 18,000 applications by the end of 2014 – was not only delaying the availability of important drugs in China, but also acting as a disincentive to honesty and good clinical practice once clinical trials begin.
"The sticking point in the approval of most drugs is the queue to declare a clinical trial."
"The sticking point in the approval of most drugs is the queue to declare a clinical trial," the authors wrote. "Once a clinical trial is registered, the generic drugs tested in that trial often obtain approval. In short, it is hard to declare a trial but easy to get approval for a generic drug in China. As a result, after the applicant of a clinical trial receives the registration, the clinical trial may not be treated seriously any longer. This is why the problems of fraud and incomplete data occur throughout the clinical trial process."
Regulatory oversight: a new era
Spurred on by safety lapses involving Chinese-made drugs – not to mention the conviction of Zheng and the ensuing loss-of-face – the CFDA has been working hard to improve the quality and integrity of Chinese clinical research. In fact, the agency's investigation and the eye-catching '80% falsified' statistic is a direct result of new drug regulations introduced in July last year.
The new system required all applications to follow good clinical practice and clinical trial protocols, and brought in a self-examination system under which drug developers could choose to voluntarily withdraw their applications if they feel unable to guarantee their data's integrity, and re-file at a later date after correcting any breaches of protocol or holes in their data.
If companies do move forward with their applications and falsified data is discovered, stern penalties – including a three-year ban on new drug registration applications – apply. It was under this system that around 80% of applications were voluntarily withdrawn by the companies themselves due to data concerns. This new emphasis on stringent standards and transparency in the approvals process should help improve drug safety and accelerate the time it takes to move applications through the approvals process.
The CFDA is promising a new era of drug development and clinical trial oversight, and its actions over the last year have indicated that the administration is taking this pledge seriously. Raising the bar for good clinical practice and strongly deterring those who would manipulate data for profit is an essential step towards rehabilitating China's wayward clinical research reputation and removing another barrier that is obstructing the country's impressive pharma sector from reaching its potential as a global producer and innovator.