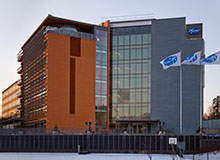 AbbVie / Pharmacyclics- $21bn
AbbVie, a leading global biopharmaceutical company, acquired Pharmacyclics with a $21bn takeover in May 2015, approximately three months after the deal was announced in March. The transaction was funded through existing cash, new debt and stock.
As part of the transaction AbbVie acquired Imbruvica, a leading treatment of hematologic malignancies. The deal further strengthens AbbVie's position in a rapidly expanding haematological oncology market.
Pfizer / Hospira- $17bn
Pfizer acquired Hospira, the leading provider of injectable drugs and infusion technologies, in a $17bn deal. The acquisition was announced in February 2015 and completed in September.
Pfizer's portfolio of sterile injectable pharmaceuticals will now include Hospira's generic sterile injectables product line and its bio-similars range. The takeover is poised to add to Pfizer's revenue and growth, while establishing it as a leader in the sterile injectables business.
Danaher Corporation / Pall Corporation- $13.8bn
Danaher Corporation took over Pall Corporation in a transaction worth $13.8bn, making it an indirect wholly-owned subsidiary. The takeover was announced in May this year and completed in August.
The transaction has resulted in an expanded portfolio for Danaher that now includes Palls range of filtration, separation and purification solutions, which remove contaminants or separate substances from a variety of solids, liquids and gases.
CVS Health / Omnicare- $12.9bn
Omnicare, a leading pharmacy services provider to long-term care facilities, was acquired by CVS Health for $12.9bn. The takeover plans were announced in May and the deal was completed in August.
CVS Health will expand its business in assisted living and long-term care facilities as a result of the acquisition. Omnicare's range of specialty pharmacy solutions and clinical expertise will enable CVS Health to establish its presence in this growing sector.
UnitedHealth / Catamaran- $12.8bn
OptumRx, UnitedHealth Group's pharmacy care business, acquired Catamaran Corporation in a $12.8bn takeover. The acquisition was completed in July 2015, four months after the deal was announced in March.
The acquisition has succeeded in diversifying OptumRx's offerings enabling the company to link demographic, lab, pharmaceutical, behavioural and medical treatment data.
Valeant Pharmaceuticals International / Salix Pharmaceuticals- $10.1bn
Valeant Pharmaceuticals International completed the acquisition of Salix Pharmaceuticals in April in a deal valued at $10.1bn, making Salix a wholly-owned subsidiary of Valeant. Although the deal price was proposed at $158 per share in cash, the offer price was ultimately increased to $173 per share.
Salix Pharmaceuticals is a gastrointestinal drug maker and its range includes innovative treatments such as Xifaxan, Ruconest, Apriso, Uceris extended release tablets and Relistor. The takeover is expected to result in run rate cost synergies exceeding $500m within six months.
Alexion Pharmaceuticals / Synageva BioPharma- $8.4bn
Alexion Pharmaceuticals acquired Synageva BioPharma for approximately $8.4bn in June 2015. Bank of America Merrill Lynch and J.P. Morgan provided $3.5bn in financing for the deal.
The takeover has strengthened Alexion's presence in the rare diseases segment in the biotech industry. Alexion will now have a clinical pipeline with eight product candidates in clinical trials for 11 indications.
Endo International / Par Pharmaceuticals- $8.05bn
Endo International acquired Par Pharmaceutical Holdings from private investment firm TPG for $8.05bn in September 2015.
Endo International's portfolio will now include in-market and research and development (R&D) stage dosage forms and delivery systems. The new acquisition is an addition to Endo's US generics segment that also includes Qualitest and will be named Par Pharmaceutical, an Endo International Company.
Celgene / Receptos- $7.2bn
Receptos was acquired by Celgene, a company based in the US, in a $7.2bn deal that was announced in July 2015 and completed in August.
The acquisition is positioned to expand Celgene's Inflammation & Immunology portfolio and strengthen its expertise in inflammatory bowel disease. Celgene's pipeline will now include three late-stage assets; OTEZLA, GED-0301 and Ozanimod.
Shire / NPS Pharmaceuticals- $5.2bn
NPS Pharmaceuticals, a biopharmaceutical company focused on rare diseases, was acquired by Shire in a $5.2bn deal in February 2015, making NPS Pharma a wholly-owned subsidiary of Shire.
Shire's portfolio in rare diseases and gastrointestinal (GI) medicines will be complimented by NPS Pharmaceutical's rare disease capabilities as a result of the acquisition. Shire expects to increase its global footprint and further strengthen its position in gastrointestinal disorders by relying on NPS's innovative portfolio.