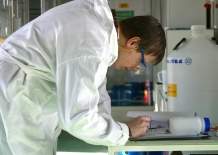 Across many industries, ethical and social issues in the supply chain have become a major source of controversy. Reports of unacceptable working conditions and management practices in the fashion industry and elsewhere have shone a spotlight on the ruthless exploitation that can fester at the heart of corporate culture when it comes to outsourced operations in the developing world.
The welfare of overseas contract workers in the pharmaceutical industry hasn't been called into question as much as some other industries, partly because of the skilled nature of the contract work and partly because counterfeiting has been such an all-consuming issue for the pharma supply chain.
"From a cultural expectation point of view, the normal safety standards aren't always at the same standard we take for granted."
Nonetheless, with the routine handling of toxic materials and sensitive nature of conducting clinical trials, the potential for sacrificing environmental and ethical standards for the sake of reducing costs still exists, especially in the rapidly expanding contract research and manufacturing markets in countries like China and India.
In response to concerns like these, the industry established the Pharmaceutical Supply Chain Initiative (PSCI) in 2006, promoting key supply chain standards that are shared between the 14 major pharmaceutical companies that make up its membership, including the likes of GlaxoSmithKline, Roche and Pfizer.
Organised and facilitated by global corporate responsibility consultancy BSR, PSCI monitors ethical, social and environmental standards within its members' supplier bases, while equivalent organisation Rx-360 takes charge of maximising the quality and authenticity of pharmaceutical products.
But how can an ultra-competitive industry come together to self-regulate such a large and widely spread supply infrastructure? We spoke with BSR's director of pharmaceuticals and biotechnology Mark Little about the benefits and challenges involved in a collaborative approach to pharma self-assessment.
Chris Lo: Could you give some background on the establishment of the PSCI and explain BSR's involvement?
Mark Little: PCSI was started about five years ago. It was brought together through a meeting that BSR initiated, and it initially started off with a smaller group of companies.
Today it has expanded to a group of about 14, but we had only about half as many when we started. It was brought about by a recognised desire from the pharmaceutical companies to address [supply chain issues] in a pre-competitive way, to start operating together as a unit in ways that would allow them to extend their reach in a more efficient way, thinking about risk assessment and promotion of social, ethical and environmental standards through their supply chain.
CL: How would you characterise the social and ethical aspects of the pharma supply chain, and have you identified any particular areas that need dramatic improvement?
ML: Pharma is a high-tech industry, so primarily when you think about the supply chain, it's filled with highly educated workers that traditionally had been in developed markets, and now increasingly we see core suppliers moving overseas as well, to places like China and India.
"BSR's role is to frame decisions in a way that allows the body of representatives to understand what they're choosing between."
I think those are places where we continue to see the need to maintain vigilance and take a stronger role in setting expectations in some of the new markets that have become core to contract manufacturing. So that's new, and while it is a highly skilled, highly educated workforce, there are occasions where there may be gaps.
But let's be clear, this isn't a case of sweatshops or anything like that; we're talking about a much lower prevalence rate of any kind of social or ethical gaps in the pharma supply chain overall, relative to other industries.
If we look at where our gaps are, and where the most significant potential risks may be, they very likely are on the environmental side. So in some cases, there's continued need for due diligence around the handling of toxins, the controls that are placed around air filtration and even in some more basic ways around fire and water.
So these are your typical EHS (environmental health and safety) standards. From a cultural expectation point of view, it's really about norms; the normal safety standards – and in pharma that involves handling toxic materials and so on – aren't always at the same standard that we take for granted in the typical OECD countries.
The aim of PSCI is absolutely to close that gap, and the first step is to identify them. It's a tiered process; the first tier is to broadcast wide awareness and set expectations around what you're trying to do. The second would be more assessing, implementing a third-party, independent audit process to ask if suppliers meet the expectations.
Then the third would be partnering with suppliers to close the gaps, to raise their own capabilities, to teach them to assess themselves. Many of these suppliers are large, multinational organisations that can be learning organisations in their own right.
They don't necessarily need a major pharmaceutical company telling them what to do; once they know what to do they can be assessing their own workforce.
CL: With so many large corporation involved, how does the PSCI go about enforcing and making decisions concerning its principles?
ML: The devil's in the details, in the sense that we have 14 companies, each bringing a number of different representatives to our meetings – we hold monthly webinars and three in-person meetings each year. Those meetings go back and forth between Europe and the US.
One of the ways in which these companies are fundamentally different from one other is around geography and culture. Another is around product line, but because this is a pre-competitive initiative, product lines become much less important.
So BSR's role is to frame decisions in a way that allows the body of representatives to quickly understand what they're choosing between and vote yes or no. It's not as simple as a transactional voting process, but by framing decisions in a clear way, we can obviate the need for extended discussion because we've already demonstrated what the implications and outcomes of the various options will be.
The slow-down in a number of working groups that we lead is that it can be very tempting to have working groups turn into talk shops. The larger your groups get, the more likely it is there will be that instinct. At PSCI, we, together with the steering committee, have made a strong commitment to saying this is a group about action.
CL: Is there also a financial incentive for companies to implement the kinds of ethical and management standards seen in PSCI's principles?
ML: There is a business case for PSCI. Primarily it stems from the fact that there are real license-to-operate risks and reputational risks for any company, pharma or otherwise, from not having visibility into their supply chain and not setting expectations and demonstrating a proactive, good faith effort to partner with their suppliers. For those risks alone, companies find risk assessment in their supply chain to be a de rigueur activity.
By coming together as an industry, a contract research organisation can fill out one self-assessment form for PSCI instead of filling out 12 forms and taking your workers and management away from their offices for half a day, six times a year, for audits. There's a business case for the pharma companies and then there's a business case for the suppliers. The pharma companies don't each have to pay twelve times for audits.
CL: The PSCI website describes the establishment of the supply chain principles as a 'first step'. So what's the next step?
ML: One of the things that PSCI is looking at is that three-tiered process I mentioned earlier. As we move towards the third tier, it's more about supplier capability building rather than risk assessment.
If I look to see where PSCI will be in five years, my prediction would be that we're doing more to leverage that supplier base that we've created as extensions of our own companies to implement higher standards around the environment, in particular waste control, water usage and electricity usage.
"There's a business case for the pharma companies and then there's a business case for the suppliers."
There are many different futures that PSCI could have by leveraging that close connection to the supplier base, but what we've seen from Wal-Mart and other companies as they go deep into their supply chains is they start to pressure their suppliers not only to uphold standards around minimum expectations, they ask them to start taking concrete action to cut emissions, to cut fleet use, to cut water use, to return more water to source and to reduce the number of operations that are in water-scarce areas. I could see other industries, PSCI included, start to take that opportunity as well.