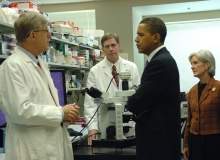 In November 2013, President Obama signed the Drug Quality and Security Act (DQSA) into law and its requirements, which include new licensing, record keeping and product identification provisions designed to standardise and thereby further secure the US supply chain, are already starting to come into effect. But there's still a long way to go – with a ten-year implementation schedule planned – and many challenges to be faced along the way.
So is everything possible being done to ensure the implementation process goes smoothly for all supply chain stakeholders and, when fully in force, will the new regulations have the wide-reaching impact the government is hoping for?
Working towards a uniform national supply chain
The US Food and Drug Administration (FDA) estimates that counterfeits make up more than 10% of the global medicines market. Conceived to protect consumers from contaminated, counterfeit and stolen pharmaceutical products, the DQSA will gradually standardise the US pharmaceutical supply chain over the next decade, resulting in a single, uniform, national solution, governed by one law and set of regulations.
As the Pharmaceutical Distribution Security Alliance (PDSA) summarises on its website, "a patchwork quilt of state laws, rules, and regulations [currently] leaves patients vulnerable because bad actors can shop around for venues with relaxed rules to introduce counterfeit or adulterated products into the system. A national solution sets the same standards and requirements for all components of the supply chain, makes it easier and faster to identify suspect products and sets uniform standards supply chain participants must meet."
Specific provisions include the establishment of a uniform, electronic and interoperable pharmaceutical track-and-trace system, which pre-empts all state laws, regulations and requirements for tracing products through the supply chain; new national licensing standards for wholesale distributors and third-party logistics providers, which again pre-empt any state laws currently in place; and a voluntary compliance regime whereby compounding pharmacies that voluntarily register as 'outsourcing facilities' will be subject to oversight by the FDA in the same way traditional pharmaceutical manufacturers are.
Each part of the act has its own specific implementation plan. For example, when it comes to the track-and-trace system, since 1 January 2015, pharmaceutical manufacturers, wholesalers, repackagers, and dispensers have been required to keep a record of certain information about the pharmaceutical products that they handle. By November 2017, manufacturers will have to place unique product identifiers on their products, by November 2018, repackagers must also comply with this requirement, by November 2019, wholesalers must follow suit and by November 2020, pharmaceutical dispensers will be required to do so as well.
"The implementation schedule is quick by pharma standards, which tends to move at glacial speed," says Bikash Chatterjee, president and chief science officer of quality assurance consultancy Pharmatech Associates. "The issue is how data will be managed in order to meet the significant expectation for government reporting. The level of interchangeability required across the global supply network is not insignificant."
The key challenges ahead
Indeed, while the overwhelming consensus across the industry is that the DQSA is a positive step forward, there is also a huge set of challenges to overcome before it can reach its full potential, particularly when it comes to establishing an interoperable track-and-trace system.
"Implementing the key requirements over the next decade will not be trivial given the complexity of a global supply chain and more and more virtual manufacturing models," Chatterjee notes. "The IT piece in terms of data transparency and electronic data interchange is very complex, particularly as IT has always been in the background for most pharma companies.
"The DQSA moves IT from the background to the foreground, and how data will be managed across CMOs, logistics service providers, returns processors, pharma manufacturers, wholesalers, distributors, pharmacies/hospitals and government agencies is very complex."
For now, though, manufacturers are focusing on the first level of transaction data required by wholesalers, which is the transaction history, transaction information and creating the transaction statement.
Of course, creating a national track-and-trace system is just one way in which the DQSA is seeking to further secure the US supply chain. Implementing the act's other provisions will also bring up various challenges, the first of which, according to trade group Pharmaceutical Researchers and Manufacturers of America (PhRMA), is ensuring that all states fully understand exactly what complying with each part of the act entails.
"PhRMA has been actively engaging with FDA in an effort to obtain more agency guidance on a variety of important issues — key topics of importance include manufacturer licensure pre-emption, product identifier grandfathering, and the finalisation of the guidance, 'Identification of Suspect Product and Notification,'" the group said in an exclusive statement. "Obtaining timely, clarifying guidance from the agency is critical to ensuring a smooth transition to this new federal framework for securing the legitimate US supply chain."
The PDSA clearly agrees and is currently focusing specifically on ensuring that states have a uniform understanding of the pre-emption provisions. So far, the alliance has responded to FDA draft guidance on the subject, written several proactive letters to both the FDA and Congress and drafted a set of FAQs to share with state legislators as they look to put together their own legislation.
The team is also working with supply chain participants in the PDSA to think through what the interoperable information exchange will look like in phase two, after 2023.
Overall, the DQSA is an incredibly positive step towards a uniform – and therefore more secure – national US supply chain, yet as Chatterjee concludes, given the complexity of the task, it won't be a silver bullet.
"Anyone that has been involved in anti-counterfeiting activities over the last decade understands that there are varying degrees of protections and threat mitigation," he rounds up. "Anything that institutionalises a higher form of technical threat protection will help, but varying business practices and cultures will always potentially undermine these technologies. That said, it is safe to say it will make it harder for counterfeiters to enter certain markets."