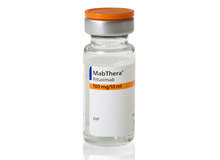 Rituxan/MabThera (Rituximab) – $7.10bn
Sales of Rituxan (rituximab), grew by 5% propelled by strong demand in the US (7%) and Japan (11%), as well as Brazil and China, overtaking Avastin as the group's top selling drug. The US accounts for more than half of the drug's global sales followed by Europe, which makes up approximately one-fourth.
Developed by Biogen Idec and co-promoted by Genentech, a subsidiary of Roche Group, the monoclonal antibody is an approved treatment for common forms of blood cancer, including non-Hodgkin's lymphoma (NHL), follicular lymphoma and chronic lymphocytic leukaemia (CLL). It is also used to treat rheumatoid arthritis and certain types of vasculitis. Rituxan is marketed as MabThera in Europe.
Rituxan received approval from the US Food and Drug Administration (FDA) for treating non-Hodgkin's lymphoma in 1997, which was followed by European Union 's (EU) approval in June 1998. The European Commission (EC) further approved the drug as a maintenance treatment for advanced follicular lymphoma patients who responded to initial treatment with Rituxan plus chemotherapy in October 2010. The US FDA approved Rituxan for the same indication in January 2011.
Avastin (Bevacizumab) – $6.74bn
Avastin, another oncology product from Roche, witnessed increased sales across all regions due to rising cases of ovarian, colorectal, lung and cervical cancer especially in China, and further demand in Japan due to rises in breast and lung cancer cases.
Jointly developed by Roche and Genentech (now part of Roche), the drug delivered 9% sales growth for the group. The US is the single largest market for the drug, accounting for approximately 47% of its global sales, followed by Europe at 27%, and rest of the world at 16%.
Avastin hit the headlines as the first angiogenesis inhibitor approved by the US FDA in 2004. It won European approval a year later as a first-line treatment for patients with metastatic colorectal cancer, and has since been approved by various regulatory authorities for advanced breast, lung, kidney, cervical and ovarian cancers and glioblastoma, a type of brain tumour. It has demonstrated survival benefits in a variety of cancers.
Herceptin (Trastuzumab) – $6.59bn
Herceptin, one of Roche's three HER+ breast cancer drugs, recorded a 15% sales increase in the US and a 10% rise overall. Sales were driven by longer duration of treatment in combination with Perjeta, another HER2+ breast cancer treatment from Roche, for both early and advanced breast cancer. China and Brazil also contributed to strong growth in Herceptin sales during the year.
Developed by Genentech (now part of Roche), Herceptin was first approved by the US FDA in September 1998, becoming the first FDA-approved therapeutic antibody targeted to a specific (HER2) cancer-related molecular marker. The drug received the EC's approval in August 2000 and has since been approved in a number of countries. Roche has exclusive marketing rights for the drug outside the US.
Herceptin is currently approved for treatment of HER2+ breast cancer, and the metastatic type when used either in combination with chemotherapy drug paclitaxel or alone, in patients that have undergone chemotherapy at least once for metastatic disease. It is also an approved first-line treatment for HER2+ metastatic cancer of the stomach or gastro-oesophageal junction. A time-saving subcutaneous formulation of the drug was approved in Europe in September 2013 that can be administered in just two to five minutes, rather than 30 to 90 minutes intravenously.
Revlimid (Lenalidomide) – $5.80bn
Revlimid's sales raised by 16.5% in 2015 as a result of its indication being expanded to newly diagnosed multiple myeloma in the US and Europe, when used in combination with dexamethasone. Japan's Ministry of Health, Labour and Welfare (MHLW) also authorised the drug for the same use in December 2015, which is expected to drive its 2016 sales.
Discovered and developed by Celgene Corporation, Revlimid is an oral immunomodulatory therapy with anti-cancer effects. It is indicated for treatment of mantle cell lymphoma (MCL) and myelodysplastic syndrome. It is also approved in the US for treating multiple myeloma when used along with dexamethasone, a steroid with anti-inflammatory properties.
The US FDA approved revlimid for treatment of multiple myeloma in June 2006 and for treating MCL in patients whose disease has relapsed or progressed after bortezomib therapy in June 2013. In the same month, the European Medicines Agency (EMA) also gave marketing authorisation for revlimid to treat myelodysplastic syndrome (MDS), a rare form of blood cancer.
Gleevec/Glivec (imatinib mesylate) – $4.65bn
One of the eight oncology medicines in Novartis 's portfolio, Gleevec recorded 5% sales growth in 2015. This was driven by continued businesses in the US, which accounts for approximately half of the drug's annual sales.
The US patent for the basic compound for Gleevec expired in July 2015, resulting in one of Sun Pharmaceutical Industries ' subsidiaries being allowed to sell a generic version of the drug in America from February 2016. Gleevec generic has already been launched in the US, while the European launch is expected in December 2016. The generic copy could harm sales of Novartis's best-selling drug, which accounts for approximately 24% of its oncology portfolio, and 15% of its pharmaceutical offering.
Gleevec is approved for treatment of chronic myeloid leukaemia, a rare form of cancer, and gastrointestinal stromal tumours (GIST). One of the approved treatment areas of the drug is newly diagnosed chronic Philadelphia chromosome positive chronic myeloid leukaemia (Ph+ CML) in adult and paediatric patients. In combination with chemotherapy, the drug is approved to treat paediatric patients with newly diagnosed Philadelphia chromosome positive acute lymphoblastic leukaemia (Ph+ ALL).
Alimta (Pemetrexed) – $2.49bn
Eli Lilly's Alimta (pemetrexed) treats various cancer types, and witnessed a 5% decrease in sales in the US and a 15% fall outside the country due to decreased demand and unfavourable foreign exchange rates.
The patent for pemetrexed expired in Japan and major European countries in December 2015, while the US patent will expire in January 2017. Meanwhile, Generics from competitors gaining approvals in Europe and Japan are expected to hamper the drug's future sales.
Alimta has been approved by the US FDA to be used in combination with another chemotherapy drug for initial treatment of advanced non-small cell lung cancer (NSCLC). It is also used as a second-line treatment for advanced non-squamous NSCLC and malignant pleural mesothelioma in combination with another drug.
Zytiga (Abiraterone) – $2.23bn
Johnson & Johnson's Zytiga recorded a 10.2% increase in sales in the US, helping maintain the company's growth trajectory along with new products launched in 2015.
Ortho Biotech Oncology Research & Development, a member of the Johnson & Johnson Family of Companies, developed the drug, which received US FDA approval in April 2011. It is protected by two patent licences and is marketed by another Johnson & Johnson company, Janssen Biotech . A lawsuit was filed against Mylan regarding the filing of an abbreviated new drug application (ANDA) with the US FDA for producing a generic version of Zytiga.
Zytiga is an oral medicine used for treating metastatic, castration-resistant prostate cancer in men in combination with prednisone. It has been approved for patients who have undergone chemotherapy earlier using docetaxel. The drug provides an important means of fighting prostate cancer, which is the second most diagnosed male cancer type in the US.
Gardasil/Gardasil 9 – $1.90bn
Gardasil is a vaccination against certain cancer-causing strains of human papillomavirus (HPV) and a key drug in Merck's portfolio. It registered a 10% growth in sales mainly driven by increased sales in the US due to public sector purchases and also higher sales of Gardasil 9, which treats more number of HCV types than Gardasil.
US FDA approvals for Gardasil and Gardasil 9 were obtained in June 2006 and December 2014 respectively. The US patent for Gardasil expires in 2028. Sales of the vaccine were harmed in Japan following the Japanese Health Ministry's advice to suspend active promotion of the vaccine in 2013 due to concerns over the drug's side-effects.
Gardasil provides protection against four types of HPV specifically HPV types 6, 11, 16 and 18, whereas Gardasil 9 provides protection against nine HPV types. Gardasil 9 is used for treating individuals in the nine to 26 year age group, and is administered as three injections over a period of six months.
Tasigna (Nilotinib) – $1.632bn
Novartis's second most sold oncology product Tasigna grew 16% in annual sales in 2015, boosted by strong volume increases in the US and other markets. More than 40% of the drug's sales are from the US.
The drug obtained orphan drug designation from the US FDA in May 2006 followed by initial approval in 2007 and final approval in June 2010. Approvals in European Union, Japan and Switzerland were also received later that year.
The drug is currently approved in more than 110 countries for treatment of chronic and accelerated phases of PH+ CML in adult patients resistant or intolerant to at least one prior therapy, including Gleevec. It is also approved in more than 85 countries to treat adult patients in chronic phase of newly diagnosed Ph+ CML.
Sandostatin (Octreotide) – $1.630bn
Novartis oncology drug Sandostatin (Octreotide) registered a 7% annual sales rise in 2015, mainly from increased use of Sandostatin LAR, the long-acting version of Sandostatin, in key markets such as the US.
First launched in 1988, Sandostatin is approved in 100 countries, while the patent for its primary ingredient, octreotide acetate, expired in 2014 leading to generic versions being easily available in the US and other markets. Sandostatin LAR is still patent-protected with the last of its patents expiring in US in 2017, while some of its patents in certain markets outside the US have already expired. A new packaging of Sandostatin LAR has been introduced, which includes a new diluent, safety needle and vial adapter, and has been approved in 58 countries as of 2014 with additional filings underway.
The US FDA-approved drug is classified as a somatostatin analogue that is used for treating acromegaly, carcinoid tumours and other types of gastrointestinal and pancreatic neuroendocrine tumours. Sandostatin LAR has been approved in 50 countries for treating patients suffering from advanced neuroendocrine tumours of the mid-gut or unknown primary location.