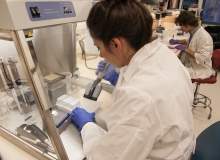 "We are approaching one of the biggest decisions this country will face in our lifetimes," said UK Prime Minister David Cameron as he addressed the country outside 10 Downing Street to announce that the nationwide referendum to decide whether to maintain British membership in the EU will take place on 23 June 2016.
The countdown to the referendum started ticking after Cameron's Conservative Party emerged victorious at the general election in May 2015 – the party's firm manifesto pledge to offer an in-out referendum on EU membership by the end of 2017 meant the UK passed the point of no return as soon as the election result was announced.
Nevertheless, with less than four months before the UK votes – the pro-EU Cameron, having completed his frantic negotiations in Brussels, is clearly keen to capitalise on his gains, however modest they may have been – the debate has now entered its critical stage, with Eurosceptic politicians raising their banners publicly and a sizeable chunk of the electorate still undecided. If the countdown clock to the EU referendum started in May last year, then the UK is now at five minutes to zero hour.
Pharma adopts a pro-EU stance
Given that pharma companies operate in one of Europe's most regulated sectors, the possibility of a British exit from the EU throws up a host of industry-specific factors to consider. Pharma companies both inside and outside of the UK are overwhelmingly coming down in favour of continued EU membership, primarily due to the benefits of a regulatory harmonisation that has taken decades to achieve.
Eli Lilly's chief executive John Lechleiter told the Financial Times earlier this year that the company considers its 2,800-strong UK business as "very much a European centre", while in an interview with Bloomberg TV at Davos in January, GlaxoSmithKline CEO Andrew Witty made explicit the benefits of European regulatory integration through the European Medicines Agency (EMA).
"Over the last 15 or 20 years, Europe has gone from 27 fragmented, independent, not-talking-to-each-other regulatory authorities in the healthcare space to one."
"Over the last 15 or 20 years, Europe has gone from 27 fragmented, independent, not-talking-to-each-other regulatory authorities in the healthcare space to one," he said. "That's a big deal."
Discussions over the drug approvals process, manufacturing and market access are highly significant for the industry, but what about the clinical research and trials landscape, the scientific foundation on which the entire sector is built? How would Brexit affect funding, co-ordination and regulation in this space?
Clinical Trials Directive: a soft target for the Leave campaign
Improving the health of UK life sciences has been highlighted as an important reason to leave the EU by the pro-Brexit campaign. 'Leave' campaigners have characterised European regulation of clinical research as inept, choked by meaningless bureaucracy and hopelessly uncompetitive with the rest of the world – a common theme in arguments against UK membership of the EU.
In summer 2015, Conservative MEP Daniel Hannan wrote a hypothetical piece for the Telegraph newspaper, laying out his vision for a successful UK in 2020 outside the EU. One of the factors for this vision of prosperity specifically targets clinical trial regulations. "Scrapping EU rules on clinical trials allowed Britain to recover its place as a world leader in medical research," Hannan wrote.
The locus of criticism over EU clinical research regulation is the Clinical Trials Directive (CTD), which was implemented in 2004 with the aim of standardising best practices for clinical trials in Europe. Justice secretary Michael Gove, who (along with London mayor Boris Johnson) is the most high-profile Tory politician to rebel against Cameron and join the Leave campaign, targeted the CTD directly in his announcement, arguing that "rules like the EU Clinical Trials Directive have slowed down the creation of new drugs to cure terrible diseases".
A February 2016 opinion piece published by London-based business newspaper City AM went into more detail on the emblematic failures of the CTD, arguing that it "contributed to a decline in the number of applications for clinical trials and increased costs and delays in setting them up in the UK. More than a decade later, the reformed regulations have still not taken effect. In an increasingly complex and globalised world, facing rapid technological changes and scientific advancements, having agile legislatures with democratic accountability is of paramount importance."
Taken on face value, these criticisms are more than reasonable – in fact, they are quite right. The CTD has proven broadly unpopular among scientists as it has added cost, complexity and reams of regulatory red tape for researchers wishing to carry out trials in Europe. It is also true that after the CTD's implementation in 2004, clinical research took a nosedive in many areas – in the UK, non-commercial trials dropped from 600 between 2000 and 2003 to fewer than 300 between 2004 and 2007.
The CTD took such a toll on clinical research in Europe that the continent lost a great deal of its attractiveness as a research location when compared to other key markets such as the US; back in 2009 Oxford University professor of medicine and epidemiology Rory Collins told Nature that a senior official of the US Food and Drug Administration had described the directive as "Europe's gift to America".
Reformed regulations make a case for Europe
If the Clinical Trials Directive has been held up as representative of the EU's failings when it comes to fostering clinical research, why are the majority of pharma companies and research bodies pushing to remain? A December 2015 survey of 400 research scientists carried out by the Campaign for Science and Engineering found that 93% agreed that EU membership is a "major benefit to UK science and engineering".
"From a practical perspective if you're a company needing three sites for a piece of research, why would you go through a separate process for the UK."
The CTD criticism is fair – and commentators have been right to bemoan the EU's sluggishness in reforming it – but new, improved clinical trial rules are set to be introduced in Europe in 2017. These upgraded regulations will streamline the regulatory burden for researchers and create a single, centralised portal for conducting complex, multi-site trials in several EU countries with a single application. Being left outside of this portal with a separate trial application process – as would be likely if the UK left the EU – could be highly damaging for the UK's clinical trials market, as Jane Summerfield, senior associate and pharma sector specialist at law firm Hogan Lovells, told Pharmaceutical Technology last year.
"If we're in a position where we're outside the EU, from a practical perspective if you're a company needing three sites for a piece of research, why would you go through a separate process for the UK when, once the new clinical trials regulation comes into effect, you could apply in three EU countries under one process? There would have to be an added incentive to justify doing it in the UK, such as tax incentives to make it [worthwhile]."
Funding and collaboration
And beyond the regulation of clinical trials, there are other factors in the EU's favour when it comes to medical research. As well as contributing to the UK's skills base through the free movement of European academics, Europe is a major co-ordinator and funder of research programmes, in which the UK is a key player at the moment. These programmes include the current Framework Programme for research, Horizon 2020, which drives a huge amount of scientific collaboration, bringing large pharma companies in through the Innovative Medicines Initiative.
Access to these collaborative programmes is possible from outside the EU – leave campaigners have pointed to Switzerland as a model for biopharmaceutical success and collaboration as an external participant. However, broad compliance with EU principles is necessary to get access to funding and collaboration through programmes like such as Horizon 2020, the eighth phase of the EU's Framework Programmes for Research and Technological Development, which within its timeframe from 2014 to 2020 will provide €80bn in total funding.
Switzerland demonstrated this when, in 2014, a Swiss referendum resulted in a vote to limit mass immigration. As this result infringed on a free movement accord with new EU member state Croatia, Switzerland immediately lost access to the Horizon 2020 programme, forcing a desperate Swiss emergency measure to temporarily regain access. Even so, the loss of confidence in Swiss participation has seriously hampered the country's contribution to joint research projects; the country has partnered on just 21 projects since the outset of Horizon 2020, in comparison to the UK's 180 projects. Labour MP Stella Creasy told the UK Parliament's Science and Technology Committee that Brexit could threaten up to £8.5bn in EU funding for UK science over the next four years.
There are simply too many variables to be able to accurately predict all the outcomes of Brexit. That's what makes it, as Cameron has put it, "a leap in the dark". The Clinical Trials Directive in its 2004 form was undoubtedly flawed and UK research suffered as a result. But extensive reform looks to have addressed the majority of concerns and a centralised gateway for clinical trial applications would be of huge significance. Today, all signs point to worrying implications for clinical research in the UK if the country decides to strike out on its own, and it makes no sense to threaten the future for the sake of outdated criticisms of regulations that are now in the past.