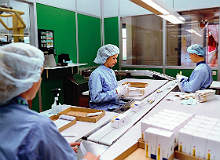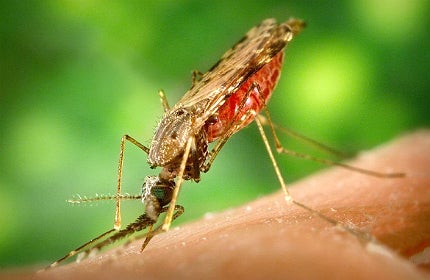 January: Big Pharma to collaborate to combat neglected diseases

In January 2012 it was announced that some of the world's largest pharmaceutical companies would join forces with health organisations to donate drugs aimed at controlling or eradicating ten neglected tropical diseases by 2020.
Companies including GlaxoSmithKline, Pfizer and Novartis said they will collaborate with the World Health Organisation, to combat diseases such as Guinea worm, leprosy and sleeping sickness.
Also this month, a strain of tuberculosis said to be resistant to all antibiotics was detected in India. Doctors in Mumbai said that 12 patients had a "totally drug-resistant" form of the infection, and three people have died.
Meanwhile in Pakistan, federal agencies were investigating the cause of cardiac patient deaths linked to fake drugs administered to some 40,000 patients at a government-run hospital.
Officials seized medicine stocks and hospital records, while the owners of local drug companies Pharma Wise Laboratories, Al-Falah Pharma and Mega Pharmaceutical were arrested.
February: Obama requests FDA budget increase

The US Government said that industry fees could pay for almost half of the Food and Drug Administration's $4.5bn healthcare budget in 2013.
President Barack Obama requested on 15 February a 17% rise in the FDA's budget to support the review of generic drugs, but much of this funding would come from inspections and fees paid by pharmaceutical companies.
In other news, pharmaceutical major Pfizer announced a 50% slump in net income for Q4 2011, as generic versions of its cholesterol blockbuster Lipitor began to roll out.
But it was a positive month for Roche, whose drug Zelboraf was found to nearly double median survival times of people with metastatic melanoma.
March: New Jersey court backs AstraZeneca's Seroquel XR patent

AstraZeneca won a legal battle to protect its patent on the extended release version of antipsychotic Seroquel, after months of fighting with courts in Europe and the US.
The company announced in March that the US District Court for the District of New Jersey found the formulation patent protecting Seroquel XR (quetiapine fumarate) extended release tablets to be valid.
Earlier in the month, the US District Court of Columbia and a UK High Court denied AstraZeneca's request for a preliminary injunction, which would have delayed the market entry of generic versions of drug.
However, in the Netherlands, the District Court in The Hague found the formulation patent protecting Seroquel XR to be valid.
April: drug-resistant malaria spreading in south-east Asia

A strain of malaria that is resistant to the Chinese drug artemisinin emerged along the border between Thailand and Burma in April.
Efforts to contain artemisinin-resistant Plasmodium falciparum in Western Cambodia have been underway since 2009, but new data published in the Lancet Medical Journal confirmed that the most deadly species of malaria parasites are infecting patients 500 miles away.
Meanwhile in the UK, the world's biggest study into the cause of Parkinson's disease was launched by Glasgow University and a UK charity.
Parkinson's UK is investing more than £1.6m into the research study in a bid to find better ways of diagnosing and treating the disease.
May: world's first approved stem cell drug gets marketing clearance

In May 2012, US-based Osiris Therapeutics became the world's first company to receive regulatory approval to market a stem cell drug.
The firm received authorisation from Health Canada to market its Prochymal (remestemcel-L) therapy for the treatment of acute graft-versus-host disease (GvHD) in children.
Elsewhere, it was announced that more than 20 drugs that failed to treat the diseases they were originally designed for will be tested against other illnesses in a $20m programme.
Compounds released for the tests by Pfizer, Eli Lilly and AstraZeneca will be tested in an initiative launched by US agency, the National Institutes of Health.
June: HIV 'quad pill' is safe and effective: study

Gilead Sciences' once-daily pill, which combines four drugs, is safe and effective in treating patients with HIV, according to a Phase III study published in the US in June.
The 'quad pill', which has been co-formulated with a class of antiretroviral drugs, is expected to make it easier for patients to stick to their medication.
Meanwhile in the UK, scientists discovered how a cancer-killing viral therapy can sneak up on tumours by 'hitching a ride' on blood cells.
The study, carried out on ten people, showed that the reovirus is shielded from antibodies in the bloodstream is able to stay active on its journey through the body, honing in on cancer cells and ignoring healthy tissue.
July: Johnson & Johnson seeks approval for first new TB medicine in decades

In July, Johnson & Johnson announced that it is seeking approval from the US Food and Drug Administration for the first new type of medication to combat tuberculosis (TB) in more than 40 years.
If approved, bedaquiline would also become the first product to treat multidrug-resistant TB, an increasingly common variant of the disease.
Also this month, US scientists found that inherited forms of Alzheimer's disease may be treatable long before symptoms occur, increasing the chances of preventing brain damage.
The study, carried out by the Washington University School of Medicine, showed that concentrations of amyloid-beta – a key ingredient of Alzheimer's brain plaques – appeared to decline in the spinal fluid 25 years before expected symptom onset.
August: GlaxoSmithKline completes Human Genome Sciences deal

After months of deliberating, GlaxoSmithKline finally completed the acquisition of Human Genome Sciences in August for $3.6bn.
The total number of shares purchased, including those already owned by GSK, represent approximately 87% of outstanding shares in HGS.
The pursuit to close the transaction saw the relationship between the two companies become increasingly fraught.
Earlier in the year, HGS adopted a stockholder rights plan, or poison pill, after rejecting GSK's bid to takeover the company for $2.6bn.
Some officials even accused GSK of waiting for the company's share price to hit rock bottom before making its approach.
September: Merck to cut 1,100 jobs in Germany

Merck said it will axe 1,100 jobs in Germany by the end of 2015 as part of its "Fit for 2018" business transformation programme.
The company said in a statement that it will cut one in ten jobs at domestic sites in order to focus on "core activities" that generate high value.
In other news, UK universities discovered that new insights into the evolution of snake venom could aid drug development for cancer, diabetes and high blood pressure.
Researchers from the Liverpool School of Tropical Medicine and Bangor University in Wales learnt that toxins which make snake venom deadly can evolve back into harmless molecules, which are safer and easier to work with.
October: sterility failures at drug compounder blamed for US meningitis outbreak

A drug compounding company embroiled in the US meningitis outbreak repeatedly failed to uphold basic sterility measures, officials in Massachusetts said in October.
The New England Compounding Center (NECC) – which is believed to be responsible for 23 deaths and 304 diagnoses of meningitis – sacrificed sterility procedures in order to ship drugs around the country more quickly.
The outbreak was tied to three different batches of a steroid, called methylprednisolone acetate, produced by the NECC and thought to be contaminated with a meningitis fungus. Operations at the company have since been suspended.
November: HIV preventative vaccine shows no adverse effects

The first and only preventative HIV vaccine showed no adverse effects in a human preliminary trial, Canadian scientists said on 6 November.
Dr Chil-Yong Kang and his team at Western University said the SAV001-H vaccine holds "tremendous promise" for success in the final phases of testing, now that the first hurdle has been accomplished.
Later this month, a member of Scottish Parliament was grilled by pharmacists over her claims that they are profiting from Scotland's drug problems.
The industry leaders demanded an apology from Labour MSP Jenny Marra for labelling pharmacists as "methadone millionaires" over their role in dispensing the substance for recovering addicts.
December: UK to launch national DNA database for cancer patients

The UK Government said it had set aside £100m to launch a national database of genetic codes from patients with cancer or rare diseases.
Up to 100,000 patients in England will have their DNA sequenced in order to give doctors a better understanding of their condition and help develop new treatments.
Also in December, trial data from Roche showed that Perjeta, a new monoclonal antibody, significantly increases survival rates in patients with advanced HER2-positive breast cancer.
The Swiss pharmaceutical firm demonstrated at the San Antonio Breast Cancer Symposium that the risk of death was reduced by 34% in women treated with Perjeta and Herceptin plus chemotherapy, compared to patients treated with Herceptin and chemotherapy.