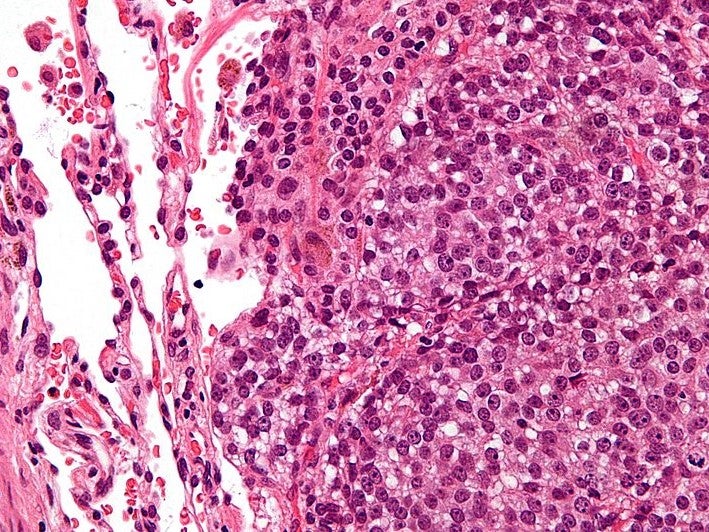 Sarcomas are a group of cancers that arise in connective tissues of the body, such as fat, blood vessels, bone, deep skin tissues and cartilage. The two main types of sarcoma are soft tissues sarcomas and bone sarcomas, but there are more than 70 unique sub-types within these two categories.
Since sarcomas are relatively uncommon – according to charity Sarcoma UK, 15 people are diagnosed with them every day in the UK – there is limited medical understanding of this type of cancer, and therefore, fewer treatment options for sarcoma patients.
As a result, July has been designated as global Sarcoma Awareness Month in order to support earlier diagnosis and better treatment of this often overlooked cancer.
Surgery, radiotherapy and chemotherapy are the usual treatment routes for sarcoma. Surgery is the primary treatment and the main aim is to remove as much of the cancer as possible; it is much more effective in the early stages before the tumours have spread.
Sometimes surgery is combined with radiotherapy or chemotherapy, but these treatment options are also employed separately.
According to Sarcoma UK, the efficacy of chemotherapy in soft tissue sarcomas is low, although it has been used effectively in bone sarcomas.
Preventing relapse after surgery, radiotherapy and chemo
A major issue with these existing treatments is that although the sarcoma may appear to be gone, it has been shown that a small number of cancer stem cells can remain and circulate around the body, potentially re-seeding tumours.
However, researchers from the University of Toledo in the US state of Ohio, have been working on cancer stem cells and have discovered a new class of potential cancer drugs that can eradicate these stem cells, therefore preventing relapse.
Their new therapeutic candidate has shown promise so far in sarcomas, as well as a sub-type of breast cancer. It works by locking onto the stem cells, blocking their ability to absorb the amino acid cysteine, which ultimately kills them.
It is possible that this new class of drugs, used as a monotherapy or in combination with chemotherapy, will help to provide a comprehensive, effective treatment for a range of sarcomas.
Using genomic data to support drug development
In addition to surgery, radiotherapy and chemotherapy, some targeted drugs have been developed for sarcomas, although they are mainly available only for specific sub-types, such as gastro intestinal stromal tumours (GISTs). Finding other targeted treatments is a central pillar of current sarcoma research and development efforts.
Researchers at University College London (UCL) have sought to overcome the current "treatment vacuum" for sarcoma, as research lead professor Adrienne Flanagan described it, by using 1,000 samples from the UK's 100,000 Genomes Project to "get an unprecedented understanding of sarcoma cancer on a molecular level".
She continued: ""We're hoping that this research will enable us to better identify patients who are suited to specific targeted therapies, provide personalised medicines and offer clinical trials."
The database of genomics patterns established by Sarcoma Genomics England Clinical Interpretation Partnership (GeCIP) can then be used to help future research and development into this form of cancer.
Better understanding of the genomics behind sarcoma will also improve understanding of how sarcoma develops resistance to existing treatments.
Sarcoma UK is financially supporting the GeCIP; CEO Richard Davidson said: "This is one of the most important pieces of research looking into a cancer that historically has been frequently overlooked.
"The amount we can learn from this piece of research and the impact it could have on the thousands of people affected by the cancer in the UK and beyond is vast.
"Our understanding of sarcoma lags far behind that of the more common cancers, so this is a genuine opportunity to bring together some of the top minds in sarcoma research to work collaboratively to tackle this neglected cancer."