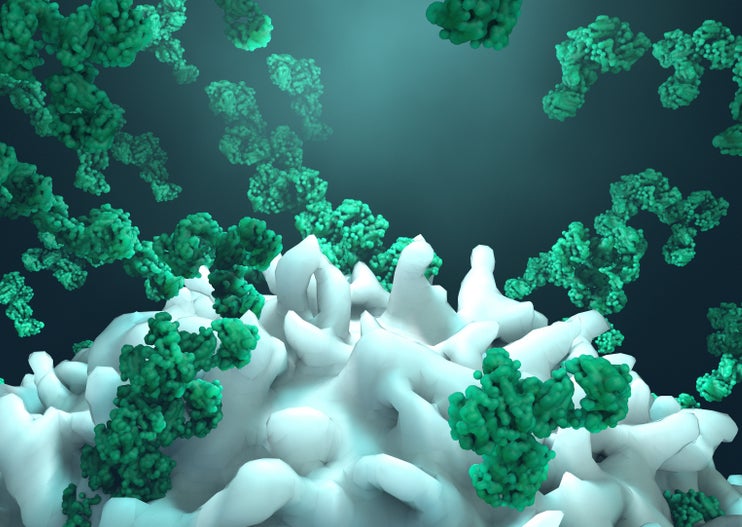 New Jersey-based Immunomedics focuses on developing novel antibody drug conjugates (ADCs) for hard-to-treat cancers. At the end of April, its first ADC, Trodelvy (sacituzumab govitecan), received US Food and Drug Administration (FDA) accelerated approval in heavily pre-treated metastatic triple negative breast cancer (TNBC). People in this patient group have essentially experienced disease progression despite being treated with multiple available chemotherapy regimens, creating a significant unmet need in this type of breast cancer, which disproportionately affects younger people and ethnic minorities.
Trodelvy targets Trop-2, a glycoprotein highly expressed on the surface of TNBC cells. It is the first therapy directed at this target in the oncology space. The other components of the ADC are a hydrolysable linker and SN-38, the active metabolite of chemotherapy irinotecan. By combining these three components together, Trodelvy introduces SN-38 in a targeted manner to TNBC cells, thereby reducing adverse off-target effects.
Now Trodelvy has been approved in the US, Immunomedics is tasked with having to launch its first ever drug during a pandemic. The US has been incredibly hard hit by Covid-19; the country now has the highest death toll in the world with nearly 90,000 people tragically dying from the disease, according to GlobalData's coronavirus dashboard.
Despite the challenges Covid-19 poses to a drug launch, Immunomedics chief commercial officer Brendan Delaney says the company never considered postponing the launch.
"TNBC is not slowing down because of Covid-19," he says. "Many of these patients are still being brought into hospitals for treatment because of the urgency and aggression of their disease. With patients still needing to be treated throughout Covid-19, nobody in the company thought we even had a choice of slowing down a launch in this indication."
Background to Trodelvy's approval
The FDA's accelerated approval of Trodelvy is based upon very impressive results in a single-arm, multi-centre Phase II study. In this study, Trodelvy achieved an overall response rate (ORR) of 33.3% and a median duration of response (DoR) of 7.7 months in patients who had received an average of three prior therapies for their metastatic disease.
Although no direct comparisons can be made with standard of care as this was a single-arm study, Delaney notes: "If you compare the ORR to standard-of-care chemotherapy in other trials in this space, usually the ORR is in low double digits. So the response rate we were approved on is double to triple what would be expected with a chemotherapy regimen in the same setting." In addition, he notes Trodelvy has a significantly longer DoR than standard-of-care chemotherapy.
Aditya Bardia, lead investigator of the Phase II study and director of precision medicine at Massachusetts General Hospital Cancer Center's Center for Breast Cancer, added: "The approval of Trodelvy, the first ADC approved specifically for metastatic TNBC, an aggressive cancer with a poor prognosis and few effective therapies, will give clinicians a novel tool for treating patients with this disease."
However, Delaney explains continued approval of the drug is based on the results of Immunomedics' Phase III ASCENT confirmatory study of over 500 patients. Early in April this study was halted on the unanimous recommendation of the trial's independent Data Safety Monitoring Committee (DSMC) due to the compelling efficacy of the product.
Chairperson of the DSMC and University of Washington School of Medicine Jill Bennett Endowed Professor of Breast Cancer Julie R. Gralow noted: "The remarkable results we observed across multiple endpoints in the ASCENT study warranted early discontinuation of the trial and are indicative of a potential major advance in the treatment of this devastating disease that affects younger women and African American women at higher rates."
The next step for Immunomedics is to clean up the data and present the results at a future medical meeting, but there is significant excitement about what these results may show.
Challenges facing launch of a drug in a pandemic
According to Delaney, the main challenge of launching Trodelvy during the Covid-19 pandemic is efficiency because "you can't replace face-to-face interactions" with academic institutions, prescribing physicians and their nursing staff, or pharmacists.
However, since Immunomedics realised it might be faced with launching a drug amid a public health emergency, in February it started to alter its launch plans.
"We enabled our representatives with every virtual technology available to allow video conferencing with healthcare providers and nurses one click away," Delaney explains. In this way, the company was able to drive brand awareness very quickly, which Delaney describes as "the goal with any launch, whether it's during the Covid-19 pandemic or not".
An advantage that Immunomedics had was having a first-in-class, well-differentiated product, which means that "in many situations the physicians are proactively reaching out to us", Delaney says. In addition, although the company is relatively new in the oncology space, it is supported by a sales and marketing team with lots of experience in the field and relationships with physicians in place.
A huge problem that may be plaguing other companies seeking to launch drugs in the current pandemic is being able to supply the drug to at-need patients. Again, due to forward planning, this was not an issue faced by Immunomedics.
"We had the drugs available into the distribution channel and in the market within a few business days after approval and that is always something that I hold to the highest standard, [as it means] patients can get treated immediately," notes Delaney.
According to company releases, it took seven days from approval for the first patient to be treated with Trodelvy. Delaney is clear that the company "hasn't missed a beat" in ensuring this drug is available to patients as efficiently as possible, despite Covid-19.
The future for Trodelvy
Trodelvy's future is looking very bright in the metastatic TNBC patient group. However, this drug also has significant promise in earlier lines of treatment for metastatic TNBC and in other, larger breast cancer sub-types – such as HR-positive – as well as other cancers that also over-express the Trop-2 target, such as urothelial bladder cancer.
"This approval highlights the potential of our unique ADC platform and strengthens the premise that the Trop-2 antigen found in many solid cancers is an important target for drug delivery. We are committed to broadening the potential use of Trodelvy in other Trop-2-expressing cancers, especially those with unmet need," the company's chief medical officer Dr Loretta Itri commented.
Immunomedics is carrying out a Phase III study of Trodelvy in HR+ space, which Delaney notes is accruing very well and has not been too adversely affected by the Covid-19 pandemic. "That's very exciting because triple negative can be 10-15% of all breast cancers, while hormone receptor positive is 70% of all the breast cancer cases," explains Delaney. "So to try to move into that much larger setting and expand the impact this drug could have for breast cancer patients is really exciting."
In terms of urothelial bladder cancer, the FDA granted Trodelvy fast track designation in this indication in early April. The drug has shown success against this target in early clinical data, but full results are going to be released at the American Society of Clinical Oncology 2020 virtual congress at the end of May.
Immunomedics launched a public offering in late April. This closed on 1 May with over 14 million shares of common stock offered and an additional two million sold at $28.550, meaning the net proceeds from the offering were $459m.
"As a small biotech sitting on an opportunity as big as a drug like this, making sure you have the right funding is crucial," says Delaney. "The raise that we accomplished will help us to accelerate our plans in all different areas of the company, but specifically in clinical development and commercialisation."