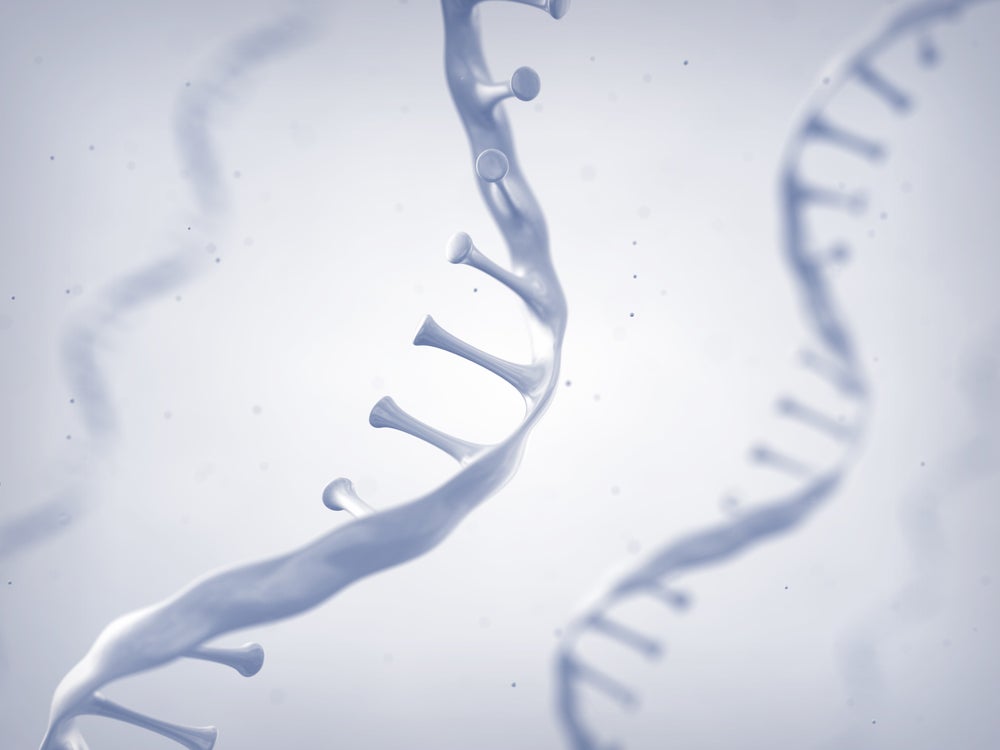 Before 2020, messenger RNA (mRNA) wasn't a scientific term that had much public traction. More than a year on from the outset of the devastating global Covid-19 pandemic, mRNA-based therapeutic programmes have been enjoying a significant bump in interest, both from the public and from Big Pharma.
mRNA vaccines have been hitting the headlines in 2020 for the instrumental role they have played in the pharmaceutical industry's response to Covid-19. Unlike conventional viral vaccines that inject weakened, non-replicating versions of a virus to present antigens and induce an immune response, the mRNA approach introduces engineered mRNA – single-stranded mRNA molecules that provide biological instructions for cells to produce proteins.
The efficacy of the two mRNA-based coronavirus vaccines – developed by US-based mRNA pioneer Moderna and a partnership between Pfizer and Germany-based BioNTech, another early leader in mRNA therapeutics – have showcased the clinical efficacy of the mRNA approach, as well as the dizzying speed with which such vaccines can be developed, tested and brought to the clinic.
With the benefits of mRNA-based development clear to see as these first-generation vaccines continue to roll out worldwide, a surge in mRNA vaccine development for infectious diseases is already in evidence, and industry analysts are expecting to see an uptick in interest in mRNA platforms for other therapeutic areas, primarily in oncology but also in rare autoimmune disorders and even neurodegenerative disease.
Assessing the mRNA advantage in infectious disease vaccines
"[Covid-19 has] brought the technology to [the world's] attention," says GlobalData oncology and haematology analyst Jessica McCormack. "There's a huge amount of promise there for other infectious diseases. In terms of infectious disease, I think [mRNA] does seem to be the way it's going to go."
While researchers have been incredibly optimistic about mRNA vaccines' potential in a wide range of viral disease, from HIV to hepatitis C, there's still some way to go to prove the efficacy benefits of mRNA vaccines over their better-understood live-attenuated, inactivated and conjugate counterparts.
Moderna and Pfizer/BioNTech's jabs are the first mRNA-based vaccines to receive even emergency authorisation from key regulators, and real-world data from the global Covid-19 rollout will play an important role in validating their long-term efficacy and safety profiles against the coronavirus and other viral agents.
On the other side of the coin, a decade or more of research into optimising mRNA approaches to vaccine development helped inform the rapid development of SARS-CoV-2 vaccines using the technology.
"[Moderna and Pfizer/BioNTech's vaccines] have come on the back of a considerable amount of research into mRNA – in cancer vaccines and other infectious agents," says McCormack. "I don't think it would have been possible without this huge amount of research. And the amount of funding has just been unprecedented."
Nevertheless, the field of infectious disease seems to be standing on the brink of an mRNA revolution – according to research by GlobalData there are currently 44 ongoing clinical trials assessing mRNA vaccines, of which 23 are related to infectious diseases.
Covid-19 trials – spurred by the immense global demand for new ways to combat the coronavirus – account for 60% of mRNA studies in infectious disease, but there is clear potential against other viruses.
mRNA vaccines build momentum in infectious disease space
While elicited immune responses have been underwhelming in many early stage trials – CureVac's first-in-human trial of rabies vaccine CV7201 is a good example – incremental improvements to the formulation and molecular design are continually helping to boost their anti-viral immune potency.
Early mRNA leader Moderna is looking to build on its Covid-19 momentum by bringing its mRNA approach to the seasonal flu market, while also progressing its clinical programme in other infectious diseases.
Last year, the company announced positive results from a Phase II trial of its vaccine candidate mRNA-1647 in cytomegalovirus (CMV), the congenital form of which is one of the leading causes of birth defects in babies. The trial found the vaccine to be safe and well-tolerated, while reporting a 12-fold boost in neutralising antibody titres.
The candidate is expected to move into Phase II trials in 2021, and Moderna says the CMV programme showcases one of the benefits of mRNA in that multiple mRNAs encoding for different viral proteins can be included in a single vaccine, allowing for the production of multimeric antigens that are much harder to create with conventional vaccines.
"Our CMV vaccine contains six mRNAs, five of which encode five different proteins that combine to form a pentameric protein complex that is a potentially critical antigen for immune protection against CMV," says Moderna on its website.
And while CureVac's first rabies vaccine trial may have been disappointing, the German biopharma firm's follow-up work on the clinical programme has shown the speed at which the technology is improving with new formulations.
The company repackaged the vaccine in a shell of lipid nanoparticles and reported positive data from a new Phase I trial, in which a very low dose of the vaccine was found to be well-tolerated and demonstrated a strong adaptive immune response.
Speedy mRNA development to respond to emerging viral threats
Beyond the clinical potential of emerging mRNA vaccines, mRNA technology also holds clear advantages in the speed of vaccine candidate selection and development. The ability of mRNA vaccine developers to design antigens in silico allows for much faster testing of vaccine candidates, as they avoid complex and time-consuming cell culture production and fermentation-based manufacturing of target pathogens or antigens in traditional vaccine development.
"Covid-19 was identified on 31 December 2019," noted Massachusetts Institute of Technology biological engineering researcher Joshua Peters last year, as he summarised the lightning speed of Moderna's SARS-CoV-2 vaccine development.
"Five days later, the full sequence of the viral genome was obtained. Eight days after that, the frontrunner vaccine candidate for Covid-19 was finalised at Moderna: mRNA-1273. Within 63 days, Moderna administered their first dose in an NIH-led Phase I study. Considering the 'average' timeline to develop a vaccine is 10-15 years, this is lightspeed acceleration through the scientific and regulatory gauntlet."
The incredible vaccine development speeds achieved by Moderna and Pfizer/BioNTech in the last year don't even come close to the fasted observed mRNA vaccine response to an infectious disease outbreak. That title belongs to Novartis, which in 2013 developed in just eight days a vaccine candidate in response to an avian flu outbreak in China for pre-clinical testing.
RNA manufacturing flaws in 2013 meant that the vaccine never reached human trials before Novartis sold its vaccine business to GlaxoSmithKline in 2015, but it was certainly a strong proof-of-concept of the speed advantages of in silico mRNA design. As has been borne out by Covid-19, this potentially gives mRNA platforms a sizable advantage over other vaccine development methods when responding to fast-developing viral outbreaks.
Can mRNA springboard into cancer and other indications?
Infectious disease might be the current hot topic for mRNA vaccines, but the technology has the potential to bring benefits for the treatment of a far wider range of indications. mRNA has formed an important part of research into therapeutic cancer vaccines for well over a decade, and the likes of BioNTech and others are starting to carry out pre-clinical studies in rarer indications, such as autoimmune disease.
Perhaps unsurprisingly given the high unmet needs and the lucrative nature of the space, immuno-oncology is by far the busiest therapeutic area for mRNA vaccine development, with cancer studies representing all the 21 ongoing mRNA human trials outside of infectious diseases, according to GlobalData.
But treating cancer with an mRNA vaccine is a very different kettle of fish to immunising against infectious diseases – cancer vaccines are generally being developed as therapies rather than as prophylactic agents.
Their mechanism of action is for clinicians to model several mutations found on a patient's tumour, taking further information from the unique characteristics of the patient's immune system to help elicit the strongest possible immune response.
This is the broad basis for individualised mRNA cancer vaccines – off-the-shelf options that can be administered to larger cohorts of patients are being studied but are likely to be much further off due to the intricate individual biological variations between tumours, even within the same cancer class.
"Cancer tumours are very heterogeneous," says McCormack. "You can take a biopsy of a cancer of the same type from two different people, and potentially the thing you'll need to target in that tumour to elicit an effective immune response will be different. That's a huge issue. My feeling is that personalised approaches are probably where it's going to go. The only therapeutic vaccine for cancer that's currently approved is not an mRNA vaccine – Provenge, for prostate cancer. And that's a personalised vaccine.
"There are a lot of different considerations that you need to take into account [for a personalised vaccine]. For example, you'll have to think about production times in a way that you wouldn't have to think about for an infectious agent. If you've got a patient who's very rapidly progressing in their cancer, then do you have time to take the sample of their tumour, prepare this personalised vaccine for them and put it back in before they progress too far for that to be effective?"
Large pharma firms are starting to forge partnerships to get involved in the mRNA immune-oncology space, from Merck's strategic collaboration with Moderna to Roche's alliance with BioNTech. Innovative biotechs joining forces with Big Pharma is particularly appropriate as many personalised cancer vaccines are intended to be used alongside existing cancer treatments such as Merck's Keytruda and Roche's Tecentriq.
These early days of mRNA cancer vaccine research (no project has reached further than Phase II trials so far) have been littered with disappointing trial results – in summer 2020, BioNTech and Roche revealed Phase Ib trial of mRNA vaccine RO7198457 in combination with Tecentriq generated a response rate of just 8% in solid tumour patients.
But there have been rays of hope for future breakthroughs in mRNA cancer vaccines, most notably Moderna's mRNA-4157, which in a small Phase I study of ten patients with head and neck squamous cell carcinoma achieved a response rate of 50% in combination with Merck's Keytruda – positive results that the biotech will be hoping can be replicated in later-stage trials with larger patient numbers.
mRNA: racing for a breakthrough
With the major pharma players getting involved and mRNA's role in combating Covid-19 acting as a spur to investment, the race is on to reach the first approval for an mRNA-based cancer vaccine, and to expand their use against infectious diseases.
In immuno-oncology specifically, the challenge might be just as much about finding the right patients as honing the right treatment, while the growth of personalised cancer vaccines could create access issues as they will be expensive and will need to be administered in specialist centres, potentially impacting initial uptake, as has been the case with innovative CAR-T cell therapies.
Nevertheless, the potential remains, and incremental improvements could add up to a transformative new treatment class in the years to come.
"It's unlikely that you're going to have [an mRNA cancer vaccine] coming through that then takes over as a first-line therapy for everyone," says McCormack.
"It would be successful even if you can just find a sub-group of patients where it's working. I think in general; physicians are a little bit less enthusiastic about vaccines than other things. Potentially, the success we've seen with Covid-19 vaccines is going to change people's minds, but it might take a while to filter through."