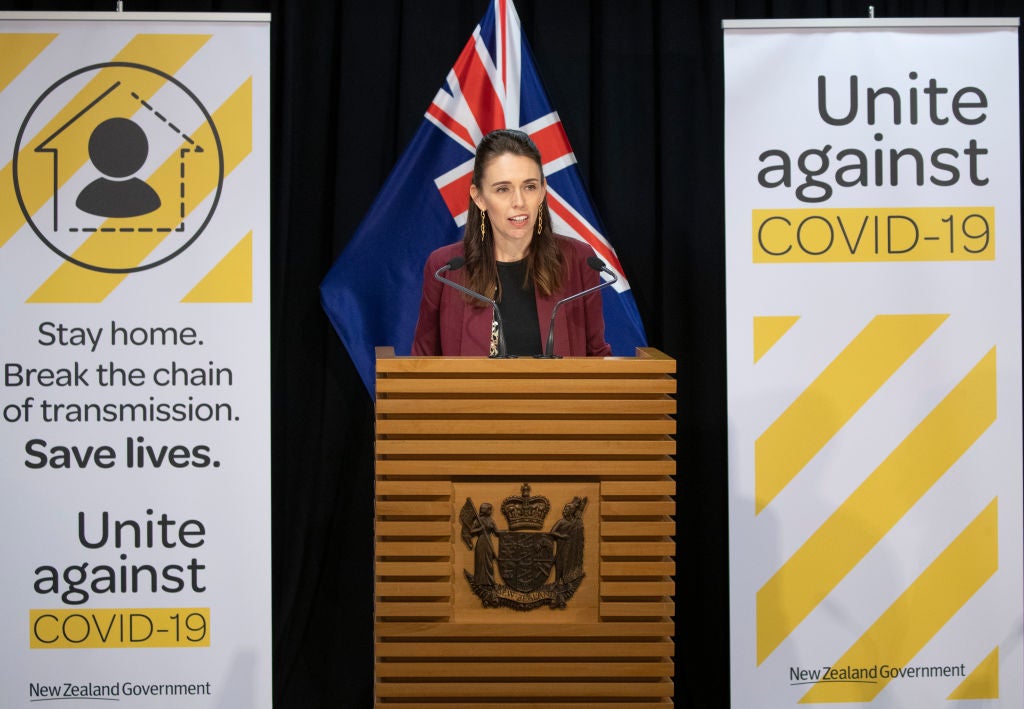 New Zealand's handling of its Covid-19 outbreak is the envy of the world. To date, the country of 5 million people has only seen 2,000 cases and 25 deaths, according to the John Hopkins University Covid-19 dashboard. Compare this to the UK, which has more than ten times the population, but significantly more than tenfold numbers of cases and deaths. The UK has experienced more than 1.9m cases and more than 64,500 deaths associated with Covid-19. 
New Zealand's impressive Covid-19 response is linked to Prime Minister Jacinda Ardern's commitment to suppress incidence of the disease to zero using non-pharmaceutical interventions. From as early as March, the country banned flights from high-incidence countries, closed the borders entirely to pretty much all non-citizens or residents of New Zealand and a total nationwide lockdown. These measures were supported by a highly effective track and trace system and app that around half of the population have engaged with. 
This means that as Europe and the US are facing second – and in some cases third – waves of Covid-19 and re-implementing lockdowns to try and break the cycle of viral transmission, New Zealand is largely open for business. As reported by Scoop NZ, a survey by Bloomberg found that New Zealand's response to the pandemic has been the best in the world and that business leaders were most confident about regarding future investment into the country. 
Global clinical trials took a serious hit in 2020; disruption associated with the pandemic has caused thousands of trials to be paused temporarily or abandoned all together. However, since it's one of the few countries without an overwhelmed health service and not in, or at risk of, national lockdowns, as noted by New Zealand Institute for Economic Research (NZIER) deputy chief executive Todd Krieble, could New Zealand be a safe bet for clinical research in enduring uncertainty around the Covid-19 pandemic? 
Exploring New Zealand's existing clinical landscape
For New Zealand to be a feasible location for clinical trials in the context of Covid-19 and beyond, it needs to have an established reliable clinical trial landscape. Industry association New Zealand Association of Clinical Research president Julie Jones describes it as mature, "offering decades of experience and high-level expertise within the industry". 
According to May 2020 research by NZIER, clinical trials' contribution to New Zealand's gross domestic product (GDP) was $146.3m between 2013 and 2018; the country's entire GDP is $204.9bn. These trials, according to NZIER, directly contributed $169,000 per employee to the economy, which is more than the employee contribution in the UK and Ireland.  
New Zealand is well known for having high-quality research staff and healthcare professionals, notes New Zealand clinical research organisation (CRO) Pharmaceutical Solutions managing director Jacquie Palmer. Industry association Medicines New Zealand CEO Dr Graeme Jarvis explains that New Zealand has numerous clinicians viewed as international Key Opinion Leaders (KOLs) in their fields; these individuals bring significant kudos to these institutions and the landscape.  
Also, of benefit is the country's international reputation for quality and integrity, as well as being adaptable and easy to work with; Palmer adds: "Kiwis are known for thinking outside the box." New Zealand has a proven record in meeting patient recruitment and retention targets within study timelines, as well as for delivering quality and cost-effective trials, she adds. 
Because of this, Jones explains, "following their initial experience working with New Zealand sites and CROs, most pharma and biotech companies return multiple times". 
This mature landscape is supported by deliberate governmental policies in favour of business, notes Krieble. The country also has an efficient and straight-forward regulatory approval programme. This has been also critical to the country building up a good reputation as a place to conduct clinical trials, notes Jarvis. 
A final advantage for New Zealand is that, unlike the US, Canada or Europe, it is in the southern hemisphere, so the country can be used for rescue studies for seasonal conditions like influenza. In this context, "our southern hemisphere effectively extends the northern hemisphere winter and therefore [also] the patient recruitment period," explains Palmer. 
Despite this promising landscape, the NZIERS report argues that some opportunities have been lost. Krieble reiterates this but notes the pandemic and New Zealand's impressive response may provide a chance to rectify this. 
Enter Covid-19
"The pandemic has definitely led to increase interest in conducting clinical trials in New Zealand," notes Jarvis. Although initially clinical trials in New Zealand were affected by the pandemic like the rest of the world, "sites were fairly quickly able to get up and running again…through a combination of changes in working practice and adoption of newly available technologies." 
Currently, New Zealand's alert level and lack of nationwide lockdown means that to a large extent "research can be conducted here on a business as usual, Covid-19 free basis", adds Jarvis. As a result, there has been a "flurry of recruitment" within the industry and there has been limited redundancy in the trials' workforce, explain Jones. "With comparatively low rates of community transmission, New Zealand is now being viewed as a safe option for clinical trials where trial continuity is assured," adds Palmer. 
For instance, Palmer notes Pharmaceutical Solutions has seen three new study starts from three new clients, who are also new to the region, in the past month. "All three were unable to start studies in other regions due to the impact of Covid-19". The Medical Research Institute of New Zealand deputy director Dr Alex Semprini notes that because of Covid-19 "there has been a huge increase in rescue study requests for asthma due to many of the European sites being unavailable".
Will there be long-term growth?
However, Jarvis notes, "it is too soon to tell whether it will be possible to sustainably further grow the sector on the basis of this increased interest". This will be achieved, in the view of Jarvis, if CROs and researchers are able to encourage repeat business. 
Palmer notes this is Pharmaceuticals' Solutions approach; "we look forward to forging a strong, ongoing relationship with these new clients as we support their study and assist them in enjoying the benefits of world-class clinical research capabilities and health infrastructure of this region". 
Semprini argues that organisations will need the support of government and industry associations to do this. Jones notes: "The New Zealand Government and private clinical trial industry organisations have recognised the position we are in and are mobilising to ensure that it is capitalised on". 
Ultimately, it is important that New Zealand does capitalise on this opportunity in the long term. Krieble notes this is an opportunity for universities to recoup some of the lost income from international students this year. While Jones talks about how New Zealand's tourism industry has been "catastrophically affected" by the pandemic, and maybe "the clinical trial industry could be a significant contributor to economic recovery following the Covid-19 pandemic".  
Impact of Brexit on New Zealand
Another opportunity for New Zealand to capitalise on Covid-19 growth could come with the UK leaving the European Union (EU) in January 2021. 
Europe is a world leader in clinical trials and unsurprisingly it is often the chosen location for UK clinical trials. However, with Brexit looming and the UK's future relationship with the EU looking rocky, could New Zealand, which shares a history, language and a head of state with the UK, be an alternative option? 
"The exit of the UK from the EU should provide both New Zealand and the UK with flexibility and increased opportunity to grow their close ties," notes Jones. The important thing to her, however, is whether the New Zealand government specifically discusses clinical research in any trade negotiations with the UK Government. 
However, Palmer notes there have already been "first contacts of interest from the UK, especially Kiwi ex-pats that already understand the New Zealand clinical trials landscape". Thereby suggesting there is cause for cautious optimism about Brexit's positive impact on New Zealand and its clinical research sector.