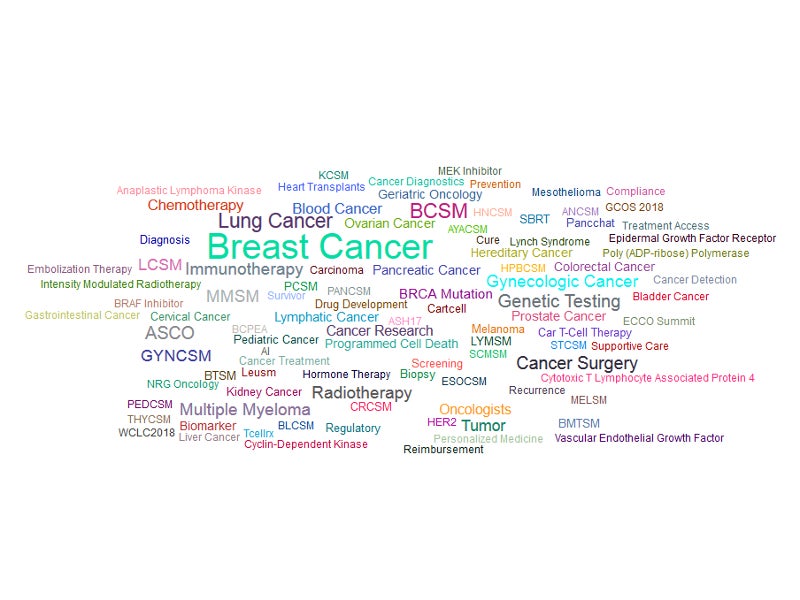 Pharmaceutical Technology lists the top five terms tweeted in oncology in Q3 2019, based on data from GlobalData's Influencer Platform.
The top tweeted terms are the trending industry discussions happening on Twitter by key individuals (influencers) as tracked by the platform.
1. Breast Cancer – 2,673 mentions
BReast CAncer gene (BRCA) mutation and its role in breast cancer was one of the top topics discussed on the subject during the quarter. Michael Misialek, Associate Chair of Pathology, Newton-Wellesley Hospital, shared new recommendations required for the screening of cancers related to BRCA. The recommendations include testing women with a family history of ovarian, tubal, and peritoneal cancer.
An article shared by Lisa M Guzzardi, a patient advocate, highlighted that BRCA mutation may lead to cancer only in some cases. Not all women with BRCA mutations may end up getting cancer.
Do you know the new recommendations on screening for BRCA related cancers? https://t.co/whq7lSmQ2t @JAMA_current #bcsm pic.twitter.com/b857my67Q4

— Michael Misialek, MD (@DrMisialek) September 18, 2019
2. Genetic Testing – 779 mentions
The increasing popularity of at-home genetic testing kits and their impact on patients was a popular topic. An estimated 26 million people used at-home DNA tests in early-2019, according to an article shared by Lisa M Guzzardi. The article details the importance of talking to genetic counsellors to enable patients to understand the test results.
Doctors in the UK have called for a crackdown on such tests as they incorrectly diagnosed some patients as having genetic mutations. The need for better genetic testing to identify more at-risk patients was also highlighted in another article.
Why you should talk to a genetic counselor B4 using #DIY at-home #DNA #genetictesting : Genetic counselors can translate and interpret complex genetic information to help people more clearly understand their test results. #bcsm #gyncsm #hereditarycancer https://t.co/b9NAWQR1BB

— Lisa M Guzzardi, RN (@LguzzardiM) September 3, 2019
3. ASCO – 731 mentions
The American Society of Clinical Oncology (ASCO) was popular on Twitter following the ASCO Quality Care Symposium held on 6 and 7 September. The symposium is held every year. The latest technologies, provider efficiency and clinical outcomes in the cancer care field are discussed.
One of the key issues raised during the symposium was the need for patients to have Medicaid coverage for clinical trials. This was highlighted by Dee Sparacio, a research advocate and blogger. Clinical trials serve as a defence against cancer and coverage is essential for patients, as quoted by Jason Westin, a lymphoma specialist at MD Anderson Cancer Center.
I am in DC along with other @ASCO volunteers to support and be the voice of cancer patients and survivors on important issues related to their care. Medicaid patients should have access to and coverage of routine care during #clinical trials. #ASCOAdvocacySummit https://t.co/vQef7c7C56

— Dee Sparacio (@womenofteal) September 25, 2019
4. Immunotherapy – 691 mentions
Various ways in which the efficacy of immunotherapy can be improved to fight cancer was a popular discussion. Jean-Charles Soria, Senior Vice President, AstraZeneca, shared an article on how a patient's innate immunity can be leveraged to improve immunotherapy efficacy. The method requires metabolic and epigenetic programming of the immune system.
How artificial intelligence (AI) and genomics can be leveraged to improve immunotherapy efficacy was discussed in another article shared by Eric Topol, a physician, scientist and author. The article details how precision medicine is targeting patient's individual tumours to treat once untreatable cancers. Navigating metabolic pathways to improve immunotherapy efficacy was highlighted in another article shared by Jean-Charles Soria.
How can we leverage innate "trained' immunity to expand #immunotherapy efficacy in cancer ?@NatRevDrugDisc https://t.co/ia7OMPWScK pic.twitter.com/I3CoNGVnJ8

— soria (@jsoriamd) July 16, 2019
5. Multiple Myeloma – 674 mentions
The FDA approval of new drugs and drug combinations for the treatment of multiple myeloma added to the popularity of the term in Q3. Genmab's Darzalex was approved for the treatment of newly diagnosed multiple myeloma patients. Karyopharm Therapeutics' Xpovio (selinexor) was approved in combination with the corticosteroid dexamethasone for the treatment of adult patients with relapsed refractory multiple myeloma.
Promising new drugs and drug combinations were also discussed. GSK announced positive results from a phase two clinical trial of a B-cell maturation antigen (BCMA) drug under development. This was shared by an article by Robert Z. Orlowski, Director of Myeloma Section, MD Anderson Cancer Center. The efficacy of Isatuximab in combination with pomalidomide/dexamethasone in a phase 1b clinical trial was highlighted by Robert Z. Orlowski.
Genmab Announces U.S. FDA Approval of DARZALEX® (daratumumab) in Combination with Lenalidomide and Dexamethasone in Frontline Multiple Myeloma https://t.co/eHACW4gJ96 #pharma

— Robert Z. Orlowski (@Myeloma_Doc) July 3, 2019