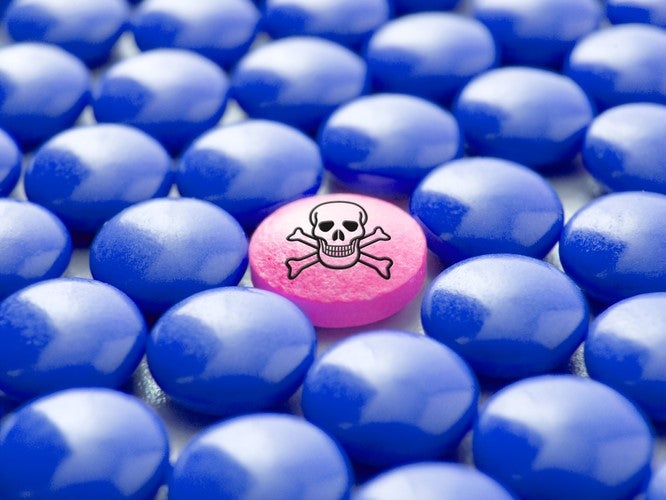 Counterfeit medicines are simply fake medicines that look genuine, but do not contain the correct or right quantity of active pharmaceutical ingredient. The World Health Organisation describes them as products that are not "of the quality they purport to be and may be mislabelled"
Pfizer UK counterfeit medicine laboratory manager Neville Broad explains the pharma company has launched a digital campaign to educate the public about the dangers of counterfeit drug, arguing that patients are "ultimately dicing with death" if they take fake medicines. The new campaign builds on Pfizer's existing anti-counterfeiting efforts, including doing forensic testing on suspected fakes and collaborating with law enforcement agencies.
Under the banner 'don't be catfished', the campaign will also emphasise that even if products look genuine, they might not be, and therefore it is best to only buy medicines from a pharmacy registered with the UK's Medicines and Healthcare Products Regulatory Agency (MHRA) and the General Pharmaceutical Council.
Dicing with death: counterfeit drugs in the supply chain
Often spoken about in the context of developing countries, counterfeit medicines do infiltrate global pharma supply chains. As part of Interpol's global 'Operation Pangea' crackdown on counterfeit drugs and medical devices, in October 2018, the MHRA and its UK partners found more than a million doses of fake drugs worth £2m in the UK's supply chain.
This serious issue is only growing with the rising ability to buy all goods through online sources, particularly social media. According to the MHRA, one in ten people in the UK have bought fake medical products online in the last year, despite the regulator providing a list of all registered online pharmacies on its website and a clampdown on the websites selling and advertising these illegal products.
"In the worst-case scenario, counterfeit drugs can kill you; for example, the spiking of Pfizer's [anti-anxiety medication] Xanax tablets with fentayl – there is absolutely no doubt about it, those tables will kill you, even if you just take one," Broad notes. "That is the headline danger, but we see huge variations in the degrees of counterfeits.
"[At our lab in Sandwich, Kent] we've seen counterfeits with double, triple, quadruple the amount of the right ingredients, which becomes a huge concern from a safety point of view. We've seen the wrong ingredients, mixed in different ratios, mixtures of not approved active ingredients in a single tablet."
The best-case scenario is that they won't work, and so will neither harm nor benefit patients.
A primary issue is that, as counterfeit drugs are unlicensed, they are not subject to the same stringent regulation that genuine medicines are. Linked to that, Broad notes they are often made in uninspected, non-sterile laboratories, meaning there is higher likelihood of further contamination.
The MHRA also notes that buying medicines from dodgy websites can also increase the risk of other types of fraud, including credit card cloning and identity theft.
Pfizer UK's 'don't get catfished' campaign
To draw attention to how common counterfeits are, the dangers they pose to people's health and how hard they are to spot, Pfizer UK has launched its 'don't get catfished' campaign. The main message is if you want a prescription medicine, then go through your GP and a registered pharmacy.
This is particularly pertinent as the WHO notes that counterfeiters are becoming increasingly sophisticated at circumventing attempts to prevent fake drugs entering pharma supply chains.
Broad explains the campaign is primarily aimed at the younger generation who are more likely to be purchasing drugs through potentially dodgy online routes, as well as those who are perhaps "embarrassed to go through the GP route to get prescription drugs".
It is composed of videos, images and social media posts where people will be invited to attempt to spot the differences, hence demonstrating how good the fakes are and why it is best to avoid non-approved sources entirely, particularly online ones.
Broad notes: "The counterfeiter puts a lot of effort into making the packing look as good as possible. They will make the tablets look sometimes as good as the real thing."
People will be able to report any suspect counterfeit medicines they come across through either a link to the MHRA's yellow colour scheme or Pfizer's own customer service centre.
While Pfizer UK's latest campaign is an excellent example of the crucial role that the pharma industry must play in tackling counterfeit drugs, a better informed public may be the best weapon against those who profit from putting patient's lives in danger.