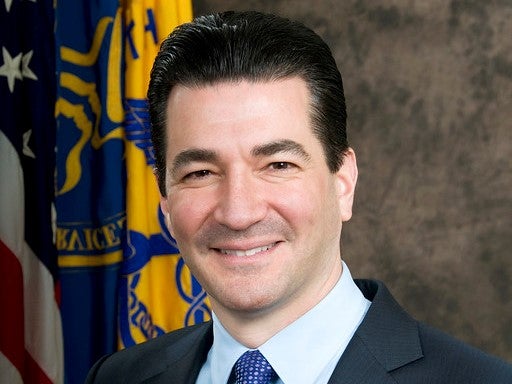 At the beginning of March 2019, Scott Gottlieb unexpectedly announced his resignation as the commissioner of the US Food and Drug Administration (FDA).
Although his appointment in 2017 was initially met with scepticism due to his prior intimate links with industry, Gottlieb's resignation was greeted with widespread praise of his extensive achievements.
On top of overseeing the approval of a record number of drug approvals in 2018 – 13 more than the 46 in 2017 – what were Gottlieb's main successes during his two years at the helm of the FDA?
May 2017: Gottlieb sworn in as FDA commissioner
Following his inauguration to the US presidency, Donald Trump nominated Gottlieb as his candidate for FDA commissioner in March 2017. The US Senate confirmed Gottlieb's appointment by 57 votes to 42 in May 2017.
A trained doctor and FDA deputy commissioner during the George W Bush presidency, Gottlieb has also previously worked as a venture partner and consultant to the pharmaceutical industry, as well as serving on the board of directors of a range of life sciences companies.
December 2017: increasing oversight of homeopathic medicines
In response to a sharp rise in the number of unregulated homeopathic products being sold for indications they had not been approved for, the FDA proposed a new, risk-based enforcement approach to these products. This followed various public warnings about certain illegal products, which could cause serious side effects and/or contain toxic substances.
Gottlieb said: "Our approach to regulating homeopathic drugs must evolve to reflect the current complexity of the market, by taking a more risk-based approach to enforcement.
"The FDA has a responsibility to protect the public from products that may not deliver any benefit and have the potential to cause harm."
April 2018: clamping down on tobacco sales to minors
One of Gottlieb's personal crusades was to clamp down on establishments that illegally target minors in selling tobacco, particularly e-cigarettes.
The FDA's Youth Tobacco Prevention Plan created in April 2018 focused on conducting a nationwide probe and cooperated with online marketplace eBay to crack down on the sale of e-cigarettes to minors by both brick-and-mortar and online retailers.
In September 2018, Gottlieb announced further enforcement actions; the FDA had issued more than 1,300 warning letters and fines to stores for selling e-cigarettes since April that same year.
Advocacy group Campaign for Tobacco-Free Kids praised Gottlieb's commitment following his resignation. President Matthew Myers wrote in a statement: "We applaud FDA Commissioner Scott Gottlieb for his strong leadership in making the fight against tobacco use a centrepiece of his tenure at the FDA."
April 2018: mitigating the opioid crisis
Advancing the development of medication-assisted treatment (MAT) to fight the serious opioid addiction crisis gripping the US was one of Gottlieb's personal priorities. In a statement, he wrote: "The opioid crisis is one of the largest and most complex public health tragedies that our nation has ever faced. It remains the biggest public health crisis facing the FDA."
In April 2018, the FDA established new pathways to encourage the development of buprenorphine-based MAT products, including lowering barriers to approval. This was added to and expanded in August by a second guidance.
To further support these efforts, in June 2018 the FDA warned nine online networks operating 53 websites about illegally selling unapproved and potentially dangerous versions of opioid medications.
July 2018: leads investigation into impurities found in valsartan-based medication
In July, the FDA voluntarily recalled several batches of medicines containing valsartan due to the identification of a potentially carcinogenic impurity N-nitrosodimethylamine (NDMA). One month later the agency discovered another carcinogenic impurity in valsartan medicines, N-Nitrosodiethylamine (NDEA).
The medicines in question are angiotensin II receptor blocker (ARB) drugs used to treat high blood pressure and heart failure.
Following the recalls, the FDA led a global investigation with the help of other drug regulators into the cause and scope of the issue, while ensuring patients did not face shortages of these life-saving drugs.
August 2018: reducing drug prices through supporting generics
Although the FDA does not have the authority to determine drug prices, Gottlieb used his position to encourage the development of generics to bring competition into the market and therefore reduce drug prices.
The agency created and introduced a Competitive Generic Therapy (CGT) pathway to expedite the approval process of generic drugs with only one competitor on the market.
The outgoing commissioner wrote in a statement: "This pathway is a key step in making safe and effective generic drugs available to patients quickly and ensuring there's adequate competition, so patients have affordable access to the treatments they need."
The first product to be approved through the CGT designation was Apotex's potassium chloride oral solution in August 2018.
October 2018: creating new pathways for novel therapies
Under Gottlieb, the FDA has embraced emerging, innovative therapeutic approaches by creating new and modernising existing approval pathways; the primary focus has been on cell and gene therapies, as well as small molecule drug targeting the genomic basis of diseases.
In October 2018, the agency announced the creation of technology and disease-specific regulatory frameworks to clarify which pathway to use for certain drugs. It also sought to ensure the new pathways can support second and third to market innovations to create competition within novel drug classes.
March 2019: Gottlieb resigns as commissioner
On 5 March 2019, Gottlieb announced his resignation from the position of FDA commissioner. He declared it had been a privilege to work at the FDA in his resignation to United States Secretary of Health and Human Services (HHS) Alex Azar.
Azar responded to Gottlieb's resignation by saying in a statement: "All of us at HHS are proud of the remarkable work Commissioner Gottlieb has done at the FDA. He has been an exemplary public health leader, aggressive advocate for American patients, and passionate promoter of innovation.
"I will personally miss working with Scott on the important goals we share, and I know that is true for so many other members of the HHS family."
President Trump echoed this sentiment, tweeting: "Scott Gottlieb, who has done an absolutely terrific job as Commissioner of the FDA, plans to leave government service sometime next month…Scott has helped us to lower drug prices, get a record number of generic drugs approved and onto the market, and so many other things. He and his talents will be greatly missed!"
Although many of the achievements of Gottlieb's tenure can be attributed to his personal effort and leadership, as former associate FDA commissioner Wayne L Pines argues in STAT, Gottlieb's initiatives will not automatically come to an end with the appointment of a new commissioner.
"As Gottlieb departs, the concern that his policies will be abandoned or undermined are unfounded. The FDA staff and the leadership of HHS under Azar won't let that happen."