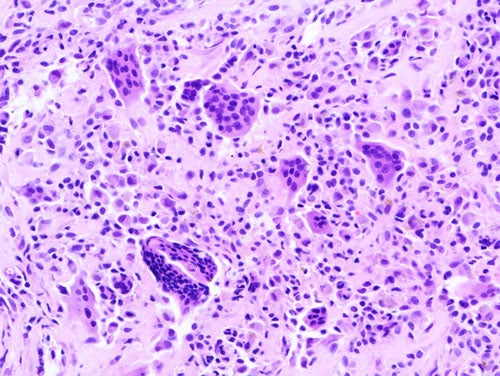 Dublin-based biopharma company SynOx has secured €37m in a Series A financing round led by HealthCap and Medicxi. Forbion and Gimv also participated in the financing.
SynOx is a single asset spin-out of Oxford-based Celleron Therapeutics. In August, oncology focused Celleron signed an agreement with pharma giant Roche to acquire global rights to clinically develop, manufacture and commercialise a targeted monoclonal antibody drug called emactuzumab.
SynOx will now use this Series A funding to continue the development of emactuzumab for diffuse tenosynovial giant cell tumours (TGCT), explains the company's CEO professor Nick La Thangue. SynOx will start a registrational trial for emactuzumab this year and if all goes well, La Thangue hopes the drug could be commercially launched by 2023.
As a result of the financing, the SynOx board will include La Thangue, who also serves as Celleron's CEO, Celleron chairman Declan Doogan, HealthCap partner Jacob Gunterberg, Medicxi partner Francesco De Rubertis, Forbion general partner Dirk Kersten and Gimv principal Michaël Vlemmix.
Promise of emactuzumab to resolve unmet needs in TGCT
Characterised by the proliferation of macrophages in synovial tissue, TGCT is a rare cancer of the joints, which leads to "chronic, severe pain and decreased limb function," explains La Thangue.
The current primary treatment option for TGCT is surgery, however, La Thangue notes "the tumour tends to come back after a few years". For example, in diffuse TCGT, post-surgency recurrence is up to 60%. Although there is a small molecule drug developed for inoperable TGCT – pexidartinib – the US Food and Drug Administration placed a black box warning on this product because of its potential hepatotoxicity.
Therefore, there is an urgent unmet need in TGCT. Previous clinical studies have suggested that emactuzumab, a monoclonal antibody that blocks CSF-1R to target and deplete macrophages, could be a breakthrough treatment because it causes tumour shrinkage in most patients.
La Thangue notes that in a trial of 28 patients, emactuzumab achieved an 86% objective response rate (ORR) and a disease control rate of 100%. Data from a 63-person Phase I study by Roche, which was published in the European Journal of Cancer in 2020, showed that emactuzumab achieved an ORR of 71% and a 98% disease control rate. This response was durable with an ORR of 64% being reported two years after treatment.
Importantly, emactuzumab has been found to have a manageable safety profile. La Thangue notes "no life-threatening adverse effects, such as liver toxicity, were observed" for 28-person study; similarly, no liver toxicity was reported in the 63-person Roche study.
The aim is for SynOx to confirm these promising results in its upcoming registrational trial, which will start imminently and is expected to be completed in 2022.
As SynOx is a single asset spin-out, the company will focus purely on emactuzumab. However, La Thangue notes that SynOx is keen to investigate whether the drug could be safe and effective for other conditions also driven by macrophage issues.
Explaining investor interest in SynOx and emactuzumab
The unmet need in TGCT is central to HealthCap's interest in SynOx and emactuzumab. Gunterberg explains the company's investment strategy is to "to invest in therapies that can make a meaningful difference to suffering patients with unmet medical needs".
Gunterberg adds: "Investing in SynOx fits well with this strategy and the asset centric approach offers a focused approach for developing a compound with interesting clinical data at hand at the same time as it offers diversification to the portfolio of companies in the fund."
This explains why HealthCap were involved in the decision to spin out SynOx and emactuzumab from Celleron. Gunterberg expects the investment firm's existing active ownership of SynOx to continue through supporting potential future financing rounds.