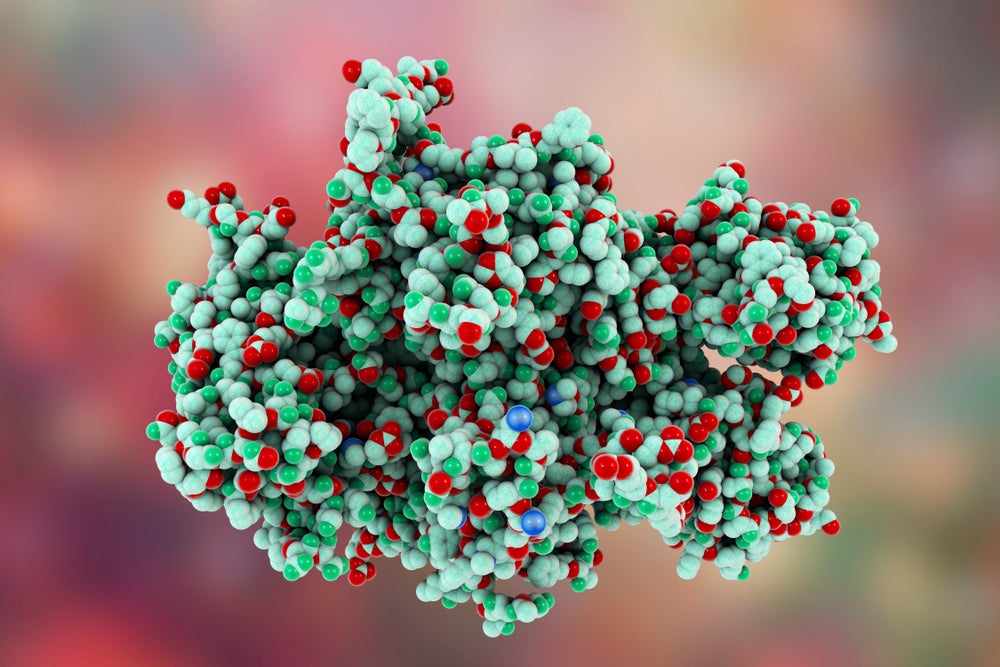 First discovered in the 1910s by a medical student and his professor at John Hopkins University in the form of heparin, anticoagulants are used to prevent blood clots, which can cause deadly strokes, heart attacks and other thrombotic diseases. These medicines (sometimes known as blood thinners) have saved countless lives since they became commonplace in clinical practice in 1940.
Anticoagulants interfere with proteins in the blood, called factors, which are involved in the clotting or coagulation process. Clots are formed when the insoluble protein fibrin interacts with these clotting factors.
Heparin binds to the enzyme inhibitor antithrombin III, which inactivates thrombin, activated Factor X (FXa), as well as other proteases to prevent a blood clot. It was followed by warfarin, a repurposed rat poison, in the 1940s, which inhibits the vitamin K-dependent synthesis of a whole range of proteins, including clotting factors II, VII, IX and X. It is known as a vitamin K antagonist (VKA).
As heparin needs to be administered through an injection, while warfarin and other VKAs require patients to make lifestyle, dietary changes, researchers began to investigate new therapeutic approaches in the 2000s. These were known as non-Vitamin K antagonist oral anticoagulants (NOACs) to directly target both FXa and thrombin, which catalyses the formation of fibrin necessary to create a blood clot.
Increasingly, clinicians have erred towards combining two anticoagulants to further optimise their effect. The first combination therapy was heparin and a vitamin K antagonist (VKA) in the second half of the 20th century; this drug combination is still commonplace today.
Anticoagulants have also often been combined with other drug types, including non-steroidal anti-inflammatory drugs (NSAIDs) and antiplatelets, to further reduce the deadly consequences of blood clots and manage patient's pain.
When drugs turn deadly: risks of haemorrhages with anticoagulants
Unfortunately, the improved efficacy of these drug combinations has an unintentional dark side. They have long been known to cause major bleeds, which can result in haemorrhages that can be deadly for patients. To try to partially counteract this, older anticoagulants are prescribed alongside reversal agents and patients are required to undergo regular blood tests and monitoring.
This risk is only amplified when patients are combining different therapies together. A 2018 study published by a research partnership between the Universities of Sheffield and York showed that anticoagulants, NSAIDs and antiplatelets caused more than a third of hospital admissions in the UK due to drug interactions; as a result, better anticoagulation was identified as a patient safety priority for NHS England.
Another study published in the same year suggested combining an oral anticoagulant with NSAID therapy increased the risk of a major bleed by 68%, the risk of gastrointestinal major bleeding by 81% and the risk of stroke by 50% in patients with atrial fibrillation.
Although newer, NOACs are associated with fewer, less serious bleeds and fewer deaths than older therapies, an article by the British Heart Foundation notes major bleeds can still occur following treatment with NOACS – other studies suggest they pose the same risk as older therapies of bleeds in the gut – and that only one of these therapies has a reversal agent.
New treatments are desperately needed to allow patients to benefit from the anti-clotting effects of anticoagulants without needing monitoring and being placed at high risk of haemorrhaging and bleeding to death. This is particularly essential to allow those at higher risk of bleeding due to underlying conditions to also be protected against blood clots.
A decade of research to find an alternative
"There is an urgent need for anticoagulant therapies with reduced bleeding risk," stated University of Leeds professor Helen Philippou. This situation spurred her and her colleague Dr Richard Foster over the past ten years to investigate alternative therapeutic approaches based on a new drug target.
"Our research has validated that targeting activated Factor XII [FXIIa] may lead to differentiated therapies and a new treatment option for patients," added Philippou.
To this end, Philippou and Foster spun-out drug discovery company Lunac Therapeutics from the university at the end of 2019.
FXIIa is a clotting protein that is essential to the formation of a stable, fibrin-based blood clot, however, Lunac's research shows this protein is not implicated in stemming bleeding, thereby suggesting inhibiting FXIIa would not increase the risk of bleeding.
Lunac is discovering and developing highly potent and selective agents that can block the effects of FXIIa. In papers published in the American Society of Haematology's blood journal, Philippou's research points to a possible, successful mechanism to inhibit FXII, interaction of with aC peptides, specifically αC389-402.
"Our findings provide further details on some of the processes involving FXIII/fibrin(ogen) interactions and raise the possibility of small-molecule approaches to interrupt these interactions in the management of thrombotic disorders," the researchers concluded.
Promise of Lunac's next generation anti-coagulant
Although Lunac's research and drug development remains at a very early stage, the start-up has already received impressive financial and research support since its launch.
Initially, in November 2019, the company received £2.6m in Series A funding from Epidarex Capital and the University of Leeds. In awarding this funding, Epidarex's Dr Mary Canning commented: "Lunac is taking a unique approach to the identification of novel anticoagulants, and we have been very impressed by the progress of the FXII programme at the University of Leeds."
Another serious vote of confidence for this start-up and its next-generation anti-coagulant came in December 2019 when it received almost £1.7m in funding from Innovate UK and the Medical Research Council's Biomedical Catalyst. The UK's Medicines Discovery Catapult and the University of Leeds also received £174,753 and £1.4m respectively to assist with Lunac's 18-month drug discovery project.
Lunac is further being supported in the practicalities of anti-FXIIa drug discovery by clinical research organisation Domainex. The CRO will provide medicinal chemistry and biochemical screening, as well as assess the metabolism, safety and pharmacokinetics of promising candidates to support progress from pre-clinical to clinical trials.
Lunac's total £3.4m funding is the highest amount of funding awarded in the 2019 early and late-stage round of the Biomedical Catalyst. Only one other project, Topivert Pharma's Phase I study of a water-soluble enzyme inhibitor to treat inflammatory bowel disease, received over £1m of funding.
Talking about this Innovate UK funding success, University of Leeds director of commercialisation Andy Duley said: "This new collaboration will address the need for anti-clotting therapies with great efficacy and minimal bleeding risk. The differentiation of this approach should eliminate the risk of increased bleeding, marking a step-change in the management of the thrombosis."