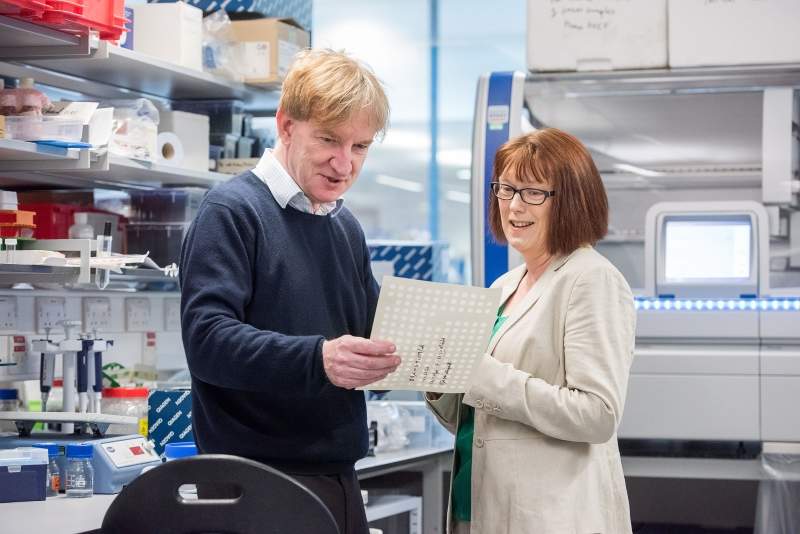 As the 2018 flu season – one of the most severe in recent years – finally shows signs of winding down, it's clearer than ever that the world needs more effective flu vaccines. This is especially true for patients over the age of 65. While the standard seasonal flu vaccine has demonstrated reasonable efficacy in reducing the risk of flu in children, its performance in over-65s is often much poorer. During last year's flu season, the vaccine was found to be completely ineffective in elderly recipients, partly because it failed to protect them from the H3 strain of the influenza A virus.
"It is increasingly recognised that the current generation of flu vaccines often work less well in the elderly, likely because of factors such as the weaker immune systems in this population," noted a report by Public Health England, published in the British Medical Journal in September last year.
Researchers have been responding to this challenge by working on high-dose and adjuvanted vaccines that may improve efficacy levels. But in Oxford, UK, a more dramatic solution is being trialled. A university spin-out company is working on a world-first 'universal flu vaccine' that works through inducing the body's production of T-cells, which recognise the core proteins inside the virus that don't change each winter. By boosting the number of T-cells, Vaccitech – which traces its origins to Oxford University's vaccine research centre, the Jenner Institute – is hoping its vaccine will provide protection against all strains of influenza A.
Vaccitech's vaccine candidate is currently in the midst of a two-year, Phase II clinical trial in NHS patients in the UK. The trial enrolled 862 patients over the age of 65 for the first round of vaccinations in the current winter period, and hopes to bring the total number of participants up to 2,000 when the second round of testing kicks off next winter.
Vaccitech co-founder and Oxford University professor of vaccinology Sarah Gilbert describes the results seen so far as "a promising start", but full results aren't expected to be shared until summer 2019, after which a Phase III trial will be considered and industry partners sought. Here, Gilbert discusses the potential of inducing T-cells to create vaccines for flu and other indications, as well as the journey towards commercialisation for a product that could revolutionise influenza immunisation for decades to come.
Chris Lo: At what stage is your Phase II vaccine trial currently?
Sarah Gilbert: We have recruited for the first year of that two-year study. We're in the follow-up period. We had an immunology cohort, a sub-cohort where we looked at the immune responses post-vaccination, and were obviously blinded as to whether they got the MVA [modified vaccinia Ankara] vaccine or saline placebo with the licenced flu vaccine, but it was a 50-50 split. And we're seeing that 50% of the people vaccinated have a significant increase in T-cell response, so that's what we would expect to see. We won't be underlining that until summer of 2019, but it's a promising start.
What we're doing now is following up the people who were vaccinated for their flu-like illness, and that will continue until April. And then we do the same again next year, with slightly more people next year. We want to get to about 2,000 [people] over the two years of the study.
CL: How does the flu vaccine you are testing at the moment differ from the traditional seasonal vaccines?
SG: It works in a totally different way. Everybody over the age of about two has been infected with the influenza virus, and that means we have a T-cell memory. We have certain T-cells that would recognise the cells infected with the flu virus if they see them again. The problem is that the level of those drops off quite quickly after you've recovered from a flu virus infection. What we want to do is boost those numbers, bring them back up to higher levels.
If you have a high level of T-cells that recognise the conserved antigens of the flu virus – the internal antigens that stay the same between all the different strains and sub-types of flu A that are out there – if you then get infected by one of those viruses, the T-cells will very quickly find the infected cells in the upper respiratory tract, kill them, prevent the virus from spreading anymore, prevent it from causing disease in that person, and prevent it from being transmitted to anybody else.
The person doesn't know they've got an infection because it's attacked by their T-cells so early on that they just recover before they even know they've become ill. That's what we're trying to achieve with this vaccine. But importantly, because the targets of these T-cells are so well conserved, it doesn't matter whether it's H3N2 or H1N1 or a drifted variant of H1N1, the T-cells recognise them.
CL: Does 'universal flu vaccine' mean exactly that?
SG: This will work for every influenza A virus, and those are the ones that cause the more severe disease. H3N2 usually causes more severe disease than H1N1. Any pandemic that we have with flu is always influenza A. So we're protecting against the more severe disease. Actually, our flu vaccine, when we give it with the seasonal vaccine, has another effect. If we give the two together, we also get a better antibody response to the seasonal flu vaccine.
CL: Do you see your vaccine as a complement or enhancement to the current flu vaccine standard, rather than a wholesale replacement?
SG: The first application we're looking at is for older adults who are recommended to have the seasonal flu vaccine every year, and yet the efficacy can be incredibly low, as in 0% last year. That's the first use of this new type of vaccine. It's possible to test it and then it would be possible to use it because we're not stopping them having the vaccine they currently have.
But we're also looking at, in younger people who are not recommended to have the seasonal flu vaccine every year, not giving them the seasonal flu vaccine, but just giving the new viral vector vaccine, and we've actually got two different ones. If you give one after the other, we've shown that we get really strong T-cell responses that actually last a long time. So that raises the possibility that for younger people, we could boost their T-cell responses with one or two vaccinations, and they may be protected from flu for some years. That's something we're not testing in this trial; it's for the future.
CL: What does your development roadmap look like after the conclusion of this trial?
SG: The next stage will be a Phase III trial. If we get positive results from this trial, we'll be looking to move into Phase III, doing a much larger, multi-centre trial, probably in different countries to get enough data. That will take at least another couple of years. Following that, we would be looking to partner with a bigger company because Vaccitech is quite small and isn't going to be manufacturing and marketing a licenced product. We are about getting proof that this approach works, and we would then look to partner for the flu vaccine.
CL: Given the clear potential for this vaccine to fundamentally improve flu immunisation, presumably you and your investors feel that the potential market value of the vaccine could be massive. What's your expectation?
SG: Absolutely. I'm a scientist rather than a business development person, so I'm not going to give you any numbers, but the reason this has been taken into Vaccitech is because it's a really good commercial prospect.
CL: Vaccitech also has therapies in various stages of development for prostate cancer, MERS [Middle East respiratory syndrome] and other infectious disease indications. Would you say we're only beginning to scratch the surface of the clinical potential of inducing T-cells?
SG: Yes, I think so. I've just been at a meeting discussing the prostate cancer programme, and there are some really exciting developments there. The power of viral vectors to induce T-cells is so strong that it's able to overcome tolerance, which is a big problem in cancer immunotherapy. Combining that with checkpoint inhibitors opens up a whole new area. There are checkpoint inhibitors that really just take the brakes off the natural immune response; they allow the patient's immune response to do something.
That has been shown to be partially effective; it's effective in some patients. The levels of efficacy are not stunningly high, but it's clearly working in some trials. If we can combine checkpoint inhibitors with therapeutic vaccines, that's a win-win situation, because we give the patient a much better and stronger immune response, at the same time as removing the blocks to that immune response acting. That could really cause a sea change in cancer immunotherapy.