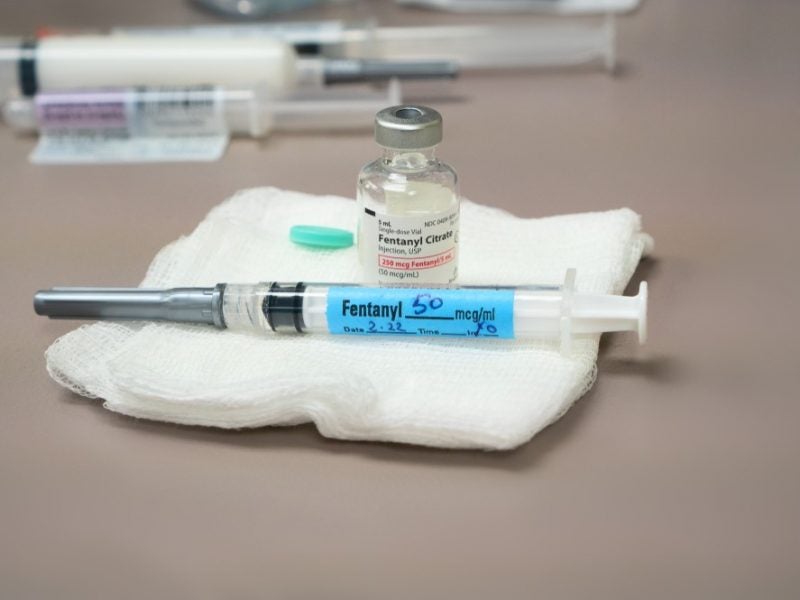 Insys Therapeutics' primary product is Subsys (fentanyl) a fast-acting, powerful opioid, which was developed to manage breakthrough pain related to cancer and approved by the US Food and Drug Administration (FDA) in 2012.
Over the past few years the company has been accused by three US states and the Department of Justice (DOJ) of contributing to the spiralling opioid crisis in the US through allegedly carrying out dodgy marketing activities of Subsys, including bribery and misleading advertising claims.
This has culminated in several former executives being charged with and convicted of bribery and racketeering in the past year, as well as the company paying out a multi-million dollar settlement and declaring Chapter 11 bankruptcy in June.
The demise of Insys begs the question: how did the company fall from grace and become the first corporate casualty of the US opioid crisis?
The company did not respond to requests for comment.
August 2016 – State of Illinois opens suit against Insys
Illinois Attorney General Lisa Madigan filed a lawsuit against Insys for alleged deceptive marketing and selling Subsys to physicians to prescribe for non-cancer indications.
Madigan said: "This drug company's desire for increased profits led it to disregard patients' health and push addictive opioids for non-FDA approved purposes.
"It's this type of reprehensible and illegal conduct that feeds the dangerous opioid epidemic and is another low for the pharmaceutical industry."
December 2016 – State of Massachusetts opens case against former Insys executives
US Attorney for the District of Massachussetts Carmen Ortiz accused several former Insys executives and managers, including former CEO and president, Michael Babich, of leading a "nationwide conspiracy" to bribe medical practitioners to prescribe Subsys to non-cancer patients.
The executives were also accused of defrauding insurers by setting up a reimbursement unit to encourage reluctant insurance companies to pre-authorise the drug.
Ortiz commented: "I hope that today's charges send a clear message that we will continue to attack the opioid epidemic from all angles, whether it is corporate greed or street level dealing."
August 2017 – Arizona files consumer fraud lawsuit against Insys
Arizona Attorney General Mark Brnovich filed a consumer fraud lawsuit against Insys in August 2017; the company is based in Chandler, Arizona. Commenting on the suit, Brnovich stated: "We need to put a stop to the unethical and greedy behaviour in the pharmaceutical industry that is fueling the opioid crisis in our state.
The suit alleged that between March 2012 and April 2017, more than $4m of Subsys' market value came from three Arizona doctors who were accused of being bribed with 'speaker fees' to write prescriptions for Subsys. In addition, the complaint accused Insys of falsely informing healthcare providers that the FDA had approved Subsys for more uses than its actual marketing authorisation.
Insys former vice-president of sales Alec Burlakoff and former manager of the reimbursement service Elizabeth Gurrieri were named in the lawsuit.
In a statement, Insys said: "Recent statements made in connection with the Arizona Attorney General's investigation of our company lack context and factual accuracy, particularly as they relate to the causes of the opioid crisis in the State of Arizona.
"The allegations contained in the Arizona Attorney General's complaint relate to former employees and physicians that are no longer associated with our company or our speaker bureau."
August 2017 – Insys settles Illinois lawsuit
Illinois Attorney General Madigan announced a $4.45m settlement with Insys for deceptive marketing of Subsys for an array of indications not approved by the FDA.
Madigan said: "Insys pushed a highly addictive opioid in complete disregard for patients' health to increase company profits.
"It's unethical, greedy behaviour by companies like Insys that is responsible for creating the opioid epidemic and resulting overdose deaths in our state.
This settlement also requires Insys to create an opioid abuse detection programme to identify prescribers and stop communications with Illinois insurance companies regarding prior authorisation of an opioid.
In a statement, Insys noted: "Our recent settlement with the State of Illinois, which includes an obligation to make a $4.45 million payment, reflects our firm commitment to take responsibility for actions by our former employees and we affirm our continued intent to put patients first as reflected by our actions and ethical behaviour."
October 2017 – Insys founder John Kapoor arrested and charged
John Kapoor, founder and majority owner of Insys, who also formerly served as CEO and executive chairman of the board, was arrested and charged with conspiracy to bribe and defraud with the aim of illegally distributing Subsys, as well as other felonies by the US Attorney's Office for the District of Massachusetts.
As a result he stepped down from the board, saying in a statement: "I am confident that I have committed no crimes and believe I will be fully vindicated after trial. Nevertheless, I realise that my continued involvement with Insys will only serve to draw unnecessary attention to the company and its employees, and distract the management team from my primary goal when I founded Insys – helping patients."
Six other former Insys executives and managers were also indicted in Boston; these include Michael Babich and Alec Burlakoff.
May 2018 – DOJ joins litigation against Insys
The DOJ, as well as six states, joined five civil cases filed by whistle-blowers claiming Insys had violated the False Claims Act by paying kickbacks to medical practitioners.
California US Attorney Nicola T. Hanna commented: "Our intervention in these cases is just one part of the Justice Department's multi-pronged efforts to combat the opioid crisis.
"The illegal marketing activities alleged in the government's case helped fuel the crisis by improperly introducing opioids into the market.
"We are committed to hold accountable corporations and individuals who use kickbacks, off-label promotions and other illegal activities to sell lethal and highly addictive narcotics. Our goal is [to] bring about an end to the tragic epidemic that is harming untold numbers of people across the United States."
August 2018 – Insys and DOJ reach agreement in principle to settle investigation
In a statement, Insys announced it had reached an agreement in principle with the DOJ to settle all ongoing civil and criminal investigations into former company employees. Consequently, Insys agreed to pay $150m over five years, with a maximum of $75m in additional payments and possible further non-financial material terms and conditions to be agreed at a later date.
Insys CEO and president Saeed Motahari commented: "This is a very important step for our company to move forward and continue our transformative efforts to foster a compliant and ethical culture and to execute against our well-differentiated product pipeline, which we believe can bring value to patients globally."
November 2018 – Burlakoff pled guilty to Massachusetts' racketeering charges
Burlakoff pled guilty at the US District of Massachusetts court to one count of racketeering related to Subsys. This made him the first high-level executive to admit wrongdoing regarding sales of Insys' opioid drug.
Dec 2018 – Former CEO and president Babich pleads guilty to bribery
Just once month after Burlakoff's guilty plea, former CEO and president of Insys Babich also pled guilty at a US District Court in Massachusetts to participating in a nationwide scheme to bribe doctors to prescribe Subsys; he simultaneously agreed to become a government witness, which Reuters reported could lead to a reduction in his sentence.
April 2019 – Burlakoff settles consumer suit with Arizona Attorney General's Office
A few months after Burlakoff pled guilty in a Boston court, Arizona Attorney General Brnovich reached a $9.5m settlement with Insys' former vice-president of sales, who was named in the original consumer fraud case.
According to a statement by Brnovich's office, as part of the settlement, Burlakoff admitted he "unlawfully used the Insys speaker program to compensate doctors for prescribing Subsys".
He will have to discharge $5.2m of his stock in Insys in compensation and then pay a further $4.3m in civil penalties, as well as being permanently prohibited from advertising or selling prescription drugs in the state of Arizona.
May 2019 – Founder and other executives found guilty of racketeering
Insys founder and former CEO John Kapoor and four former executives – former national director of sales Richard Simon, former regional sales directors Joseph Rowan and Sunrise Lee, former vice-president of managed markets Michal Gurry – were found guilty and convicted of racketeering through bribing doctors and defrauding insurers.
Kapoor will be sentenced in September, but the exact date of the hearing has not yet been set.
US Attorney for the District of Massachusetts Andrew Lelling commented: "Today's convictions mark the first successful prosecution of top pharmaceutical executives for crimes related to the illicit marketing and prescribing of opioids.
"Just as we would street-level drug dealers, we will hold pharmaceutical executives responsible for fueling the opioid epidemic by recklessly and illegally distributing these drugs, especially while conspiring to commit racketeering along the way.
"I applaud the prosecutors and investigators who fought this case to the finish and won. This is a landmark prosecution that vindicated the public's interest in staunching the flow of opioids into our homes and streets."
Insys did not publish a statement on its website related to these convictions.
June 2019 – Insys settles opioid probe and files for Chapter 11 bankruptcy
On 5 June, Insys agreed to pay $225m to globally settle the court cases against the company. Under the deferred prosecution agreement, the company will pay $195m to settle allegations from whistle-blowers it violated the False Claims Act by bribing doctors to over-prescribe Subsys, as well as a $2m criminal fine and a $28m forfeit; the payments will be spread out over five years.
According to a statement by the District of Massachusetts Attorney's Office, Insys also pled guilty to five counts of mail fraud where it organised so-called 'speaker programmes' to pay bribes and kickbacks to targeted doctors in exchange for more and higher dose prescriptions of Subsys.
Lelling commented: "For years, Insys engaged in prolonged, illegal conduct that prioritised its profits over the health of the thousands of patients who relied on it.
"Today, the company is being held responsible for that and for its role in fueling the opioid epidemic."
Two days later, Insys filed for Chapter 11 bankruptcy protection to allow it to pay its obligations while continuing to operate.
Insys CEO Andrew G Long commented in a statement: "After conducting a thorough review of available strategic alternatives, we determined that a court-supervised sale process is the best course of action to maximise the value of our assets and address our legacy legal challenges in a fair and transparent manner.
"Insys has compelling assets and a highly talented team. We believe this process will provide us with a forum to negotiate an equitable resolution with our creditors and represents the best opportunity for our people and our business."
Updated as events unfold 
July 2019 – Arizona files a second consumer suit against former Insys employees
Arizona Attorney General Brnovich has filed a second Consumer Fraud Suit Act lawsuit against three former executives of Inysys; all of which have either pled or been found guilty of federal felony charges.
The individuals in question are Kapoor, Babich and former vice-president of managed markets Michael Gurry.
The suit alleges that they directed Insys employees to "provide insurers with false and misleading information to obtain prior authorization for Subsys prescriptions for patients."
Brnovich commented: "It's important that government doesn't interfere with doctor-patient relationships and the ability for individuals to adequately manage their pain.
"However, when pharmaceutical companies engage in unethical and greedy behavior that helps fuel the opioid crisis in our state, they must be held accountable."
Insys is yet to respond to this latest lawsuit.