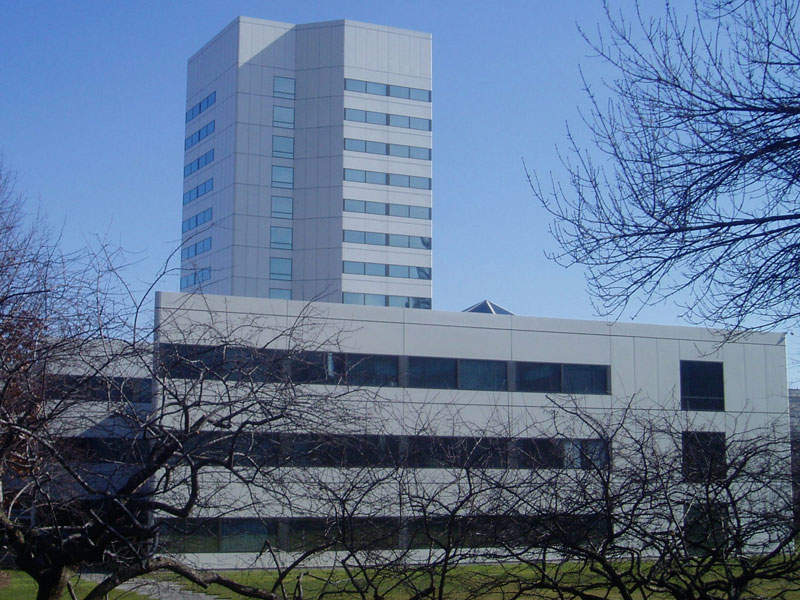 Johnson & Johnson – $62.9bn
While the company has stakes in consumer markets, the majority of Johnson & Johnson's (J&J) revenues came from its pharmaceutical and medical device divisions. The company posted total revenues of $76.4bn in 2017, an increase of 6.3% from 2016.
New J&J products launched over the past five years accounted for 22% of the sales in 2017, and the company spent $10.6bn towards research and development (R&D) and another $35.2bn on acquisitions.
In 2017, J&J announced the approval of its HIV type-1 infection treatment JULUCA® and the acquisition of biopharmaceutical company Actelion for $30bn. Actelion added pulmonary arterial hypertension as a sixth therapeutic area to J&J's Pharmaceutical division.
Based in the US, J&J is engaged in the research, development, manufacture and sale of personal care, pharmaceutical and medical device products.
Pfizer – $52bn
Pfizer's revenues decreased marginally in 2017, compared with the previous year. Patents for several key products such as Lyrica, Enbrel, Tygacil and Viagra expired in some markets during 2017 and the preceding years, which had an impact on its revenues.
Pfizer announced the approval of BESPONSA® for the treatment of relapsed or refractory B-cell precursor acute lymphoblastic leukaemia in 2017. The company also announced that it is considering various strategic options for its consumer healthcare business, including a sale or spin-off. Pfizer will review its options in 2018 or may ultimately retain the business.
Based in the US, Pfizer is a developer and manufacturer of healthcare and pharmaceutical products. The company operates through Pfizer Innovative Health (IH) and Pfizer Essential Health (EH) business segments. The IH segment develops novel medicines and vaccines, while the EH segment markets branded generics, biosimilars and select branded products.
Novartis – $49bn
Novartis reported 1% year-on-year increase in revenues in 2017, supported by strong sales of products, including Cosentyx, Entresto, Promacta/Revolade, and Tafinlar+Mekinist, despite a decline in Gleevec/Glivec sales due to patent loss, and competition from generics.
Significant developments in 2017 included the approval of Rydapt® for the treatment of acute myeloid leukaemia, Kisqali® for the treatment of advanced or metastatic breast cancer and Zykadia® for the treatment of anaplastic lymphoma kinase (ALK) positive advanced non-small cell lung cancer (SCLC). Novartis also ranked second in FORTUNE's list of the world's most admired pharmaceutical companies.
Based in Switzerland, Novartis is a pharmaceutical company comprising Innovative Medicines, Alcon and Sandoz. With recorded revenues of $33bn, its innovative medicines division develops medicines and includes pharmaceuticals and oncology units. Alcon develops and markets eyecare products, while Sandoz deals with the development and marketing of generic pharmaceuticals and biosimilars.
Sinopharm Group – $42.6bn
Sinopharm Group posted a year-on-year revenue growth of 7.48% in 2017. The company ranked 22nd among the top 100 Chinese listed companies by brand value and ranked first among the pharmaceutical companies listed.
A major transaction by the company during the year was the acquisition of pharmaceutical and healthcare products distributor Shanghai Pudong New Area Medicines and Herbs for $33.4bn. The acquisition was made through an equity transfer agreement with CNPG.
Based in China, Sinopharm is a subsidiary of China National Pharmaceutical Group (CNPG). It is engaged in the wholesale and retail of pharmaceutical and healthcare products. The company's main business divisions include pharmaceutical distribution and retail pharmacy.
Hoffmann-La Roche – $42.2bn
Roche's pharmaceutical division accounted for 77.28% of the total revenues of $54.6bn, an increase of 5% from 2016. New products, including Ocrevus, Tecentriq and Alecensa, were the major contributors to pharmaceutical revenue growth.
Roche received approvals for several key products in 2017, including Perjeta for the treatment of early breast cancer, haemophilia A therapy Hemlibra, Gazyva for the treatment of advanced follicular lymphoma, and therapy for Erdheim-Chester disease, Zelboraf.
Based in Switzerland, Roche contains pharmaceutical and diagnostics divisions. Roche signed a definitive merger agreement to acquire oncology-focused biopharmaceutical company Ignyta for $1.7bn in December 2017. The acquisition was completed in the Q1 of 2018.
Sanofi – $41.99bn
Sanofi's revenues decreased by 1% in 2017 compared with the preceding year, with its general medicines and emerging markets unit contributing to 40% of the revenues. Sanofi also invested $6.5bn in R&D in 2017.
The company successfully acquired biopharmaceutical companies Bioverativ and Ablynx for $11.6bn and $4.67bn respectively, as well as the consumer healthcare operations from Boehringer Ingelheim in January 2017. The acquisitions are expected to strengthen the company's rare disease sector and R&D capabilities.
Based in France, Sanofi is a pharmaceutical company that develops, manufactures and markets medicines and vaccines. The company's business units include diabetes and cardiovascular, Sanofi genzyme (speciality care), Sanofi pasteur (vaccines), consumer healthcare, and general medicines and emerging markets.
GlaxoSmithKline – $40.7bn
GlaxoSmithKline (GSK) recorded a year-on-year revenue growth of 8% in 2017. Its pharmaceuticals division accounted for the majority of this revenue at $23.3bn.
The approval of Trelegy Ellipta for chronic obstructive pulmonary disease and JULUCA® for the treatment of HIV-1 infection helped increase the company's revenues.
GSK also received approval for Nucala for the treatment of eosinophilic granulomatosis with polyangiitis in December 2017, which is expected to further boost revenues in 2018. The company completed the divestiture of its non-core assets to Aspen in March 2017 for $242m.
GSK is a UK-based pharmaceutical company that develops medicines, vaccines and consumer healthcare products.
Merck & Co – $40.1bn
Merck & Co's revenues grew by 1% in 2017 compared with the previous year. This was driven by the market launch of key drugs, including KEYTRUDA®, Zepatier and Bridion.
Merck also reported the approval of STEGLATRO™ for the treatment of Type 2 diabetes mellitus, the ISENTRESS® therapy for HIV-1 infection, and PREVYMIS™ for the prevention of cytomegalovirus (CMV) infection during Q4 2017.
Merck invested $7.3bn in R&D during the year to investigate the additional indications and combination therapies of its key drug KEYTRUDA®. The combination of Eisai's LENVIMA® and KEYTRUDA® for the treatment of advanced and metastatic renal cell carcinoma was awarded Breakthrough Therapy Designation by the US Food and Drug Administration (FDA) in January 2018.
Based in the US, Merck & Co provides innovative prescription medicines, vaccines, biologics and animal health products. Its business is organised under pharmaceutical, animal health, healthcare services and alliances divisions.
Bayer – $29.1bn
Bayer's pharmaceuticals division accounted forthe majority of the company's revenues, at $20.2bn. This demonstrated an increase of 4.3% over the previous year, while its consumer health division registered a year-on-year revenue growth of 1%.
The company saw strong sales of its products, including Xarelto™, Eylea™, Xofigo™, Stivarga™ and Adempas™, which contributed to the revenue growth. Bayer also announced the approval of Copanlisib for the treatment of relapsed follicular lymphoma in 2017.
Bayer further strengthened its product portfolio in 2017 by forming a partnership with Loxo Oncology, which provides the company with access to a drug pipeline consisting of more than 50 projects. Based in Germany, Bayer is a life sciences company operating in pharmaceuticals, consumer health, crop science and animal health segments.
Gilead Sciences – $26.1bn
Gilead Sciences' revenues declined by 1.5% in 2017 compared with the previous year. The company acquired Kite Pharma and Cell Design Labs in the year for $11.9bn and $567m respectively.
Through the acquisition of Kite, Gilead Sciences added Yescarta™ to its portfolio. This therapy was developed by Kite for the treatment of relapsed or refractory large B-cell lymphoma, and it became one of the first chimeric antigen receptor T-cell (CAR T) drugs to be approved by the US FDA in October 2017.
In addition, Cell Design Labs' propriety technology platforms synNotch and Throttle are expected to enable Gilead to accelerate the development of next-generation cellular therapies.
Based in the US, Gilead Sciences discovers, develops and commercialises innovative medicines for the treatment of HIV, liver diseases, cancer, and inflammatory and respiratory diseases.