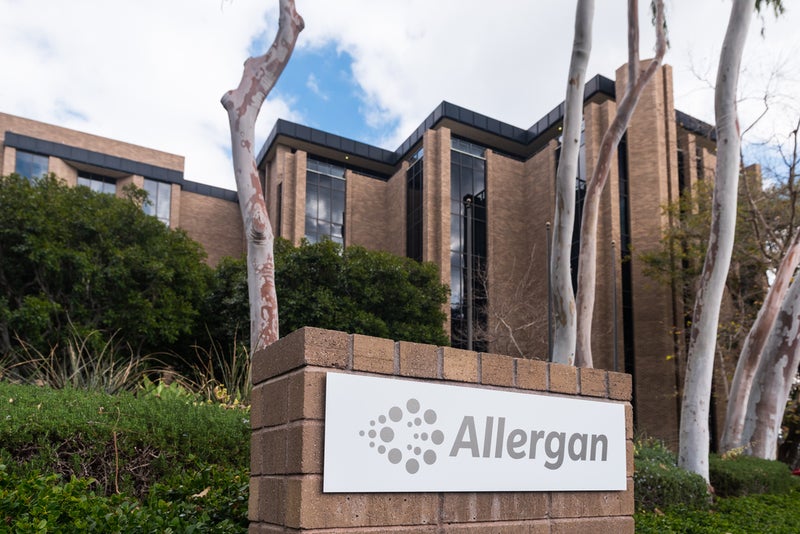 AbbVie has signed a definitive transaction agreement to acquire Irish Botox maker Allergan.
Valued at around $63bn, the acquisition is expected to support the scale-up and profitability of AbbVie's growth platform, excluding its rheumatoid arthritis and psoriasis drug Humira. The company will use the acquisition to expand and diversify its revenue with new therapeutic areas, including Allergan's medical aesthetic business.
AbbVie also intends to improve its long-term research and development (R&D) funding capacity following the transaction.
Allergan will leverage AbbVie's commercial strength, expertise and international infrastructure to enhance its product portfolio.
The combined entity will comprise various franchises with positions across immunology, haematologic oncology, medical aesthetics, neuroscience, women's health, eye care and virology.
Allergan chairman and CEO Brent Saunders said: "With 2019 annual combined revenue of approximately $48bn, scale in more than 175 countries, an industry-leading R&D pipeline and robust cash flows, our combined company will have the opportunity to make even bigger contributions to global health than either can alone.
"Our fast-growing therapeutic areas, including our world-class medical aesthetics, eye care, CNS and gastrointestinal businesses, will enhance AbbVie's strong growth platform and create substantial value for shareholders of both companies."
Last year, the companies generated $19bn in operating cash flow. Once the transaction closes, AbbVie will continue to be incorporated in Delaware as AbbVie Inc and have its principal executive offices in North Chicago, Illinois. Two Allergan board members will join AbbVie's board, including Brent Saunders.
The transaction is subject to the conditions set out in Appendix III of the Rule 2.5 Announcement, including certain regulatory requirements and approval by Allergan's shareholders.
Additional reporting by Allie Nawrat: 
GlobalData Neurology & Ophthalmology Senior Director Maura Musciacco commented: "The combined AbbVie-Allergan company is expected to be catapulted to fifth position in terms of 2019 sales, overtaking many competing pharma companies.
"It is not surprising to see AbbVie turning to mergers and acquisitions (M&As) given that the company is facing the patent expiration of its flagship brand, Humira, which happens to be the world's top-selling drug.
"Humira generated approximately $19.9bn in total sales in 2018 alone, representing 60% of AbbVie's total sales, according to GlobalData. Perhaps AbbVie has been too reliant on this drug, but knowing that its main source of revenue is at risk of sales erosion from biosimilars means that an M&A can provide a rapid source of new revenue streams to secure long-term growth.
"The most unexpected part of the deal is that AbbVie has turned to a rather diversified company, therefore the deal is expected to transform the company's portfolio. Importantly, the deal will also lower its reliance on Humira, meaning that just 41% of the combined company's sales would be generated by this drug."