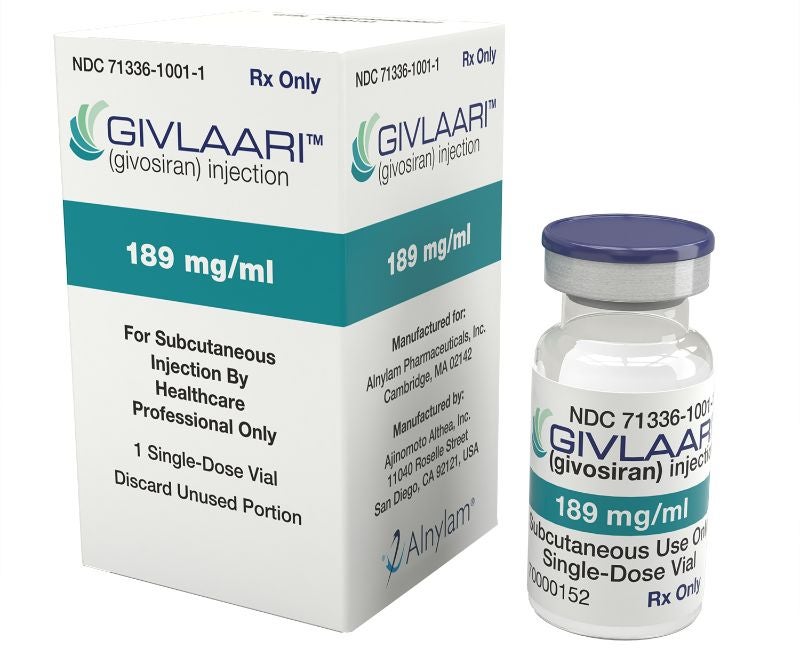 Alnylam Pharmaceuticals has received approval from the US Food and Drug Administration (FDA) for subcutaneous injection of its Givlaari (givosiran) drug to treat acute hepatic porphyria (AHP) in adults.
AHP is a rare, genetic disorder that results in chronic neuropathic pain, liver disease, hypertension and chronic kidney disease.
GivlaarI is an RNA interference (RNAi) therapeutic designed to target and reduce increased aminolevulinic acid synthase 1 (ALAS1) messenger RNA (mRNA) levels, decreasing toxins involved in AHP attacks and other disease manifestations.
FDA approval of the drug comes from data from the Phase III ENVISION clinical trial conducted in 94 AHP patients at 36 sites in 18 countries.
During the study, Alnylam's drug led to a significant decrease in the rate of porphyria attacks requiring hospitalisations, urgent healthcare visits or IV hemin administration at home.
Patients treated with Givlaari had 70% fewer porphyria attacks compared to those on placebo. The most common treatment-related adverse reactions were nausea and injection site reactions.
Alnylam Pharmaceuticals CEO John Maraganore said: "Givlaari now becomes our second RNAi therapeutic to be approved in the last 16 months and the world's first-ever GalNAc-conjugate RNA therapeutic to be approved, representing a watershed moment for a technology uniquely pioneered by Alnylam scientists."
The company has priced the drug at $575,000 per year, which will be available at $442,000 per year after discounts, reported Reuters.
Alnylam signed a value-based agreement in principle with Harvard Pilgrim Health Care covering the drug and is also in discussions with other buyers.
Under the agreement, the company will receive payments when the drug delivers outcomes in the real- world setting comparable to results obtained in clinical trials.